If I had to choose a single brand of razor that can do it all, I'd love to rely on the Schick without thinking twice. But talking about its models, there are many. Yet, most people get confused to decide what to choose between the Hydro and Quattro. 
Indeed, there is no chance of choosing them interchangeably as I've found differences around their blade type, handle, blade quantity, price, and many more places.
So, to find your best match for daily shaving requirements, read further! 
A Quick Comparison Table
| | | |
| --- | --- | --- |
| Specifications | Schick Hydro | Schick Quattro |
| Blade Quantity | 5 Blades | 4 Blades |
| Color | Black and Green | Silver and Sky Blue |
| Type of Handle | Shock absorb handle | Ergonomic handle |
| Quantity of Cartridges | 2 | 3 |
| Price | Cheap | Slightly Expensive |
Key Differences Between Schick Hydro And Quattro Razors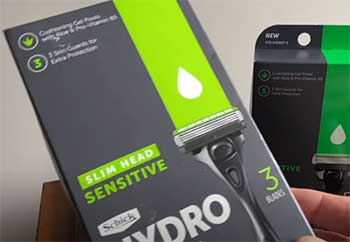 The first difference you can notice between them is their style and color.
I'd say both stand out in terms of appearance.
Let's talk about the Schick Hydro first.
The manufacturer made it in a combination of black and green so that it can smoothly reach tight areas!
 On the other hand, the Quattro combines alluring silver and sky blue colors to take the wow out of your lips. Moreover, its edging blade also allows it to reach tight areas precisely, although you won't find them similar to looking at first glance. 
Here comes the most crucial part of a razor. Yes, I'm talking about the blade, where we often focus first.
There is no doubt that both Schick Hydro and Quattro feature ultra-sharp blades known to be flexible; you'll find the difference in the quantities.
It means the Schick Hydro incorporates five blades. Moreover, each of them has been tested by Dermatologists to ensure skin-friendliness. As a result, there will be less chance of irritation using it. 
In contrast, Schick Quattro equips four blades coated with premium titanium. Consequently, it offers a clean, precise, and consistent shave. Thanks to the pivoting head, which allows you to move it as per your needs. 
The handle is the second most essential part of a razor to consider. An "easy-to-hold" handle adds a bonus in terms of shaving precisely as well as safely.
But guess what?
Each of these razors features a unique specialty to take place on your priority list.
Let's say the Schick Quattro stands out for having an ergonomic handle. Thus, it makes shaving a snap! On the flip side, the handle of Schick Hydro comes with excellent shock-absorbing ability, adapting all faces to eliminate cuts, nicks, and severe irritation.
The similarity between Schick Hydro and Quattro is that they both serve you a single razor handle. That said, the difference is, Hydro offers two cartridges, whereas the Schick Quattro Razor features three cartridges.
This is where you can find a significant difference between the Schick Hydro and Quattro. Although each offers some quality and unique specs, there is a noticeable range of differences around their price tag.
For example, the Schick Hydro is known to be budget-friendly despite having five blades (ultra-glide) and a handle with shock-absorbing ability. At the same time, Quattro is a bit steep compared to Hydro. The reason behind it might be its extra cartridges and more appealing design.
Which Razor Is Better For You?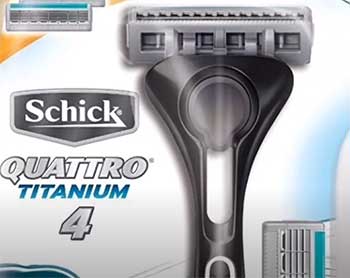 After the detailed comparison, are you still overwhelmed and can't make the ultimate decision?
Well, let me discuss a little more about which one is the winner of today's comparison –
Hydro and Quattro stand out in their ways and specialties.
But some core aspects of the Schick Quattro are its ergonomic handle, titanium-coated long-lasting blades, and exquisite outlook. 
Moreover, it can slide over your entire face with a lubricating strip filled with B-5, Vitamin E, and Aloe. All of these facilities make it a little pricey. 
 So, if you have budget issues, I'd prefer going with the Schick Hydro without thinking twice. Even though its blades can't last as Quattro's does, you'll get five in total for long-term usage. And yes, its shock-absorbent handle adds icing to the cake!
It all comes down to your personal opinion on what fits your daily needs and budget. After all, the ball is on your pitch!
Frequently Asked Questions (FAQ)
What is the difference between Schick Hydro and Quattro?
The difference between Schick Hydro and Quattro is noticeable in their blade quantity, handle type, design, and price. 
Besides that, Quattro includes lubricating strips and three cartridges, whereas Hydro features two cartridges and gel pools for immediate lubricant protection. 
Are Schick Hydro and Quattro Interchangeable?
As their blades don't match each other, you can't use them interchangeably. From their blade type to handle, almost everything is different.
Which Schick razor is best?
Are you tight on cash yet looking for something that has a shock-absorbing handle, flip-back facility, and gel pools? Well, then, Hydro is by far the best.
On the other hand, if you can afford a relatively pricey razor to ensure more longevity, cartridges, and classy design, then Schick Quattro is unbeatable!
When did Schick Quattro come out?
In 2003, Schick introduced a brand new model named "Quattro."  It comes in 4 titanium-coated blades, an aesthetic design, and a few more striking features. 
Conclusion
From the comparison of Schick Hydro and Quattro razors, you can see each has loaded plenty of unique specs and specialties. But I'd say the blade of Quattro ensures more longevity. Plus, its overall outlook appears more appealing. 
However, it's equally true that Schick Hydro is more pocket-friendly. And it absorbs more shock to reduce cuts, nicks, and irritation during a shave. Now you decide which fits you most!