A toilet is something you can't tell how well it works only by looking at the features. You have to use it to understand whether it's a good one. But it's not possible to try out every toilet you see.
That's where I fit in.
I've been using the Penguin toilet for quite some time now. And I can tell you- it's really good. In this write-up, I'll share my experience with Penguin toilet. You'll get to know this toilet's good and bad sides.
So, let's get right in.
Features of Penguin Toilet
The Penguin toilet has many unique features. Knowing them will help you determine whether this toilet will be good for you too.
So, here are some key features of the Penguin toilet.
I was looking for a two-piece toilet with all the features of a good toilet and more. Then Penguin toilet came to my attention.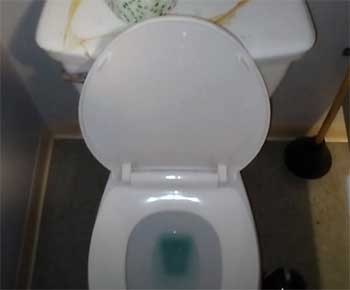 There wasn't any comprehensive review of this product.
So I took a gamble and purchased it for my bathroom. It turned out that I got a good deal.
All Penguin toilets are two-piece and closed-couple toilets. They have round bowls with a gravity feed system.
One of the good things about these toilets is that they are specially designed for blind or physically challenged people so that they can easily access them.
Plus, the design is ADA-approved.
The build quality of these toilets is excellent. They meet a lot of code and standards. That's possible because they comply closely with all these codes and standards.
This is proof that they are structurally well-built. You will see that when you use them.
I find my Penguin toilet very comfortable and easily accessible. It comes with a 16 inches seat height, perfect for people of all types of height.
These toilets meet the requirements of ASME A112.19.2, IGC 252-07, ADA, IAPMO/UPC, etc., codes. So, you can figure out the build quality.
Toilet For All Type Of Use
Another good thing about this toilet brand is that they have separate models for residential and commercial use. There are two models of toilets for residential use.
Model 509 is a 2-piece Round shape toilet, and Model 524 is a 2-piece Elongated toilet.
On the other hand, It also has two toilet models for commercial purposes—Model 509 and Model 524. The first one is Round shaped, and the second one is Elongated.
However, you will get a 10 inches rough-in tank and a Right-hand tank option for commercial toilets. So, you can choose one based that fits your need. Here is a demo for you.
Flushing performance is very crucial for a toilet as it's an essential part of a toilet. The more powerful the flush, the better the toilet is.
So, good toilets always come with a powerful flush. With constant development, the flush performance has gone to a new height. Penguin toilets come with 1.28 GFP, which is currently industry-leading.
Because of this powerful flush, my water consumption has gone down. My toilet becomes squeaky clean with less amount of water.
That's because the flush is powerful and cleans the bowl effectively and efficiently. As a result, I can now save the money I had to spend on the water.
Another unique feature of Penguin toilets is their overflow protection. Because of the Penguin Protection Technology, you won't have to worry about water overflow.
These toilets come with built-in water overflow protection in the bowl. There is a secondary drain system for carrying away overflown water.
This feature comes in handy in many cases. It does not allow water to go out of the bow. So, after flushing, the overflow protection won't let it happen if the water becomes clogged or tries to come out of the bowl.
The extra water will be carried away using the secondary drain.
The flush valve is that component that releases the water from the tank after pressing the flush button. Penguin toilets come with 3 inches flush valve, which is common in all good toilets.
Because of this size, enough water comes into the bowl and removes all the waste.
Besides, it also increases the pressure of water. So, the water flows very quickly and cleans away all the waste.
That's why you will get a clean bowl every time you flush your toilet after use. It also prevents your toilet from wasting water. That's why a flash valve is crucial.
All the good toilets come with fully glazed bowls. If your toilet's bowl is not well glazed, the waste won't go quickly, and you will have stains on the bowl. It looks disgusting, and you must clean your toilet often.
But the good thing about my Penguin toilet is its fully glazed bowl. As a result, waste quickly goes into the trapway without leaving any stain.
So, I do not have to clean my toilet too often. So, you will have less hassle of cleaning when you have Penguin toilets.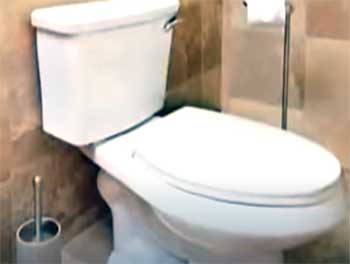 Trapway is the way waste goes into the septic from the toilet. A good trapway will take your waste sooner and won't clog.
Penguin toilets come with 2 inches trapway. So, there is enough space for waste to go away.
Again the trapway is fully glazed. So, it's smooth and helps waste to go down without creating any barrier.
On top of that, the size and glazing won't let your Penguin toilets clog and give you any trouble.
You won't have to pay a lot of money for Penguin toilets. You will find all these features at a very market-competitive price. For a 2-piece Penguin Round toilet, you will have to spend around $320.
On the other hand, a 2-piece Penguin Elongated toilet will cost around $351. The price gap is minimal. Plus, the prices of these toilets are very reasonable.
All Penguin toilets come with 5 years limited warranty. Although it's a good offer, the coverage could be slightly longer.
Since a warranty indirectly tells about a product's quality, the manufacturer could provide a better warranty for these toilets. It would further tell about the quality of these toilets.
What Could Have Been Better With Penguin Toilet?
Now it's time to see some disadvantages of this toilet. It will give you a complete picture of this product.
The most significant disadvantage of these toilets is that they do not come with seats. You will have to purchase them separately.
At this price point, the manufacturer could provide a seat.
Some users have said that their flapper doesn't seal and keeps leaking water down the drain. As a result, the flush valve shuts off and starts refilling water.
Since multiple people are complaining, the manufacturer should look into it.
Final Thoughts
A good toilet can save you water and money in many ways. On the contrary, a bad toilet can turn your life into hell; ask someone who's stuck with a bad one.
However, after reading the Penguin toilet reviews, I'm sure you'll agree that it's a pretty good toilet. So, you have nothing to worry about. Just go out and bring it home.