Taking on the challenge of making your own bathroom vanity cabinet might just be among the best things you will ever do for yourself. It will allow you to customize your own vanity cabinet with countertop as you wish.
Just like in an old saying, if you want something done right, do it yourself. It may at first seem like a lot of work that you'd rather avoid, but the outcomes are always worth it.
How To Make A Bathroom Vanity Cabinet?
This article will provide a comprehensive guide on how to make a bathroom vanity cabinet and ensure you achieve your desired results. Take note of each step to avoid any trouble during the process.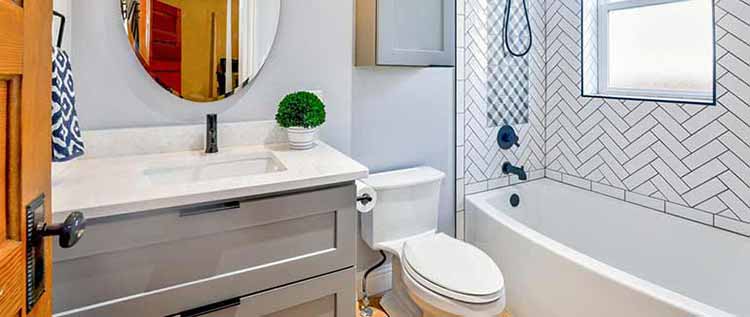 Stage 1: Assemble Your Materials
Before getting started with the bathroom vanity cabinet, ensure you have all the materials you will require at hand. The process is more likely to run smooth and fast if all the materials are available and ready when needed.
Therefore take enough time assembling everything you will need and ensure all your materials are the best quality you can get. Some of the must-have materials include vanity sinks and faucets, liming wax, power grill, a couple of saws and a hole jig.
Depending on the bathroom vanity cabinet with countertop design, you might require a few more materials for better results. Prepare all the materials and keep them close.
Stage 2: Make The Base
You will first need the right and preferably the best vanity legs you can find. Opting to source your vanity legs from an old salvage shop will also be a good idea. With a good clean –up, they will be good and ready to go.
Make sure they are strong enough and will work just fine. Also, ensure they match your overall bathroom vanity cabinet. Attaching the frame should be your next step.
Attach your frame boards to every vanity leg you wish to use. Using your saw, cut out a size-able plywood base and fitting notches around your vanity legs. Combine your base with the legs and you have the base of your bathroom vanity cabinet ready.
Stage 3: Step Up The Sides
The sides should be made strong enough to avoid any cases of a collapsed bathroom vanity cabinet in the future.
Making frames and gluing smaller boards within the frames is one of the recommended ways of making the sides. Set up the two sides on the already constructed base and include metal brackets to tighten the grip.
Be very careful when stripping the screws because it can easily affect the structure and quality of your bathroom vanity cabinet with countertop. Once the sides are properly done, stage three awaits.
Stage 4: Build The Partitions And Drawers
If your bathroom vanity cabinet will need drawers, you will need to make the sizeable portions. Make sure the measuring is done right to avoid any gaps within the cabinet.
In case you are having troubling getting the correct measurements for the partitions, consider using pieces of boards to fill any gaps. Making adjustments in such case is also much recommended.
Make sure your partitions are well fitted in and secure enough and then you can proceed to make the drawers. Using your plywood, construct perfectly fitting drawers and late on install the slides on your drawers.
Make sure the slides you choose to use are the best. If you have never installed slides before, follow the guidelines often come in slides packaging. It is normally a simple and clear procedure so don't worry, you'll be fine.
Test the drawers and make sure all the slides are well installed and are working properly.
Stage 5: Make The Doors
Depending on the opening of your bathroom vanity cabinet, get a door that will perfectly fit. You can also get creative and assemble some boards together to make your desired door size.
They will work just fine when glued together. In addition, you can also add decorative edges to make your doors more attractive and stand out. Your hardware jig will also come in handy to achieve the best cabinet doors.
Doors can be quite tricky to make and might even take you longer than you expected. Take your time.
Stage 6: Fitting The Top
With your bathroom's vanity cabinet body done, fitting the top will be your next step. It is recommended to choose a top that will match the entire body just perfectly and create a theme within your bathroom.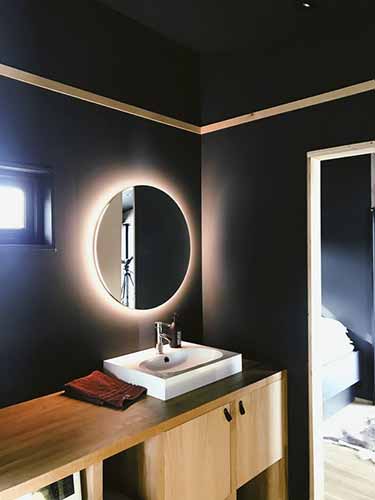 The white color is mostly preferred but don't shy away from getting colorful tops. They are known to bring more life to your bathroom and will also work just fine.
This process can also get a little overwhelming and therefore getting a friend to help will be the best option. You may also need to make a few adjustments if your sinks cannot fit. Again adjustments are very common so don't let them bring you down.
Stage 7: The Finishing
This stage should be taken with a lot of weight. With the same effort, you put in when constructing the parts, undertake the finishing stage.
This stage will give the bathroom vanity cabinet its overall look and thus, it will require time as well. Take enough time to explore the many available options for you and make sure you pick the best of them all.
You are also free to make out some unique board for the finishing. As I had earlier mentioned, making your own bathroom vanity cabinet allows you to customize and personalize your cabinet as you wish.
Therefore take advantage of this and do your thing. When painting, it is advisable to start from the back end of the cabinet just to be safe.
In case you don't like the color, the mess will be more manageable compared to making any color mistakes on the front.
After all the painting is done, apply the liming wax on the wood to give a complete and cool finishing. Get the best for that awesome desired look.
Wrapping Up
To conclude, if at all you decide to make a bathroom vanity cabinet with countertop, make sure it will be the best and will stand out as much as possible. With the above clearly outlined steps, I am confident you will not have any trouble attaining your desired vanity cabinets. Remember to enjoy the process as well.