A toilet is one of the most important parts of a house. Not only do we use it on a daily basis, but also it has become an essential part of the interior.
Some of us might assume that all those toilets are the same based on looks and what it does. But if we observe closely, there are a lot of differences that can be found both in the looks and performance.
In this article, we will talk about Kohler Betello vs. Corbelle, the two most popular models of Kohler.
Quick Differences Between Kohler Toilet Models
Though Kohler's two models of the toilet are almost the same, let's look into some major differences between them-
| | | |
| --- | --- | --- |
| Specifications | Kohler Betello | Kohler Corbelle |
| Toilet Style | Two-piece toilet | Two piece toilet |
| Price | Costly | Less than Betello |
| Alternatives | Betello with ContinousClean – K-5709 | Corbelle with ContinousClean – K-5709 |
| Height | Taller | Less tall than Betello |
| Tank Size | Skinnier than Corbelle | Average |
| Speed | Super fast | Average |
Key Differences Between The Kohler Betello And Corbelle
Now, let's talk about the key differences between these two models in detail: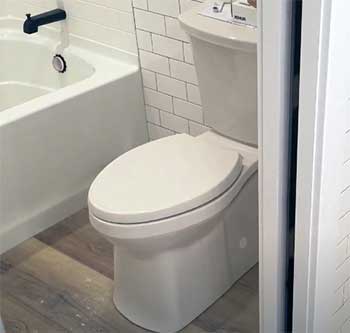 You can come across a few different toilet design options while shopping. But the two-piece toilet is certainly the most popular. 
Two-piece toilets are those where the bowl is separate from the tank and must be bolted on during installation. 
One-piece toilets are another option; they are made of a single, continuous piece. Although this design is typically more expensive, many people find it simpler to clean.
There are also wall-mounted toilets, which have a sleek, contemporary appearance.
However, if you're switching from a normal toilet, this type requires additional bracing and plumbing adjustments, making it more difficult to install.
Both Betello and Corbelle provide you with the best two-piece toilet which also ensures top-class performance.
Kohler company has various types of toilets in the market. Every model has its own specifications and technology. Betello™ Comfort Height and Corbelle™ Comfort Height are their two main models in the names of Betello and Corbelle.
But they also provide two other alternatives to Betello and Corbelle with high technologies. These are- Betello™ with Continuous Clean toilet and Corbelle™ with Continuous Clean.
These two alternatives are highly advanced models with some amazing features. These have LED system indicator lights with AAA batteries. You can also see how much the cleaning solution is used in every flush with the help of the adjustment dial.
Another great thing about these models is they have AquaPiston® canister. It allows the water to flow in every side of the bowl. These also have the flush valve with perfect ratio (3:2) which increases the flush performance.
One of the significant differences between Kohler Betello and Corbelle is their height and size. The Kohler Betello is taller than Corbello. The tank of Kohler Betello is also skinnier or narrower than Corbello.
The height and narrow size of the tank give it a funnel shape. And for this shape, there is no internal corner in the tank where the water can be trapped. So, it can be said that the funnel shape tank speeds up the flush also.
If we consider the fact of flushing speed and noise level, Kohler Betello is slightly better than Corbelle. With Revolution 360-degree flush valve, it provides the ultimate speed. Kohler Corbelle is a little bit slower in that case.
Kohler Betello is also louder than Corbelle. You can also test it with the help of an iPhone sound meter. However, you cannot really differentiate the noise level without the help of a sound meter, so the noise level should not be a concern.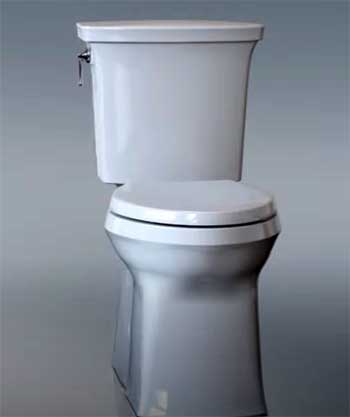 If you're slightly concerned with your budget, Corbelle is the best choice for you. Corbelle Comfort Height will cost you $485.25, whereas Betello Comfort Height costs $522.75.
Though the difference is not much, you can save almost 40 dollars by choosing Corbelle as the two models are almost the same.
The alternative models- Betello™ with Continuous Clean toilet and Corbelle™ with Continuous Clean costs a bit more than the comfort-height models.
Betello™ with Continuous Clean toilet costs $597.75, and Corbelle™ with Continuous Clean costs $560.25. Again, we can see that Corbello is cheaper than Betello.
So, the overall cost summary would be, Corbello is always less costly than Betello. Be it Comfort Height model or Contimuous Clean.
Frequently Asked Questions (FAQs)
Which is better American standard or Kohler?
Both American standard and Kohler have amazing toilets with lots of features and technology. But they have some disadvantages also. If you're the one who wants a toilet with an affordable price and the best flushing system, then American Standard is better.
But if you're looking for usability, design and comfort, nothing can beat Kohler.
Is Kohler elmbrook discontinued?
Yes, this product has been discontinued. But the good part is, Kohler introduced a few fantastic models as alternatives of elmbrook.
What is Kohler ReadyLock?
Kohler Readylock is an amazing technology for Kohler's toilet. Readylock makes it easy to install a skirted toilet, and this innovative installation system doesn't require drilling, caulk, or special tools.
What does Aquapiston flush mean?
One of the strongest toilet flushing mechanisms is the aquapiston flushing system. Its lack of a flapper is what distinguishes it as the greatest. Actually, it is a device, and its full name is Aquapiston Flush Canister Valve.
With the Aquapiston technology, all the waste is swept away by a single, powerful water jet. Increased water pressure results in increased suction in the toilet's trap area, which totally removes all solid waste.
Final Words
Choosing the right toilet, which looks good as well as performs better, is not an easy task. There are some fancy toilet models in the market that might attract you, but if you look into the technologies used in them, they are not very well-performing.
Kohler Betello vs. Corbelleis a tough comparison, and you have to choose wisely between these two. If you want to save a few bucks, then Corbelle is for you; otherwise, you can go for stylish as well as the all-rounder Betello.