Planning on renovating your shower pan but confused between KBRS and Kerdi?
No worries, it is pretty normal to be confused between the two best-quality shower pans.
KBRS ShowerSlope shower pan is a prefabricated, rock-solid, and tileable shower pan, whereas a Kerdi shower pan is made of expanded polystyrene. This article will show you other essential differences between these two products.
So, let's get started.
A Quick Comparison Table
Here is a quick comparison table between KBRS and Kerdi Shower Pan:
| | | |
| --- | --- | --- |
| Aspects | KBRS Shower Pan | Kerdi Shower Pan |
| Material Type | EPS Core, Epoxy Glass, And Glass Fibers | Of Expanded Polystyrene |
| Special Feature | Cut-To-Fit Shower Pan | Comes With Integrated Kerdi Waterproofing |
| Benefits | Offers Many Benefits | Offers Many Benefits |
| Available Sizes | More Available Sizes | Fewer Available Sizes |
| Warranty | 10 Year Limited Warranty | Limited Lifetime Warranty |
| Price | Around $327 | Around $100 |
In-Depth Comparisons Between KBRS And Kerdi Shower Pan System
Now, let's see some key differences between the KBRS shower pan and the Kerdi shower tray.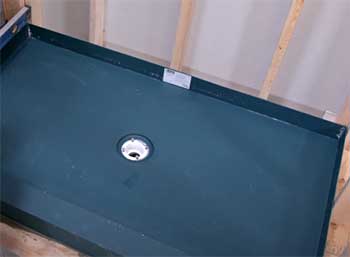 KBRS ShowerSlope is a cut-to-finish shower pan that is an ideal replacement for mortar bed traditional shower pans.
This prefabricated shower pan comes pre-sloped and rock-solid.
Besides, its zero-entry feature offers necessary positive floor drainage.
Most importantly, the cut-to-fit feature allows you to cut this high-quality shower pan according to your shower size after installation.
On the contrary, the Kerdi shower pan is a mortar-free and lightweight modern solution for your shower. This is a standard shower tray with various drain positions.
The prefabricated and the pre-slopped formula with waterproofing makes it an excellent product for showers.
Although made from a lightweight material, Kerdi is solid, waterproof, and ready to tile.
As KBRS is a cut-to-fit shower pan, you can easily customize it while installing. You can install it with any commonly modified thin-set.
Besides, you can cut labor costs while using it. You won't need any epoxy mastics to install the ShowerSlope shower pan.
On top of that, it will work on any standard shower drain. I've found it to become ready for foot traffic immediately after installation because of its solid core construction.
On the contrary, the Kerdi shower pan is lightweight and can prevent mildew and mold growth. It comes with integrated Kerdi waterproofing.
You won't need a mortar bed to install the Kerdi shower pan.
Besides, a thin perimeter height provides curbless shower construction. Kerdi has designed this shower tray to integrate with the Kerdi board.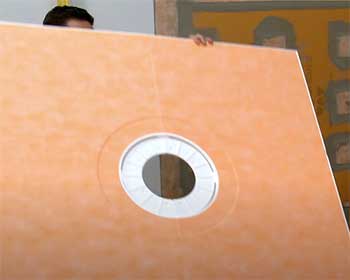 You will get a lot of standard and customized size options from KBRS ShowerSlope. It is a flexible product with excellent cutting ability.
Besides, you can easily install KBRS with its cut-to-fit feature. A U-Notched trowel also comes with the package for easy installation.
In my experience, ShowerSlope is a lightweight shower pan and is quite easy to work with.
Similarly, Kerdi also brings many benefits. Its superior waterproofing formula will make your bathroom watertight. This is a thin formula but extremely strong. Besides, you will get three drainage hole options from Kerdi.
With its innovative design and engineered body, you can easily install this shower pan in your shower, be it on your shower floors or walls.
Both KBRS and Kerdi Shower Pan come in many sizes. According to many contractors, multiple size options pay off while installing.
KBRS ShowerSlope is available in 36×61 inches, 45×49 inches, 33×49 inches, 33×61 inches, 33×37 inches, 33×61 inches, 30×55 inches, 33×43 inches, 39×43 inches, 30×61 inches, 37×37 inches, 39×39 inches, 30×55 inches, etc. sizes.
Conversely, Kerdi Shower Pan is available in 36×36 inches, 38×32 inches, 38×38 inches, 48×36 inches, 48×48 inches, 60×38 inches, 60×48 inches, 60×60 inches, 72×48 inches, and 78×72 inches.
Besides, you will get center, off-center, and neo-angle outlet positions for both shower pans.
Price is an essential factor in product selection. I suggest you look at the prices before deciding on anything. Price of a shower pan depends on its size.
A 30×55 inches KBRS ShowerSlope with a left or proper drain position will cost you $327.
On the contrary, a 48×48 inches Schluter Kerdi thin shower tray with center drain placement will cost around $100. As you can see, KBRS ShowerSlope is three times more expensive than the Kerdi shower tray.
Warranty is another crucial factor, so you should consider it before making up your mind. KBRS ShowerSlope comes with a 10 Year Limited Warranty for residential and commercial use. By contrast, Schluter offers a Limited Lifetime Warranty with Kerdi Shower Tray.
Which Shower Pan Is Best For Your Bathroom?
My own experience, along with many fellow contractors and professionals, tells me that the Schluter Kerdi Shower Tray offers better performance than KBRS Shower Pan.
So, I suggest you select Kerdi for redoing your shower.
You will get mold and mildew-resistant features from Kerdi. Plus, it offers Kerdi Waterproofing. It is also lightweight and easy to install.
Moreover, you will have to spend far less money on Kerdi.
Frequently Asked Question (FAQ)
Is Schluter Kerdi worth it?
Schluter is an excellent option for waterproofing a shower. But there are other shower pan options like KBRS that offer even better results.
Which is better Wedi vs. Schluter?
Schluter is better than Wedi in many ways. Schluter Kerdi is more flexible, and you can easily cut it according to your need, which is not the case with Wedi.
What is similar to Kerdi-board?
There are some alternatives to Kerdi-board like Profoil, which is cheaper but offers similar performance and results. You can use it for similar applications as Kerdi-board.
What is KBRS shower pan made of?
KBRS shower pan is made of a highly dense EPS core, epoxy glass, and glass fibers. That's why it is extremely solid and durable.
Final Thoughts
A shower renovating task can become easier with the right shower pan. That's why you must find the best product available around you.
You've found the best shower pan after reading my KBRS vs. Kerdi shower pan review.
I've done my part. Now it's your turn to do the right thing. I'm sure the KBRS shower pan won't let you down.