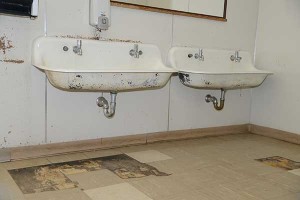 Molds are the most common bathroom problems. When the bathrooms are damp, mold tends to grow at the corners. Even it can grow on your toilet seat where you have to seat daily.
Most times you may not notice them, but they are pesky and come in different colors.
Molds are caused by bacteria and they tend to grow and survive because of the humid and hot environment our bathrooms provide.
They are harmful to our health and can cause respiratory conditions, allergies, and serious health conditions that affect the nervous system.
There are effective ways on how to get rid of mold in the bathroom and also prevent them from growing again. Methods like using Vinegar to get rid of mold, re-caulk, and regrout your shower.
How to get rid of mold in your shower with vinegar?
Vinegar is a natural acid that kills bacteria and germs. It also kills different mold species. It is a non-toxic chemical and is safe to use.
This natural acid is mixed with other mold removal agents for a more effective result. Vinegar can be mixed with salt, borax, baking soda, and hydrogen peroxide.
When mixed with any of these compounds, it kills 86% of molds. But you should never use vinegar to clean the toilet. For that purpose, use only the best toilet bowl cleaner for stains such as Lysol or Frosch.
Steps on how to use Vinegar to remove mold
Wear rubber gloves when pouring the undiluted vinegar into a bottle.
Spray vinegar on moldy surface
Scrub the mold away
Allow sitting for about one hour to two hours
Rinse off with water
Allow the surface to dry
To prevent vinegar from growing, spray the vinegar in the bathroom after showering.
An alternative method involves using white vinegar with a scouring agent like baking soda.
Pour undiluted white vinegar into a spray bottle
Spray vinegar on moldy surface( painted walls, ceramic surface, rout, tiles )
Allow sitting for one hour to two hours
Scrub thoroughly using a damp cloth. Take time to scrub hard to reach areas using a brush
Rinse off with water
Mix 3 parts baking soda with 1 part water
Mix paste and apply to any surface with a trace of hard to remove mold
Rinse off with water and repeat application of paste if necessary
Be cautious not to mix vinegar with bleach or hydrogen peroxide as they form a toxic and harmful chemical
How to clean mold in shower silicone?
Before I go any further, I must point out the fact that you should install a ventilation fan to get rid of shower steam from the bathroom. Shower silicone is always damp, this is why mold easily grows on them.
Cleaning molds from your shower silicone are important as these molds are hazardous to our health. Several chemicals can be used to kill the molds that grow on the shower silicone, but it is always advised to consider how safe the chemical is before using it.
There are natural products that kill molds on shower silicone. As earlier said white vinegar in combination with baking soda can kill mold spores and stop them from growing.
Another alternative method that can stop mold growth on shower silicone is by using chlorine.
Place a microfiber cloth or wads of tissue paper which have been dampened by bleach on the stained areas.
Leave dampened material for 1 hour
Scrub the surface using a bristle toothbrush
Rinse with very hot water and dry with an old towel.
Re-grout and Re-caulk your shower
Grouting and caulking the shower is annual maintenance that helps prevent leaks and reduce mold buildup. Once there is a crack between the bathtub and tile in your bathroom, there is a probability of water getting in to cause damage.
One cannot tell how much damage water causes but they make the bathroom a conducive environment for molds to grow. Re-caulking your shower also helps to get rid of those stubborn mold stains.
The first step is to remove all grout in your shower bit by bit.
Wash the area with vinegar using a stiff brush
Rinse and allow to dry for one day.
Use a grout float product and apply the mixture to the cracks using a grout tool
Clean the area with vinegar and water and allow to dry for 20 -30 minutes
After completing the grouting let it sit for a day before caulking.
When applying the caulk start small. This procedure is carried out using caulk and a caulking gun
Allow the caulk to dry for 72 hours. You are ready to use your mold-free and clean shower. If you have a great quality flushing toilet, the problem of mold will reduce drastically.