It is extremely important to keep your shower wall separated from all the moisture in the shower/bathroom. To keep the moisture away, you should always use a very good quality substrate or building panel.
Otherwise, the wall of your shower can be damaged, which will cause you a lot of hassle in the future.
There are various kinds of boards, such as gypsum board, cement backer board, fiberglass board, etc., available on the market. Among them, GoBoard and Kerdi are the most popular.
In this article, we will talk about these two renowned boards in detail.
A Quick Comparison Table
Here's a quick comparison between these two types of boards for your better understanding-
| | | |
| --- | --- | --- |
| Specifications | GoBoard | Kerdi |
| Weight | Ultra lightweight | Lightweight |
| Type | Backer Board | Waterproofer |
| Materials | Polyisocyanurate closed-cell foam inside and fiberglass mat outside | Extruded polystyrene foam panel |
| Manufacturer | Johns Manville | Schluter |
| Rigidity | Comparatively less rigid | More rigid than GoBoard |
| Installation | Easy and fast installation | Takes more time than GoBoard |
Key Differences Between GoBoard and Kerdi For Your Shower
Now let's analyze the main differences and find out which one is more suitable for your shower-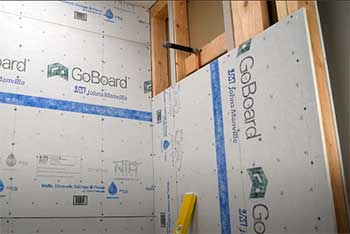 You might think that weight is not an issue for the substrate as it will eventually stay under the tiles.
But in reality, it creates a big difference when you install them on your wall.
Lightweight boards are easily stuck to the wall and it reduces the installation time also.
You won't need a huge amount of mortar to place them on the wall. Lightweight boards are also super durable.
So, if we want to compare the GoBoard and Kerdi based on their weight, the GoBoard wins. Because it is ultra-lightweight and, most surprisingly, it is 80% lighter than the traditional cement backer boards.
The Kerdi board is also lightweight but not like the GoBoard. So, GoBoard wins here.
GoBoard is manufactured by Johns Manville, which is an American-based company. They also manufacture insulation, commercial roofing, and building materials.
Schluter®-Systems, which is a family-owned group of companies, manufactures the Kerdi board. Both companies are reputed and well known, but Schluter®-Systems created customer dissatisfaction for a certain period of time due to the Kerdi board shortage.
The inside of GoBoard is made of polyisocyanurate closed-cell foam, and the outside is made of a fiberglass mat. GoBoard is a kind of backer board because the main elements of a backer board are cement, silica, fiberglass, etc.
Kerdi board, on the other hand, is an extruded polystyrene foam panel. Kerdi board is a kind of waterproofer because these kinds of boards are made of XPS foam.
As the GoBoard is very lightweight, it becomes easy to install. You can cut it with a simple utility knife. It also produces less dust during installation, and this makes the installation process easier.
The Kerdi board is more rigid than the GoBoard. So, it is difficult to cut a Kerdi board with a utility knife. The overall installation process of Kerdi boards is lengthier than the GoBoard.
GoBoard or Kerdi?
Now that we know all the differences between GoBoard and Kerdi, let's come to a decision. Which one stands out? GoBoard or Kerdi?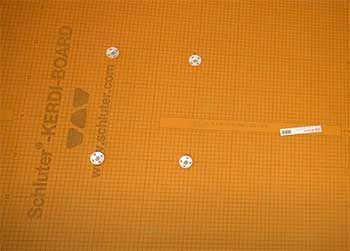 Well, to come to a decision, you have to make up your mind first.
Do you want something that is difficult to install but cheap? Or do you want something easy to install but expensive?
If you choose the first one, then the Kerdi board is for you. Because, to install the Kerdi board, you will have to deal with some hassle.
First of all, you might face issues while bonding.
Secondly, if you want to install it all by yourself without getting any help from a professional, chances are there will be some errors and you won't be able to solve this easily.
Finally, it will take some time to stick on the wall, and you can't place the tiles immediately.
On the other hand, if you want an easy installation, then go for GoBoard. Its ultra-lightweight design will give you the perks of easy cutting and installation.
Though it's a little bit costlier than the Kerdi board, you can save money by installing it on your own.
Also, there is no expensive tool required for this installation, which means that, in the end, the cost is almost the same in both cases. So why not choose the durable, lightweight, built-in waterproof, easy-to-install GoBoard?
Frequently Asked Question (FAQ)
Is GoBoard good for shower?
Of course, GoBoard is one of the great options for tiling your shower floor and tub area. It works best when installed in a new shower. It is good for both curbside and curbless shower areas. Overall, it can be a nice substrate for your shower.
What is the best backer board to use in a shower?
The Glass Mat Gypsum board (for example, DensShield) and cement board are the best backer boards to use in a shower. But they are heavy and difficult to install. So, if you are looking for DIY options and at the same time want something durable, you can go for GoBoard or Greenboard.
Is Schluter Kerdi worth it?
Yes, Schluter Kerdi is great for your shower or bathroom. Though the installation process of Schluter Kerdi is a little bit complicated and requires some special tools, it will last and protect your walls for decades once installed.
What is GoBoard used for?
GoBoard is an excellent tile backer for the wet areas of your house. It is mainly used in kitchens and shower areas where the presence of moisture is very high. As the GoBoard is very lightweight, professionals recommend not using this board in areas where the traffic is high. But it can be used for general house floors.
Final Words
We all want to decorate our shower beautifully with the best-designed tiles. But all our efforts can go in vain if we do not choose the right substrate for the tile.
The risk of shower wall damage is comparatively high because this area is very moist. So, think twice before you buy the tile substrate for your shower.
If you're still stuck in the GoBoard vs. Kerdi confusion, then take a look at our thorough analysis of this and you'll find your answer.