Shower door adds to the aesthetics of your bathroom. But of course, you have to settle with shower door options that are both aesthetically pleasing and functional. 
Fleurco Novara is one of the top reliable brands you should check out. They are one of the leading brands in the industry.
Before choosing a shower door from the brand, it's crucial to go through some Fluerco Novara shower doors reviews to understand its quality. We'll explore everything you should know about the brand. 
Let's dive in. 
Features of Fleurco Novara Shower Doors

Every Shower door from Fleurco Novara is equipped with unique features that make them more appealing. 
Generally, they are all safe to use. Here are some of the features you'll enjoy from some Fluerco Novara shower doors. 
One of my favorite thing about clear tempered glass doors is the aesthetics it adds to your bathroom. It gives it a luxurious appearance regardless of how small or large the bathing area is. 
More so, it is versatile enough to be bent in any direction to enclose any bathroom shower size. Aside from that, clear tempered glass has a knack for easy maintenance- cleaning it is a breeze. 
The best part is that it is scratch-resistant. It won't budge or lose its quality to scratches or wear and tear. In addition, the tempered glass is also heat resistant. 
Thanks to its design, the shower door won't shatter under the pressure of too much heat. That gives you the liberty to freely bathe with any temperature water.
FleurcoSEKUR+ Safety Protection (S.R.T.)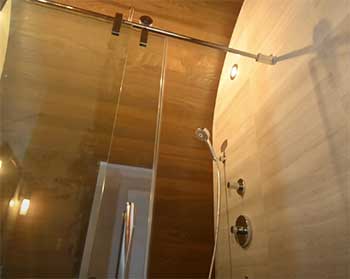 Although the clear tempered glass material deployed by Fleurco Novara is strong, the brand did double protection on the door. 
They reinforced the shower doors with FleurcoSEKUR+ Safety Protection (S.R.T.).
In case you're wondering what this is, it's a protective transparent film deployed by the Fleurco Novara brand on the shower doors to hold it together. 
In essence, if the door wasn't correctly installed and it falls off where it stands, it won't shatter into a million pieces. This safety protection feature contributes to the durability of the shower doors. 
It can also withstand the harsh treatment of abrasives and chemicals as it has been subjected to several tests, which it passed.
We love a brand that knows its onions, and Fluerco Novara is one of them. An impeccable feature of this brand's shower door is the various options end-users have. 
While end-users might not know what they want, they would surely recognize it when they spot the various Fleurco Novara shower doors. 
The brand also gives end-users the option to customize any shower door to fit their shower.
Microtek Glass Surface Protection
Another fascinating feature of the Fleurco Novara shower door is that they are reinforced with Microtek glass surface protection. 
This feature protects the shower doors from glass erosion. That is, dirt and moisture won't get trapped inside the door to cause erosion.
What Can Be Improved With Fleurco Novara Shower Door?
Whether you're building the bathroom in your new apartment or giving it a facelift in your current one, using high-quality products is essential. 
That way, you'd get a bang for your buck. When designing your bathroom, one of the things you should pay attention to is the shower doors. 
And frankly speaking, Fleurco Novara put in their best to make their shower doors into masterpieces. 
So, there are almost no flaws in the shower doors. However, there is something they'd need to improve on. Keep reading. 
This brand offers a 10-year limited warranty on their shower doors. But there are terms and conditions attached that might make it difficult for end-users outside North America to invest in it. 
For instance, end-users are only entitled to the warranty if they purchased the product from a certified dealer. In essence, if you buy any Fleurco door from a non-certified dealer, you're not entitled to the warranty. 
This clause isn't outrightly bad. However, there aren't many Fleurco Novara dealers outside North America. 
So, you'd have to figure out a way to purchase the shower doors directly from Fleurco or a certified dealer in North America. That's quite limiting for prospective end-users in countries Fleurco can't ship.
Lastly, I want you to watch this installation video.
Frequently Asked Questions (FAQ)
Is Fleurco a good brand?
Yes, Fleurco is a good brand. They are a North American company whose specialty is in creating and designing a wide range of shower and bathtub doors to satisfy the needs of their end-users. 
The company has risen to become one of the top leading providers of excellent shower door quality. They set the pace for advancement and innovation in the industry.
Where can I find a Fleurco dealer?
Fleurco is based in North America. You can find any Fleurco dealer in North America. 
What is Fleurco's return policy?
Since Fleurco has certified dealers all over North America, the brand doesn't accept returns directly from end-users. 
So, if there's a fault with a Fleurco product you bought, you'd have to return it through one of the brand's numerous certified dealers. 
Note that you can only return products that haven't been installed. More so, you'll have to shoulder the restocking cost.
What is the warranty on Fleurco products?
Fleurco has several products, and they offer a 5 to 10 years limited warranty on these products. 
For clarity, Fleurco products like medicine cabinets, Veritas bathroom accessories, and Luna mirrors all have a 5-year limited warranty. 
However, the bathtubs, shower doors, and bases have a 10-year limited warranty. 
What is FleurcoSEKUR+ Safety Protection (S.R.T.)
The FleurcoSEKUR+ Safety Protection (S.R.T.) is how the brand protects and prevents shower doors from breaking in the event of falling. 
It is a transparent film attached to the shower door glass panel, and it's attached with an adhesive.
Final Thoughts
Now that you've gone through the Fleurco Novara Shower door review, it's evident that the brand is reliable. You'll also understand why they are easily the top leading brand in the industry. 
Their shower doors are carved from high-quality material. They also took the time to reinforce it with necessary protection features that ensure you'll enjoy it for a lifetime.