If you have a higher expectation about this toilet, you are about to be disappointed. I hate to throw any brand under the bus, but I don't want you to regret it either.
When there are so many high-quality flushing toilet brands are available in the market, I personally don't recommend this toilet to anyone. 
But to be fair, not everyone has a terrible experience with this one and I will give you in-depth Eljer Diplomat toilet reviews mentioning all of its eye-catching features to make up your own mind. 
Stay with me for a while and I will explain all the problems with the Eljer Diplomat toilet.
Eljer Diplomat Tall Elongated Toilet Reviews
No doubt, it has the most aesthetically pleasing look and its flushing capacity is awesome. But many people have bitter experiences with Eljer Diplomat.
So, I am gonna share some experiences of the real users. That way you will get a better picture of this toilet and its common problems.
The water-saving technology is good but it takes more than one flush to clear the content of the bowl. 
I am not exaggerating even a little. Because of the multiple flush requirement, many pissed-off people call it a piece of junk!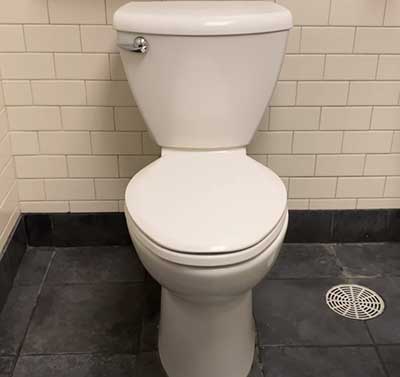 Probably the most disappointing side of this toilet. Within just days of installation, it started to develop a leak between the bowl and tank side. It happened for plenty of people and pissed them off badly!
This is what usually happens.
It appears to be leaking from the tank bolt no matter how much you tighten it.
Because some of the people received the Diplomat with uneven large porcelain lips on the bottom part of the toilet bowl hole. 
That uneven lip usually causes leaks. Some people were even informed to have a tiny seal leak as well between the toilet bowl inlet and tank outlet. 
Apparently, this is a manufacturing error. Because years after informing these issues, they still did not fix this problem.
Very frustrating experience for lots of people.
If your Eljer has the same leaking problem but you don't have the option to return it, use silicon sealant to seal all the bolts and seals. It helped many people to deal with the leaks.
You don't have to do anything but you may notice a hairline crack somewhere inside or outside the toilet sooner or later. Some people have already faced this cracking issue.
Yes, Ejjer will replace the toilet as soon as you find any leaks or cracks, but the hassle is too much. Replacing a toilet is a painful experience!
The water level in the toilet bowl is very low and it's big problem when it needs a good cleaning. It's definitely a design flaw because the pedestal where the flapper sits is too small that does not allow the bowl to fill to a decent level.
Even if you change the valve, it won't make a difference. 
Now, you may think the leaks and cracks mainly happen when not installed by a professional, right? Well, you are wrong.
The same problems are faced by multiple people even when installed by a professional contractor. Those leaks appear to be very persistent!
Features of Eljer Diplomat Toilet
It would not be fair if I don't mention some of its good features. Let's talk about its features now and try to understand why some people still love this toilet.
Technical Details of Eljer Diplomat Toilet
Available in white color.
12" rough-in for easy installation.
16-1/8 inches' height. ADA compliant comfort height. 
Oversized base cover.
Easy installation is a good side for Eljer Diplomat toilets. But let's check out its features in more detail (as claimed by the brand).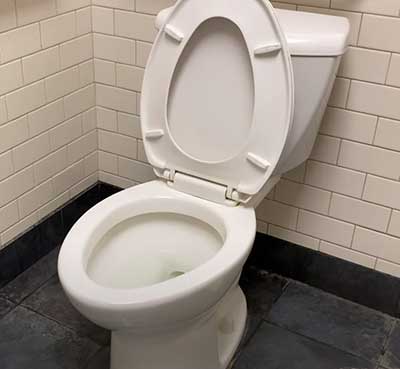 Every toilet has its own patented flushing mechanism. Eljer has a ProOne™ flushing system where it can expel all the waste from the toilet bowl with just one flush!
As its flushing mechanism has a 3-inch category 7 flush valve, it can deliver high-velocity flush water to the bowl through dual jet water feed to expel everything in there. You don't need more than one flush!
And the flush valve features a chlorine-resistant flapper to add more durability to the toilet itself. Nothing bad in this regard.
With 1.6 GPF, it consumes relatively less amount of water. However, it can still deliver a powerful flush with that low amount of water. Thanks to its ProOne™ Flushing System!
Despite using less water, that powerful flush can expel all the waste from the toilet bowl. So, it's environment-friendly no doubt.
Another good feature for Eljer Diplomat. Cleaning your toilet can be troublesome and take a toll. But being fully glazed, Eljer Diplomat resists stains and does not let any buildup accumulate. 
Its powerful flush alone will take care of almost all the cleaning. 
Its trap way has also a fully-glazed finish. So, with a simple scrub, you can completely make it free of any dirt or stains.  For years, it will maintain its shiny look.
Frequently Asked Questions (FAQs)
Is the Eljer diplomat a good toilet?
Yes, it has a powerful flush and its EverClean® feature keeps it clean always. But I don't recommend this toilet because it has many faults like leaking from nowhere and so on.
Is Eljer made by American Standard?
In short, yes. Like Fiat, Sanymetal, Crane, Showerite, etc. American Standard is a part of big American Standard Brands. In 2008, Eljer and Crane merged into one company namely 'American Standard Brands'.
Who makes Eljer toilet?
American Standard Brands make the Eljer toilet which was emerged from the merger of Eljer and Crane plumbing in 2008.
When did American Standard Buy Eljer?
In 2008.
Closing Remarks
Despite having so many good features, it's turned out to be a negative Eljer Diplomat toilet reviews, right? 
Well, lots of people are really pissed off about the issues I just mentioned above. And yes, Eljer will send you replacement parts or even make the refund. But why should you bear the hassle? 
Again, not everyone is having those issues. Good for them!
And there are plenty of flushing toilet brands with high reputations. When you have so many good options available to you, you don't want to test your luck!