Want to know the differences between DensArmor and DensShield?
Well, you are in the right spot and you will know all the necessary information for making the right choice. It will be relatively easier for you to choose between these two products.
DensArmor is 5/8 inches thick and 4×8 inches in dimension, whereas DensShield comes in various thicknesses and dimensions, including ¼ inches thick and 4×4 inches in dimension and more.
There are many other distinctions that you must know before making up your mind. So, let's get started.
A Quick Comparison Table
Here is a quick comparison table between DensArmor and DensShield:
| | | |
| --- | --- | --- |
| Aspect | DensArmor | DensShield |
| Product Type | Abuse-Resistant Interior Panel | Tile Backer Board |
| Material | Gypsum And Fiberglass | Water-Resistant Core & Fiberglass |
| Special Feature | Fiberglass Abuse-Resistant Mat | a built-in moisture barrier |
| Benefits | Offers Many Benefits | Offers Many Benefits |
| Available Sizes & Thickness | 1 Available Size | Multiple Available Sizes |
In-Depth Comparisons Between DensArmor And DensShield
Now that you've drawn some basic ideas about both products, it's time we get into more details. Here I'll show some key differences between DensArmor and DensShield. So, let's dive in: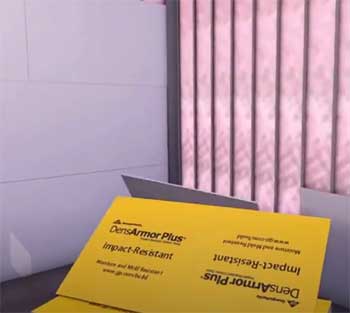 DensArmor is an abuse-resistant interior panel. This is the first-ever fiberglass-made mat that is designed for replacing paper-faced panels.
This moisture and the mold-resistant mat have been designed for commercial buildings' interiors.
You can use it in high foot traffic areas like school and hospital corridors, public buildings, etc.
This is abuse-resistant, drywall-resistant, and tested for other industry-leading features.
On the other hand, DensShield is a tile backer board with a moisture barrier built into it. This product has been designed to protect sub-floors and wall cavities from moisture seeps. It's best for ceramic tiles underlayment in new construction and remodeling projects.
It can be used in both dry and wet areas. Plus, you can efficiently work with it, unlike cement boards. It is suitable for walls, roofs, floors, and ceilings.
Materials make these products unique from other alternatives available in the market. Both are unique products because of their materials and constructions.
DensArmor is made from gypsum and fiberglass. It has a solid, dense gypsum core and fiberglass coating math on both sides.
Because of this engineered construction, they are excellent at moisture resistance and abrasive resistance and resist warping, buckling, and rippling.
On the contrary, DensShield has a water-resistant treated core covered by fiberglass mats on both sides. A built-in tile backer coating on the side of the tiles makes it highly water-resistant and can resist mold with industry-leading performance.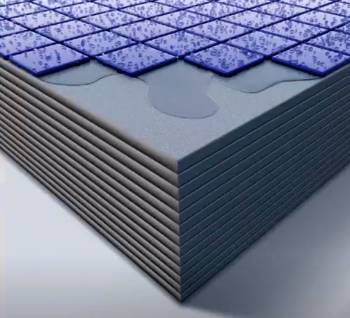 Because of its unique construction, DensArmor is the first fiberglass abuse-resistant panel mat.
It has been designed to replace paper-based panels for commercial buildings. Its dense gypsum core allows it to withstand high foot traffic areas.
Abuse-resistance, abrasion resistance, scrapes, gouging, etc., make it a superior tile product.
In contrast, DensShield is also the first beaker board with a built-in moisture barrier.
It is comparatively easier to install and maintain than a cement board and absorbs less water. Plus, you will need very few tools for installing this backer board. 
In total, DensShield is a convenient, reliable, and trusted water and mold-resistant solution for interior applications.
You will get many outstanding benefits from both these interior tile panels. DensArmor abuse-resistant panel helps increase the abuse resistance power for many high foot traffic areas, especially commercial and public areas.
Because of its glass mat facing, you'll get excellent moisture resistance. In addition, this is a favorite product because of some applications like specialty commercial pre-rock installation.   
On the other hand, a moisture resistance core with an acrylic coating provides superior performance in moisture resisting. It also makes it pretty easy to install this product. Most importantly, this is a versatile product with multiple applications and usability.
Available Sizes & Thickness
Size can be an essential factor for many contractors. My own experience says more size options give more convenience. DensArmor is available in only sizes with a dimension of 4 feet in width, 8 feet in length, and 5/8 inches in thickness.
But DensShield is available in 3 thickness options ¼ inches, ½ inches, and 5/8 inches. Besides, you will get multiple size options, including 4×4 feet, 4×5 feet, 4×8 feet, etc. 
Which Product Is Best For Your ?
In my previous discussion, we can see that DensArmor is an abuse-resistant interior panel. It should be used where your tiles have to withstand a lot of foot traffic.
So, if your project is in commercial or public buildings and places like school corridors, hospitals, etc., you must use DensArmor.
But DensShield is a tile backer and is used in places where moisture is a problem. So, if your project is in a moisture-prone area, you should go with DensShield.
Frequently Asked Question (FAQ)
What is the difference between Densglass and DensShield?
Densglass is installed on exterior framing before installing the shower and tub. DensShield is a tile backer with a waterproof core and can be used in moisture-prone areas.
What is DensArmor used for?
DensArmor is an abuse-resistant panel designed for heavy foot traffic areas like school and hospital corridors, commercial buildings, public buildings, etc. It prevents abrasions, scrapes, bumps, etc., and offers superior results to paper-based panels.
Is DensShield good for showers?
DensShield works excellently well in water-prone areas with its moisture-resistant core with acrylic coating. So, you can use it for a shower and other areas where your surface will constantly be in contact with water.
Is DensArmor waterproof?
Yes, DensArmor is waterproof. Because of its unique material composition, microbial resistance, and solid core, DensArmor provides an excellent water barrier performance. It will protect your surface from water intrusion.
Final Thoughts
We are at the end of our reviews. After reading my DensArmor vs. DensShield review, it's clear that both are very superior quality products with slightly different usage.
I've given you all the information. Now look at your project type and see which product fits with it. So, it's time to go ahead and complete your project with the best option. Best of luck with your project.