If you're renovating your bathroom, one of the most important decisions is choosing the right shower valve. Delta's R10000 and R11000 valves are two popular options, but which one is better for your needs?
I've installed both models in customer homes, so let me walk you through the key differences.
A Brief Comparison Table
| | | |
| --- | --- | --- |
| Feature | Delta R10000 | Delta R11000 |
| Number of Outlets | 1 | 3 |
| Maximum Flow Rate | 2.5 GPM | 2.5 GPM |
| Installation Difficulty | Easy | Moderate |
| Temperature Control | Single lever | Single lever with thermostatic control |
| Trim Styles Available | Various trim kits | Various trim kits |
| Durability | Very good | Excellent |
| Warranty | Lifetime limited | Lifetime limited |
| Typical Cost | $175-$300 (valve only) | $225-$375 (valve only) |
| Best Use Case | Basic single shower head | Multiple shower heads and body sprays |
Overview of the Delta R10000
The Delta R10000 is Delta's basic single-function valve for showers. It has one inlet and one outlet, so it controls the flow of water to a single shower head.
Some key features of the R10000: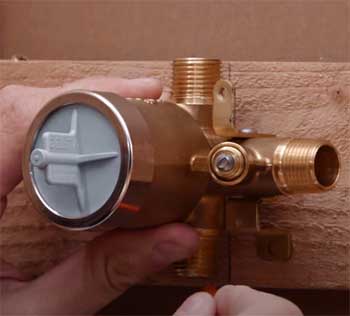 Single lever design for easy temperature control
Maximum flow rate of 2.5 gallons per minute (GPM)
Brass valve body for durability
Available with various trim kits and finishes like chrome, nickel, etc.
The R10000 is straightforward to install and provides reliable temperature regulation.
The single lever makes it easy to find your perfect shower temperature.
However, with only one outlet, the R10000 does not allow for multiple shower heads or body sprays.
You're limited to a single shower fixture.
Overview of the Delta R11000
The Delta R11000 is a more advanced multipurpose valve. It has three outlets, so you can connect up to three shower heads or body sprays.
Key features of the R11000 include:
Single lever design
Maximum flow rate of 2.5 GPM
Three outlets for multiple shower heads
Brass valve body
Available trim kits in various finishes
The R11000 gives you more flexibility in your shower design. With the three outlets, you can install overhead rain shower heads, standard shower heads, body sprays, and more. It's great for creating a spa-like experience.
The installation is also pretty straightforward. The valve body is roughly the same size as the R10000.
Key Differences Between Delta R10000 And R11000 Shower Valves
Ease of Installation
Installation is easier with the R10000 since it only has one outlet to connect. You don't have to position multiple shower heads.
That said, the R11000 isn't terribly difficult to install either. It just requires a bit more planning to position the three shower fixtures correctly.
Both valves mount to standard 2×4 stud walls and require 1/2″ copper or PEX connections. Overall, I'd rate the R10000 slightly easier for DIY installation, but the R11000 is manageable for an experienced homeowner too.
Reliability
In terms of reliability, the R10000 and R11000 are evenly matched. Both feature durable brass valve bodies and cartridges that should provide years of drip-free performance.
The cartridges use rubber washers and seats inside to control water flow and prevent leaks. Over time as these rubber components wear, you may need to replace the cartridge – but that should be 5+ years in most cases.
I've had fewer callbacks for leaks and drips with Delta valves versus competitors. As long as you avoid debris getting into the valves during construction, they are very reliable.
Flow Rate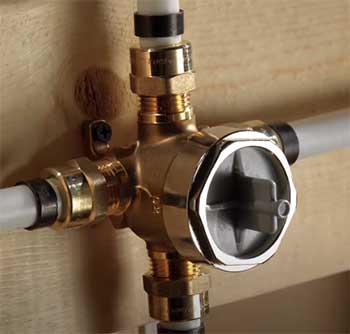 Both the R10000 and R11000 share the same 2.5 GPM maximum flow rate.
This is regulated by a flow restrictor inside the valve.
2.5 GPM offers a strong shower flow, so you get good pressure and wetting performance.
However, it may be lower than older 3-5 GPM shower heads.
If you want an even higher flow rate, you would need to look at other non-Delta valve models.
But in most cases, 2.5 GPM gives you a satisfying shower.
Temperature Control
Temperature regulation is excellent with both the R10000 and R11000 models. The single lever design makes it easy to find your perfect water temp without sudden hot or cold spikes.
Inside the valve, there is a wax thermostatic element that reacts to temperature changes. If the incoming hot or cold water pressure fluctuates, the wax element expands or contracts to compensate and maintain your set temperature.
This thermostatic control is very consistent. Once you set your desired temp, the shower feels the same every time you use it.
Trim Kits and Finishes
Delta offers a wide selection of trim kits for both the R10000 and R11000, so you can match your preferred style.
Some popular trim choices include:
Monitor – Metal lever handles with classic style
Trinsic – Sleek and contemporary
Lahara – Transitional styling with curved lever
Cassidy – High-arc lever handles
Trim kits are available in various finishes like chrome, stainless steel, Venetian bronze, and more. You can find a trim that coordinates nicely with your other bathroom hardware and fixtures.
Durability
On durability, I give a slight edge to the R11000. With 3 outlets and more internal parts, the R11000 holds up very well over years of daily use.
The R10000 is also quite durable, but the simpler single outlet design is naturally less prone to problems over time.
As long as you don't abused the shower lever or valves, either one should function for 7-10 years or longer. Avoiding debris and mineral build-up is key for longevity.
Warranty Comparison
You get strong warranty coverage for either Delta valve:
R10000 – Limited lifetime warranty for residential use
R11000 – Limited lifetime warranty for residential use
So both are covered against defects for as long as you own your home. Make sure to register your warranty with proof of purchase.
Price Comparison
As you might expect, the R11000 is more expensive than the R10000. Here are some typical costs:
Delta R10000 – $175 to $300 for the valve alone
Delta R11000 – $225 to $375 for the valve alone
Those prices are just for the raw valves – add $125-250 more for a matching trim kit in most cases.
Given the extra functionality, the R11000 offers good value for a multifunction shower valve. But the R10000 is the budget-friendly choice if you only need to supply one shower head.
Key Pros and Cons Compared
To summarize the key differences:
Delta R10000 Pros: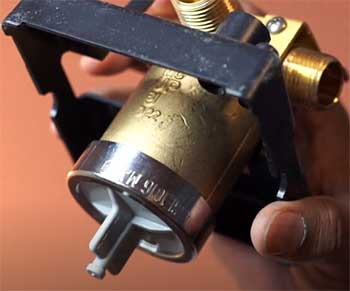 Lower cost
Slightly easier installation
Good for basic single shower head
Delta R10000 Cons:
Only one water outlet
Less flexibility in shower design
Delta R11000 Pros:
3 outlets allow multiple shower heads
More advanced thermostatic temp control
Great for customized shower experiences
Delta R11000 Cons:
Higher cost
Slightly trickier installation
So in choosing between the two, the R11000 makes sense if you want a customized shower with different spray options. But if you just need a single shower head, the R10000 provides solid performance at a lower cost.
Recommendation
My recommendation is to choose the Delta R11000 for most shower remodels.
The versatility of having three outlets gives you a lot more design flexibility. You can create a much more luxurious shower experience with body sprays, rain heads, and handheld options.
For the relatively moderate price difference, the long-term enjoyment and benefits of the R11000 multipurpose valve make it the better overall choice for whole bathroom remodels.
The only exception would be for very basic shower upgrades where you don't need multiple fixtures. In that case, the R10000 would be the more economical choice.
But for most of my customers doing full bathroom renovations, the splurge on the R11000 is money well spent.
FAQ About Delta Shower Valves
Here are answers to some common questions about Delta shower valves:
Are Delta mixing valves interchangeable?
Most Delta mixing valve trims are interchangeable with other Delta valves as long as they match the valve body's rough-in dimensions and connections. So you can usually replace just the trim kit without modifying plumbing connections.
However, you cannot interchange Delta valves with other brands. The valve bodies themselves are brand-specific.
Are Delta shower valves interchangeable?
Within the Delta brand, many of their shower valve trims can be interchanged if the rough valve body dimension are the same. For example, you can use a Monitor 13/14 Series trim kit on an R10000 or R11000 valve body.
But you cannot install a Delta trim kit onto a Moen, Kohler or other brand valve body. The internal cartridges and connections differ between brands.
What is a Delta MultiChoice valve?
A Delta MultiChoice valve is a shower valve with multiple outlets, usually 3 or 4. This allows connecting multiple shower heads and body sprays to a single valve.
The Delta R11000 is an example of a MultiChoice valve with 3 outlets. Other Delta models like the R20000 have 4 outlets for even more shower fixture options.
MultiChoice valves give you more flexibility compared to single outlet shower valves.
What does a 6 setting diverter do?
A 6 setting diverter valve allows you to divert water flow to 6 different shower positions. For example, a setting to run each of 3 shower heads individually, plus 3 combined settings to run different combinations of the heads together.
Diverter valves are useful with MultiChoice shower valves like the R11000 to control multiple fixtures independently. Delta 6 setting diverters give the most control over complex shower systems.
Summary
The Delta R10000 and R11000 are both good options for shower valves. The R11000 is the better choice for most full bathroom remodels since the triple outlets allow for an amazing customized shower experience.
But the R10000 is a reliable single head valve at a lower cost.
Take some time to consider your shower design and budget to pick the right Delta valve. And don't hesitate to contact a professional installer if you need help deciding or installing your new Delta shower valve system.
Enjoy creating your dream shower oasis!