For households with hard water, a water softener is often a necessary appliance. Hard water contains high levels of calcium and magnesium ions which can lead to scale buildup, damage to plumbing and appliances, and irritation to skin and hair.
Water softeners use a process called ion exchange to remove these mineral ions and replace them with sodium or potassium ions, resulting in softer water.
Two of the biggest names in water softeners are Culligan and Rayne. Both companies offer a range of models and claim to provide the best water softening solutions. But how do you decide which brand is right for your home?
In this comprehensive comparison, we'll examine the key differences between Culligan and Rayne water softeners to help you make an informed decision. We'll look at:
Company backgrounds
Water softener types
Features and technologies
Salt efficiency
Installation and maintenance
Warranties
Pricing
Customer reviews
By the end, you'll have a clear understanding of the pros and cons of both brands. Let's dive in!
A Brief Comparison Table
| | | |
| --- | --- | --- |
| Specs | Culligan | Rayne |
| Efficiency Rating | Up to 4,500 grains/lb salt | Up to 4,000 grains/lb salt |
| Regeneration Method | Upflow | Downflow |
| Smart Controls | Culligan Connect App | Rayne Link App |
| Bypass Valve | Standard | Smooth-glide |
| Media Tank | Quadra-HullTM | Polyethylene |
| Warranty | 10 years on valve/electronics | Lifetime on tank, 5 years on valve |
| Price | $1,500 – $2,200 | $1,200 – $1,800 |
| Maintenance | Sanitization required | No sanitization |
Company Backgrounds
First, a quick look at the history and reputation of each company.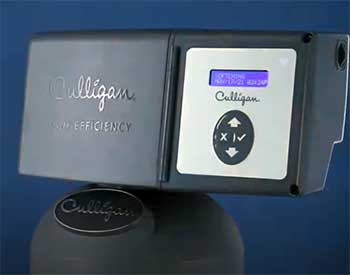 Culligan was founded in 1936 by Emmett Culligan and focuses exclusively on water treatment solutions for homes and businesses.
They offer water softeners, filters, drinking water systems, and solutions for problem water like iron, sulfur, and radon.
Culligan has dealers across 90 countries and often tops lists of top water softener brands.
Rayne , formerly Reynolds Water Conditioning Company, was founded in 1935.
While not as large as Culligan, Rayne has dealers across 35 states and is known for high efficiency and innovative features. Their focus is exclusively on water softeners and water treatment.
Both companies have been around for over 80 years and have solid reputations in the water treatment industry. Culligan has wider brand name recognition, but Rayne has earned praise for their high-quality products.
Water Softener Types
Culligan and Rayne offer different water softener system types. Here's a quick look:
Culligan
Culligan High Efficiency (HE) water softeners are their flagship product, using upflow regeneration to clean the resin bed from bottom up. This is their most popular line for whole home systems.
Culligan Medallist Series offer softeners, filters, and combo systems at lower price points. Regeneration is downflow instead of upflow.
Culligan Platinum Series sit at the high end with smart controls and premium materials.
Rayne
Rayne Premier Series are their main line of whole home softeners featuring downflow brining and high efficiency.
Rayne Nouveau Series offer entry level models at lower price points but still focus on efficiency.
Rayne Ultima Series are the premium smart softener line with mobile app control.
As you can see, both brands offer good-better-best product tiers while focusing on high efficiency across all models. Key differences come down to regeneration style and smart capabilities.
Features and Technology
Now let's compare some of the key features and technologies offered by Culligan and Rayne: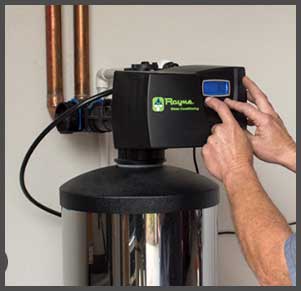 Efficiency – Both boast efficient models that minimize salt and water usage. But reviews suggest Rayne edges out Culligan slightly when it comes to the highest efficiency ratings.
Regeneration – Culligan uses an upflow brine method to regenerate the resin from bottom to top. Rayne uses standard downflow regeneration. Upflow is considered more efficient.
Smart controls – Culligan and Rayne both offer app connectivity and remote monitoring in premium models. Rayne Ultima may have a slight edge in advanced diagnostics.
Bypass valve – Both include bypass valves to isolate the softener for maintenance. Rayne bypass valves are well-regarded for easy operation.
Media tanks – Quadra-HullTM is Culligan's premium resin tank designed for strength and durability. Rayne uses standard polyethylene but with a lifetime warranty.
Warranties – Culligan offers better warranties overall, including 10 years on valve body and electronics.
Filtration – Culligan has broader filtration offerings including reverse osmosis drinking water systems. Rayne focuses specifically on softeners.
While both offer similar innovations, Culligan appears to come out slightly ahead in terms of features like upflow regeneration, warranties, and filtration addons. But Rayne still competes well on efficiency and smart controls.
Salt Efficiency
One of the most important considerations for any water softener is salt efficiency. The more efficient the system, the less salt is needed for regeneration.
Culligan HE models are rated at 3,350 grains of hardness removal per pound of salt. Other Culligan systems range from 3,500 to 4,500 grains per pound.
Rayne Premier Series softeners are rated at up to 4,000 grains per pound of salt used. The Nouveau models rate around 3,500.
Independent testing shows the efficiency ratings for both brands stand up. But Rayne's top models may have a slight edge over Culligan's salt efficiency. This could add up to significant salt savings over time.
Installation and Maintenance
Ease of installation and maintenance is another key consideration when comparing water softeners.
Most Culligan and Rayne models are designed for DIY installation. The companies offer installation guides and videos. However, professional installation is recommended to avoid leaks and errors.
For maintenance, Culligan systems require regular sanitization to keep the resin bed clean. This involves adding sanitizer tablets each time salt is added. Rayne systems don't require separate sanitization.
Both brands use downflow or countercurrent regeneration to keep the resin bed firmly packed for optimal performance.
When it comes to servicing, Culligan offers dealers nationwide should repairs be needed outside of warranty coverage. Rayne's dealer network is extensive but smaller than Culligan's.
Overall, Culligan may have an edge for installation support. But Rayne systems require less hands-on maintenance.
Warranties
The warranty coverage provides an indication of the expected lifespan and provides protection in case of defects.
Here's how Culligan and Rayne compare:
Culligan – 10-year warranty on valve body, 9 years on electronics/controls, 1 year on resin tank.
Rayne – Lifetime warranty on electronics and tank, 5 years on valve body.
Culligan clearly provides longer coverage, especially on the crucial valve and electronics. Their resin tanks are only covered for 1 year but made of durable Quadra-HullTM. Rayne covers tanks for life but electronics for only 5 years.
Overall, Culligan comes out ahead for the warranty protection provided. Their policies better reflect the 10+ year lifespan expected from these systems.
Pricing
With the features and specs covered, how do Culligan and Rayne compare on pricing?
There's some overlap in pricing tiers between the brands:
Basic models – $600 to $900 for simple time-based softeners.
Mid-range models – $1,000 to $1,500 for metered softeners with demand initiation.
Advanced models – $1,500+ for highest efficiency and smart controls.
However, at each tier Culligan's prices are generally 20-30% higher than Rayne for similar specifications. Part of this pricing difference likely relates to the Culligan's brand recognition.
For a high efficiency electronic smart softener, expect to pay $1,200-$1,800 for Rayne or $1,500-$2,200 for Culligan.
Of course, pricing can also vary based on promotions and negotiations with local dealers. But all things being equal, Rayne softeners retail for markedly lower prices than Culligan.
Customer Reviews
Looking at customer reviews can provide unbiased insights into real-world performance and service for Culligan and Rayne systems.
On big box retailer sites, Culligan softeners earn around 4 out of 5 stars on average. Rayne averages 4.5-star ratings. Owners praise both for the difference softened water makes in their homes.
For Culligan, there are some complaints about reliability issues out of the box and less than stellar dealer service. Rayne garners fewer complaints, focusing on salt efficiency and ease of installation.
Review sites like Consumer Affairs show a similar trend – Rayne averages higher satisfaction scores from customers. Common Culligan complaints involve high service costs and pushy salespeople.
Considering the premium pricing, more customers seem to feel their money was well spent with Rayne compared to mixed experiences with Culligan. But reviews heavily depend on local dealership service.
Key Takeaways: Culligan And Rayne
Based on this in-depth comparison, here are some key takeaways when weighing Culligan and Rayne water softeners:
Performance – Both deliver efficient and reliable water softening. Rayne has a slight edge in maximum salt efficiency ratings.
Features – Culligan offers more in the way of proprietary features and broader whole home water filtration. But Rayne incorporates the latest technology.
Convenience – Culligan's systems take more hands-on maintenance like sanitization. Rayne is simpler to maintain.
Cost – Rayne softeners retail for 20-30% less than Culligan for similar specifications. You'll pay a premium for the Culligan name.
Reputation – Culligan is a famous brand, but Rayne scores higher for customer satisfaction. Local dealers impact experience for both.
Frequently Asked Questions (FAQ)
Still have some questions about Culligan and Rayne water softeners? Here are answers to some commonly asked questions:
Does Culligan own Rayne?
No, Culligan and Rayne are competitors. Culligan is a part of Culligan International. Rayne is owned by Tier One Holdings, LLC.
Why is Culligan RO so expensive?
Culligan's reverse osmosis drinking water systems are premium-priced, often costing over $2,000. You're paying for the reliable Culligan name, product quality, and whole-home integration capabilities. Their RO systems are designed to seamlessly work with Culligan softeners and require dealer installation. Comparable aftermarket RO systems cost much less.
Who is Culligan water competitor?
Major competitors to Culligan for water softeners and filtration include Rayne, Aquasana, Kinetico, and GE. Regional and local water treatment companies also compete with Culligan dealers.
How many years does a Culligan water softener last?
With periodic maintenance like resin cleaning and part replacement, Culligan softeners typically last 10-15 years. The warranty covers 10 years for the valve body and electronics. Life expectancy varies based on water hardness and usage but a Culligan system should last over a decade.
Final Thoughts
Overall, the brands are comparable for performance. But Rayne's lower pricing and simpler maintenance make them appealing for budget-minded customers.
Culligan justifies premium pricing through brand recognition, dealer network, and service package.
For the best value, Rayne is hard to beat – but Culligan delivers peace of mind. Weigh the pros and cons against your budget and needs.
Hopefully this detailed comparison of Culligan and Rayne helps provide clarity on choosing the right brand of water softener. Reach out with any other questions!