If you're in the market for a new hot tub, two big names you'll encounter are Cal Spas and Jacuzzi. But what's the difference between these two major hot tub brands? And how do you decide which one is right for your needs?
In this comprehensive guide, we'll compare and contrast key factors between Cal Spas and Jacuzzi, including:
History and reputation
Hot tub construction
Features and technology
Energy efficiency
Cost and warranty
Customer service
By the end, you'll have a clear understanding of the pros and cons of Cal Spas vs Jacuzzi hot tubs. Let's dive in!
A Brief Comparison Table
| | | |
| --- | --- | --- |
| Aspects | Cal Spas | Jacuzzi |
| History | Founded in 1979, younger brand | Established in 1956, original inventor of hot tubs |
| Shell Construction | Acrylic with ABS plastic | Premium acrylic reinforced with fiberglass |
| Cabinetry | Thermofoil or plastic with wood framing | Real wood cabinets |
| Manufacturing Process | Rotomolded | Hand-crafted pressed-wall |
| # of Jets | Up to 49 jets | Up to 49 jets |
| Controls | Digital topside panel and app | Touchscreen with more smart features |
| Entertainment | Some models have Bluetooth audio | Built-in TV, speakers, and docking in some models |
| Energy Efficiency | Ecotech insulating covers and heat pumps | ThermoLock insulation and air venturi jets |
| Starting Price Range | $4,000 – $15,000 | $6,000 – $20,000+ |
| Warranty | 5 years structure, 1 year parts | 10 years structure, 5 years parts & labor |
| Customer Service Reputation | Mixed reviews | Better reviews overall |
A Brief History of Cal Spas and Jacuzzi
First, let's look at the background and origins of these two hot tub manufacturers.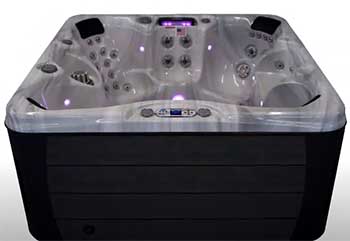 Cal Spas was founded in 1979 in California by Casey Loyd.
It started as a small family business, which grew into one of the largest global manufacturers of hot tubs and pools.
Cal Spas focuses on innovative design and affordability.
Jacuzzi, on the other hand, pioneered the entire hot tub industry.
The company was started in 1956 by the seven Jacuzzi brothers. They used their knowledge of hydraulic pumps gained from the aviation industry to create the first portable spas. Jacuzzi has grown into an iconic premium hot tub brand.
So in summary:
Cal Spas is a younger, more affordable brand started in the late 70s.
Jacuzzi has decades more history and experience, with roots going back to the 50s as the original hot tub inventor.
This background gives you a taste of the reputation and target consumer for each brand. Now let's look at the details of how they construct their hot tubs.
Hot Tub Construction: Materials and Manufacturing
A key difference between Cal Spas and Jacuzzi is found in how they make their hot tubs. This affects the overall quality, durability, and cost.
For their hot tub shells, Cal Spas uses acrylic reinforced with ABS plastic. This is a lightweight and affordable material.
ABS stands for acrylonitrile butadiene styrene. It's a common thermoplastic used for things like plastic pipes, auto parts, and Lego bricks. Adding ABS makes the shell more durable and impact-resistant.
For cabinetry, Cal Spas uses Thermofoil or faux-wood plastic surrounded by real wood framing. Thermofoil is a laminate of wood pulp and plastic resins. It's waterproof and easy to clean. But it can peel, bubble, and degrade over time.
Cal Spa tubs are mass-produced using rotomolding. This is an efficient process where powdered plastic is rotated in a heated mold. But rotomolding can sometimes result in thinner, lower-density shells.
Jacuzzi Hot Tub Construction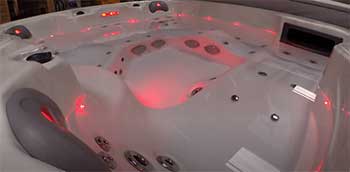 For their shells, Jacuzzi uses premium acrylic but skips the ABS plastic reinforcing.
Instead, they use fiberglass for strength. This results in a glossy non-porous surface that's highly impact resistant.
Jacuzzi cabinets are made from thermally-modified real wood.
This material resists weathering, moisture, and rot naturally without chemical treatments.
Their tubs are hand-crafted using pressed-wall technology. Each shell is molded in pieces then fused together. This allows for perfectly smooth seams and consistent wall thickness. But it's slower and more labor intensive than rotomolding.
So in summary:
Cal Spas uses cheaper acrylic + ABS shells with plastic or Thermofoil cabinetry.
Jacuzzi uses more expensive fiber-reinforced acrylic and real wood.
This exemplifies Cal Spas' focus on affordability and Jacuzzi's premium construction. Next let's compare their features.
Features and Technology
When shopping for a hot tub, the settings, jets, entertainment options, and ease-of-use are major factors. Here's how Cal Spas and Jacuzzi stack up in these areas:
Cal Spas Features
Jets – Cal Spas offers a Maxxus line with up to 49 jets. Jets are adjustable and provide a range of massage types.
Controls – Digital topside panel and app control options. Pre-programmed one-touch functions.
Lighting – LED lighting in a variety of colors. Some models sync to music.
Entertainment – Bluetooth audio integration on higher-end models. No built-in TV or entertainment offerings.
Energy Efficiency – Cal Spas highlights their Ecotech insulating covers and heat pumps for efficiency.
Jacuzzi Hot Tub Features
Jets – Jacuzzi has a J-400 line with up to 49 jets. Precision jets are fully adjustable for targeted back therapy.
Controls – Intuitive LCD touchscreen. Programmable presets, usage tracking, maintenance reminders.
Lighting – Customizable multi-zone LED lighting with color wheel remote. Syncs to music.
Entertainment – Some models offer wireless TV, speakers, and docking stations built-in.
Energy Efficiency – Jacuzzi promotes their innovative ThermoLock insulation and air venturi jets.
So in summary:
Both offer similar numbers of jets and lights, but Jacuzzi highlights therapeutic value.
Jacuzzi has smarter controls and built-in entertainment options lacking in Cal Spas.
They utilize different patented technologies to promote energy efficiency.
Jacuzzi seems to edge out Cal Spas when it comes to high-tech features and customization. But how do their costs compare?
Costs, Warranty, and Customer Service
With any major home purchase like a hot tub, price and warranty are big factors. Here is how Cal Spas and Jacuzzi compare:
Cal Spas Costs
Hot Tub Price – Mid-range models start around $4,000. High-end designs get up to $15,000.
Installation & Delivery – Estimate $1000 – $2000 for basic installation. Delivery fees vary.
Warranty – Provides a 5-year structural warranty. 1 year on parts/equipment.
Customer Service Reputation – Mixed reviews of customer support and service response times.
Jacuzzi Hot Tub Costs
Hot Tub Price – Starts around $6,000 for entry level. Up to $20,000 for premium models.
Installation & Delivery – Installation costs around $2000 – $3000. Delivery included for some models.
Warranty – 10-year structural warranty. 5 years for parts and labor.
Customer Service Reputation – Jacuzzi has better reviews for helpful customer support.
In summary:
Cal Spas tubs start at lower prices, but max out around $15,000. Jacuzzi's premium models go up to $20,000+.
Jacuzzi provides a better warranty and has better service reviews.
If budget is your main concern, Cal Spas provides a more affordable option. But Jacuzzi offers superior construction, features, warranty, and service reputation – at a higher price point.
Key Pros and Cons of Cal Spas And Jacuzzi
To recap the major differences, here are some key pros and cons for Cal Spas and Jacuzzi:
Cal Spas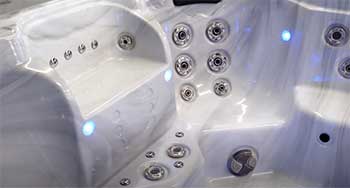 Pros:
Lower starting prices
Energy-efficient technologies
Sleek modern designs
Ease of maintenance
Cons:
Cheaper acrylic/plastic construction
Shorter warranty periods
Lesser brand reputation
Mixed reviews of customer service
Jacuzzi
Pros:
Premium materials like real wood and fiberglass
Innovative tech features and entertainment
Longer best-in-class warranty
Proven quality and performance over decades
Cons:
Much higher starting prices
Limited lower-cost models
More maintenance required
So in summary, Cal Spas provides an affordable, low maintenance option – but corners are cut on materials and warranty. Jacuzzi offers a premium, high-performance tub with tech innovations – at a steep price.
Frequently Asked Questions (FAQ)
If you're still weighing the pros and cons of Cal Spas vs Jacuzzi, here are answers to some common questions:
Is there a difference between spa and Jacuzzi?
Jacuzzi is a brand name that has become synonymous with hot tubs or spas. But not every spa is made by Jacuzzi – there are other brands like Cal Spas. But Jacuzzi pioneered hot tub technology in the 1950s and remains a top premium manufacturer.
Do they still make Cal spas?
Yes, Cal Spas is still manufacturing hot tubs as one of the largest spa brands worldwide. They offer around 30 current hot tub models ranging from entry-level to high-end luxury.
How long do Cal spa hot tubs last?
With proper maintenance, a Cal Spa hot tub should last approximately 8-10 years on average. Higher-end models may last up to 15 years. Jacuzzi hot tubs often last 15-20 years due to premium construction.
What are the best hot tub brands?
According to consumer reviews and ratings, some of today's best hot tub brands include Jacuzzi, Cal Spas, Marquis, Bullfrog, Nordic, Artesian, and Coyote Spas among others. As always, do your own research to determine the best fit for your needs and budget.
The Bottom Line
When choosing between these two major hot tub brands, consider how long you plan to own your tub, your budget, and whether premium features are worth paying more.
Cal Spas provides a quality affordable option for the average consumer. Jacuzzi is the luxury Mercedes-Benz of hot tubs if cost is no concern.
Whichever brand you select, be sure to work with a professional for installation and maintain your hot tub for optimal enjoyment. With proper care, an acrylic spa from Cal Spas or Jacuzzi should provide relaxation and hydrotherapy for years to come.