It's disappointing but true that people do not get suitable grout for redoing their tiles. No matter how good your skill is, you won't get an expected result without the right grout.
In this article, I will show you some Bostik TruColor grout problems so that you won't make the same mistake I did.
Along with my own experience, I have consulted with other professionals and studied many customer reviews to present you with authentic and unbiased information.
After reading this article, you will know why you should avoid this grout. So, without contemplating, let's get down to business.
Major Complaints Against Bostik TruColor Grout
You might have heard good things about this grout. But it comes with some serious concerns. Without these cons, it could have been a far better product.
However, knowing the drawbacks will give a complete picture of this product. So, let's dive deeper and see what the complaints against TrueColor grout are:
Extremely Difficult to Use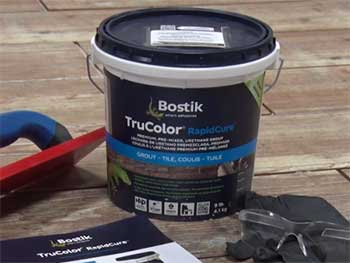 According to my experience and many customer reviews, Bostik TruColor grout is a difficult product to work with.
Even if you are an expert, you might find it hard to apply this grout.
Especially, cleaning up is confusing. Using a damp sponge to clean the extra grout from the walls will start dripping down the wall.
On the other hand, if you use a dry sponge, it won't wipe off. I hope you understand the issue here. A damp sponge or dry, you will face issues in both ways.
At that moment, you might have to invest in buying a specialty cleaner. Many customers have expected it to be better than Epoxy grouts, but it isn't.
Neither Waterproof nor Water-Resistant
A fellow contractor has said that he found Bostik TruColor grout has neither qualities. Bostik's claim on water resistance is confusing as the grout does not resist water. Neither does it make a surface waterproof.
After applying it to his own bathroom and waiting to make it cured, he found the grout coming off as soon as it came in contact with water. Even after three coats and 21 days of waiting, TruColor grout does the same- it peels off after exposure to water.
It happened to a professional contractor in his own bathroom. There is no way you can rely on this grout.
You will have to wait long before TruColor grout becomes fully cured. Bostik claims that TruColor grout will cure in 3 days. But in reality, it takes a much longer time than that.
Sometimes, you will have to wait as long as 14 days before TruColor fully cures. You might have to wait even further if you plan on recoating for a better-looking result.
You might even have to use a water-resistant sealer to make it watertight. But it will cost some more time in your project duration.
That's why many users have shown their dissatisfaction with TruColor's performance. A little less time would make life more convenient for its users.
Not only is applying hard for Bostik TruColor but removing is similarly tricky as well. This grout is harder than epoxy to install. Besides, it will feel like you are putting crumbling damp sand on your wall.  
Plus, according to many professionals, the grout has a residue that does not remove easily and looks pretty irritating after curing.
Even though it's difficult to remove, that doesn't mean it increases TruColor's grout ability. It is the same saggy product that easily peels off in the water. There is a good chance you will become sick and tired of its substandard quality and messy and inefficient performance.  
Unpredictable Performance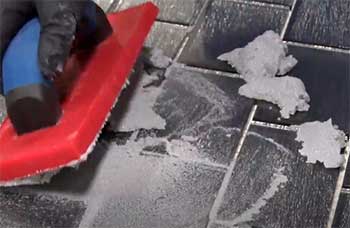 Because of the below-average quality, you will get unpredictable results from TruColor grout.
Good quality grouts always provide a consistent result.
Moreover, when grout dries, you can tell by looking at it. But TruColor looks the same. You can't tell whether it's wet or dry by looking at it.
On the other hand, it does not offer an excellent waterproofing result. You will regret using it on your bathroom floors and walls. Besides, it contains silica which is a highly abrasive material. It will scratch any other surfaces which are not ceramic or glass.
As a result, any soft surface like softer stone, travertine, etc., will look dull because of this grout. This is a glue-mixed grout that nobody should rely on.
The price of TruColor grout is unrealistic according to many contractors, especially with this quality. You will have to spend $102 for 9 lbs. container and $162 for 18 lbs. container. It's a lot of money for a substandard product like that.
You will get many higher quality products at a lower price from other bards. So, I think the price is not justified at all.
Frequently Asked Question (FAQ)
Is Bostik grout any good?
Bostik is a urethane-made grout that has silica in it. But it has some issues with quality and application. It behaves like a glue-mixed epoxy grout that is very hard to work with.
How do you clean Bostik TruColor grout?
Cleaning TruColor grout is not exactly easy. Even though the instruction says to clean it with a wet sponge, while doing it, the grout will start dropping out of the floor.
Does Bostik TruColor grout need to be sealed?
Bostik claims that TruColor makes your walls and floors waterproofed. But in reality, you will have to seal it with another sealer for a better result.
How long does Bostik grout take to cure?
According to Bostik, TruColor becomes cured in 3 days. But it will take as long as 7 to 14 days to cure completely.
Final Thoughts  
After reading about Bostik TruColor grout problems, it's clear that it is a crappy product. Using it will only create problems for you. So the wise decision will be to run away from this grout.
Grout is not worthy if it does not offer good results. So, you should be careful while choosing one. Most importantly, stay away from this substandard grout.