Nothing feels good like having a whole transformed and modified home, and this includes the bathroom. Although this may be among the smallest rooms and the least visited in the house, still, keeping your bathroom looking all glam and well organized is essential too.
In this article, we will discuss some ideas on how you can design your bathroom vanity storage areas.
Top Best Bathroom Vanity Storage Ideas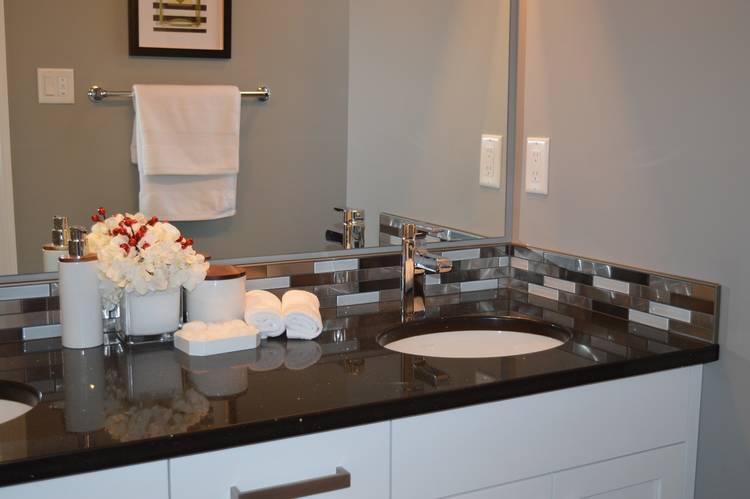 Add A Convenient Stepping Stool
This design is crucial for people with limited space in the bathroom and with small kids who cannot reach the sink. Note that for this idea to work, the tub has to be positioned off the middle position.
This allows one to install about two to three drawers under the sink where you can store kids bathroom necessities, or even your items if the rest of the storage spaces are not enough.
Also, for kids convenience, include a stepping drawer at the bottom part which they can pull and push back ones they are done using the sink. Some notes to make when designing the vanity in this manner include;
The stepping drawer should be smooth to pull and push back. It should match with the rest of the drawers.
Although this idea may cost you more considering the storage space will be designed inside the cabinets, it is an excellent idea for those who need to reduce clatters around the bathroom area.
It also helps to ensure convenience when accessing your items since they are all within your reach.
How is it done?
Choose the most substantial drawer in your master bathroom to incorporate the inbuilt storage.
Then call a designer to create a small cabinet preferably on the underside of the drawer.
The best door that suits the inbuilt storage space is the flip-up doors since they are easy to open and close when accessing the items.
So, you can use the unit to install the grooming items that tend to create clutters such as the hair curling devices, blow-dry, and any other device that has cables.
Bathroom Vanities With A Counter
Although the majority of people like to do their grooming in the bedroom area, a bathroom is also a significant space that you can utilize primarily if you have a master bathroom.
Besides, it leaves your bedroom clean since you will not have to worry about the stroke of hair falling on your bedroom carpet. The list of the vanity bathroom counter ideas to use around your bathroom is endless, but in this case, I suggest you have a vanity with a custom finish counter.
There should be storage spaces under the counter where you can store your item such as hair brushes, shaving creams, hairbrushes among others. Use a combination of pulling cabinets and drawers for storage purposes.
If you are looking for a way that you can add a vanity in your bathroom without building it from the floor, then this is a perfect idea. A floating vanity is safe and useful since it cannot come into contact with water when cleaning the bathroom or when taking a shower.
Plus it saves space in small bathrooms too. All you need is an area where the walls are in close contact preferably at the corner of the wall. It would be better if you have a mirror and a sink in this area since it makes it more convenient.
You can divide the installed drawers to keep your bathroom items like the towels, toothbrush, toothpaste, bathing creams, and soaps.
Open Shelves Of Vanity Designs
Open shelves do work in the bathroom as long as you have a good design, and there is ample space. In most cases, people prefer closed storage spaces in the bathroom to prevent the stored items from coming to contact with water.
But if the area is large, then you can g ahead and install open shelves. Besides this design allows you to incorporate your interior design ideas since you can display some decor pieces on the shelves as well.
The shelves can be used for storing towels, tissue papers, sops, and many others. still, ensure there are lockable storage spaces on the sides of the shelves where you can store small items.
Small Storage Vanities With Mighty Space
Even with a small bathroom, you still need storage spaces and learning how to work with the available space helps you to avoid clutter and ensure there is enough space around the bathroom areas.
To create storage vanities with ample storage spaces to accommodate multiple items. For example, you can create large drawers that run from top to bottom to store things like towels and small drawers on the sides for storing little things like toothbrushes or soaps.
Sometimes as a couple we tend to disagree on how to store items in the cabinets and drawers. Therefore if you want to create harmony in your bathroom facility, consider double storage space such that everyone will have their place to keep their items.
You can consider shared storage space in the middle where you can store the things that both of you use, and on the sides incorporate everyone's storage vanity with drawers.
Under The Sink Storage Space
This works for people with double sink design in their bathrooms. There is so much space left under the sink that you can utilize for storage purposes. You could install rails to hang towels or incorporate deep pull out drawers.
Above Enterege Storage Space
This is an excellent vanity idea that works for people who have limited bathroom storage spaces or for people who want to add a touch of decor on their toilet area.
The enterege is mainly installed above the toilet, and you can add shelves for display and for storing the toiletries such as toilet cleaners, tissues, hand towels, and many others. You can opt to purchase a customized enterege or have it built.
Conclusion
Your bathroom does not have to be boring or have limited storage spaces since there are various ideas that you can utilize to add storage spaces in the bathroom. The above discussed are some of the best bathroom vanity ideas to consider.