Many of our bathroom sinks have a stopper that allows the sink to fill by lowering it and releasing the water through the drain by raising it. Do you have any about different bathroom sink stopper types? 
Regardless of the sink stopper you have, their functionality doesn't vary.
However, knowing the particular style of sink stopper you have can help you fix and replace it when the necessity arises. In this post, we will share in-depth details about various types of them including how they work. 
Let's dive in! 
6 Types Of Sink Stoppers
Lift-and-Turn Sink Stopper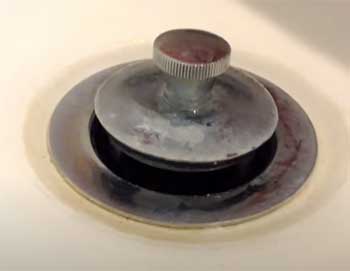 The first and most common sink stopper is the lift-and-turn drain stopper. It has a special cap.
You need to turn it to a clockwise or anticlockwise direction to open and close it. 
In order to completely close the stopper, locate it to the upper part of the stopper and twist the knob until you make it down.
When you want to open it, lift the switch and turn it in the anticlockwise direction.
Installing this type of sink stopper requires following a specific direction. You need to install a center setscrew into the threaded middle area of the drain crossbar. Normally, you will notice the setscrew at the upper part of the stopper
However, be cautious while installing it for the first time. Excessively tightening the screws may prevent you from removing the lift or turning the stopper conveniently.
But you have nothing to worry about since this type of sink stopper has a simple design. 
Take an example of DANCO Lift and Turn Tub and Bath Drain Stopper, which is easy to use and can be a versatile fit for various tubs or sink drains. 
It is compatible with various advanced models from well-known brands such as Carper's and Duracraft, Sterling, Rapid Fit 1200 series, etc.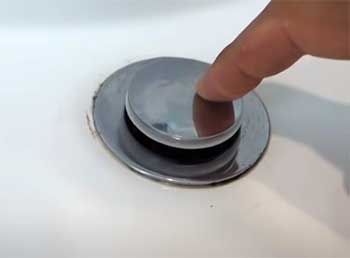 Push-and-pull stoppers are almost identical to lift-and-turn stoppers in terms of appearance and style. 
Instead of lifting and turning, you will push and pull the knob to open and close the sink.
Plus, you will follow a similar process to install push-and-pull stoppers like lift-and-turn stoppers. 
The only difference is you will attach the setscrew beneath the cap of the stopper. You don't need to face much hassle to take care of them since they have an uncomplicated mechanical function. 
The DANCO (89461) Decorative Push-Button Sink is a great choice if looking for a decent push-and-pull stopper. 
This type of stopper is simple to install without any tools, and its durable brass construction ensures long-lasting durability and consistent performance.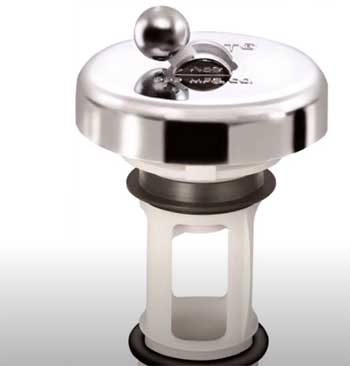 If you are looking for a particular sink stopper that doesn't require any installation tool, a flip-it sink stopper might be your right ticket. 
Instead of push/pull or lift/turn, this stopper features a toggle lever at the upper part of this bathroom accessory. 
You just move it from one side to another, open and close it. Installing it appears simple too. 
Some built-in O-rings are included in this stopper, and you just place it into the drain to ensure a perfect position. Ensuring a watertight seal is necessary. 
Looking for a user-friendly and easy-to-install flip-it sink stopper? If yes, you can't overlook the Flip It 35249 Tub Drain Stopper—which comes at an incredibly affordable price. 
It has a Chrome finish and POM, and ABS plastic to ensure high functionality and excellent durability. More importantly, it is compatible to install with more than 90% of all tub drain openings.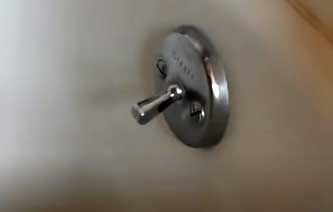 There are two functions in this trip lever sink stopper. The front tub has an overflowing plate, where two types of the lever are included.
For the first level, you won't see any noticeable pop-up stopper at the entrance area of the drain. There is only a single strainer.
You will notice a plunger inside your tub overflow pipe, which plays the main role in operating the stopper. Generally, the drainpipe will be open or closed when you turn the lever upside and downside. 
The trip level is mainly connected with your tub plunger. Plus, the overflow tube features a rod to connect the plunger with the trip lever.
The drain will open when you pull the lever downside because you have created a scope for lifting the plunger.
On the other hand, pulling the lever upside will close the drain because you have created a scope to force down the plunger. 
However, it takes some elbow grease to clean the stopper because it is a little bit tricky to remove. You have to overcome both the overflow tube and overflow plate to pull up the stopper from them.  
Not all trip levers utilize the lever to move the plunger up and lower. A few of them feature a twist cover on the overflow plate that allows you to move the plunger up and down by rotating the twist cover. 
When choosing a trip lever sink stopper, relying on all brands is not possible. However, we have found the DANCO All-in-One Drain Trip Lever pretty reliable. 
It is compatible with almost fit all faucet brands. Since everything is included for installation, you don't have to buy anything separately. 
Plus, its Brass construction and CHROME FINISH will ensure a long lifespan and consistent performance.  
Have you ever owned or seen a bathroom sink pop-up? If yes, you might be already well-known for the appearance of a pop-up sink stopper.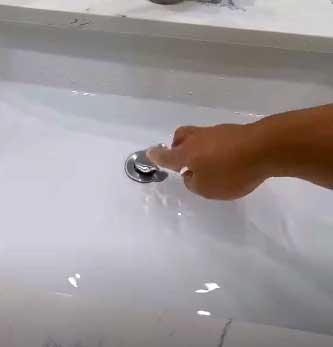 Its functionality is almost identical to a trip-level stopper. After all, its overflow plate features a similar type of lever to operate the sink stopper. 
Moving the lever means moving the drainpipe, which is directly connected to the rod linkage. 
Additionally, the last part of the connecting rod features a spring, which you will push downward at the opposite force of the rocker arm to run the stopper. 
Like a trip-level sink stopper, it is also a litter bit tricky to clean. After all, you have to first remove the connecting rod and the drain opening through the overflow pipe as well as the overflow plate. It will take a lot of time and effort to clean it.
Additionally, they are more prone to collect various items such as hair and debris while operating. If you are looking for an easy-to-clean sink stopper, you may need to think twice before picking this type of sink stopper.
Want to make your shower sink more stylish? The REGALMIX RWF083H pop-up sink stopper might be the right pick for your bathroom. 
Its Multi-layer chrome finish ensures no scratches, corrosions, and tarnishing even from heavy usage. 
REGALMIX uses Anti-explosion and anti-cracking thickened stainless steel to make this premium type sink stopper.
Since it features BUILD-IN STRAINER, your bathroom sink will be free from clogging while saving your valuable items from entering inside the drain.
Plus, it is known as a universal sink stopper to fit a wide range of vessel-type sinks, so you don't have to be concerned about fitting issues.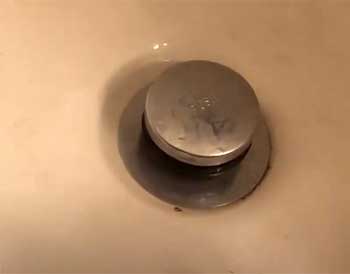 Toe-Touch is another similar stopper to the other two stoppers we have already mentioned. People also call it toe-tap design. 
Normally, closing this type of sink stopper requires using your top. A simple push will be enough to close it.
It has a spring-loaded design, meaning it remains in an open position and keeps sinking the water until you close it.
It is easier to maintain. However, the spring mechanism may sometimes have failure issues due to long time usage. In such as case, you may need to replace the stopper. 
If you are looking for a functional Toe-Touch stopper, you can check out the PF WaterWorks Toe-Touch stopper. It comes with a durable finish and includes Three HairCatcher Strainers. This will prevent clogging issues effectively. 
Here is a cool guide on how to unscrew a stuck toe-touch stopper.
Frequently Asked Questions (FAQ)
Are bathroom sink stoppers universal?
Though there are not 100% universal sink stoppers available, you will find many bathrooms sinks compatible with more than 90% of the sink stoppers.
How much does a bathroom sink stopper cost to replace?
The average replacement cost of a bathroom sink stopper can be anywhere between $25 to $60. However, it depends on other factors too. 
How long can a bathroom sink stopper last? 
A bathroom sink stopper can last 3 to 5 years or more based on the usage and how you take care of it. Regular cleaning can increase the lifespan.
How to Find a Sink Stopper That Fits?
You have to take a measure of your bathroom sink across the center of the opening. You can use tape to measure it. 
Is bathroom sink stoppers a standard size?
Though the overall size of a bathroom sink will vary from each other, the standard size of their drain hole is 1.25 inches.
Conclusion
As the construction, pattern, style, and shape of our bathroom vary from each other; we have options to choose from various bathroom sink stopper types. Whatever sink stopper you choose, make sure it is compatible with your bathroom sink. 
Hopefully, this article has helped you have a detailed overview of various bathroom sink stoppers. Make sure you consider the advantages, disadvantages, and cleaning ability of a bathroom sink stopper before selecting a particular one.