American Standard has a set a standard of its own when it comes to making bathroom and home improvement fixtures. With its experience of over 140 years in the industry, it also knew what customers wanted and delivered products accordingly. 
My review on the American Standard Mainstream elongated toilet is about one such product.
Below, I have discussed this popular toilet's features and pointed out some aspects that seem to lack behind. If you are planning to buy an American Standard Mainstream elongated toilet, this review will come in handy for you. 
Features of American Standard Mainstream Elongated Toilet
There are several features that the American Standard Mainstream elongated toilet has that make it one of the best basic toilets on the market. Here is a little breakdown of the highlight features. 
High Efficiency, Low Consumption Flush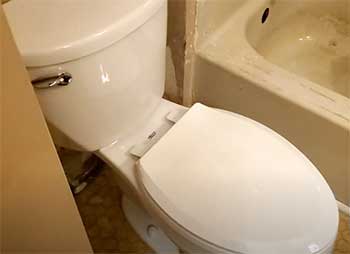 There is no denying the fact that toilets are the most used water source in most households.
Around 30% of an average home's water usage comes from the toilet. 
While toilets these days are more focused on wasting water, the American Standard Mainstream elongated toilet allows you the opportunity to save this massive water bill and be environmentally friendly too. 
Thanks to its high efficiency, and low consumption flush, it can save up to 2,900 gallons of water per year. As per US federal law, new toilets are limited to up to 1.6 gpf, while American Standard goes beyond  that standard and uses only 4.8 lpf, with uncompromised flushing results. 
Elongated Siphon Action Bowl 
Several benefits come from the fact that the Mainstream toilet has an elongated shape and siphons action design. First, let's talk about the elongated shape. Understating its benefits is no rocket science. 
The elongated-shaped toilets are bigger, so they are more comfortable to sit on. Next, this larger surface area is less likely to make a mess, making it a more hygienic option.
Then comes the siphon action design. This design is all about holding a lot of water inside, which provides the benefits. This high water level prevents stains and the unpleasant sewage smell from coming out. 
First, let's educate you about what a trapway is. So, the trapway is basically the passage under the toilet through which water and waste pass. Every toilet is bound to have a trapway, but what extra benefit does a glazed trapway provide? 
I think the name glazed gives you a good indication of the answer. 
As the passage is glazed, it has a much smoother path for the wastage to go through. The trapway is the least likely to cause any unwanted clogging issues in this process. 
That's why American Standard has done a great job of adding this useful feature to the mainstream elongated toilet.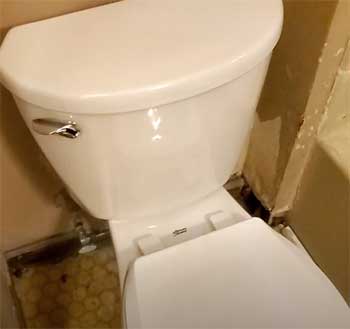 Just higher efficiency is not enough to make a flushing system great. You have to consider the flushing valve to get the full picture of the whole process. 
So, American Standard decided to go with the flapper valve instead of the canister valve with the mainstream elongated toilet, and I absolutely love the decision. 
There are so many benefits that put a flapper valve ahead of a canister valve.
For starters, the flapper valve uses a simple yet effective mechanism, making it easier to fix. 
For the same reason, the flapper valve is pretty cheaper too. Lastly, efficiency is one of the biggest advantages of flapper valves. 
A smaller rough-in distance can be a huge mistake that you'll regret later. The rough-in distance basically refers to the distance from the drain pipe to the wall behind the toilet. 
Some of the toilets these days tend to have a smaller distance which can make the installation harder. 
It can also affect the comfortability of the toilet too. However, American Standard didn't make that mistake and provided a standard rough-in of about 12 inches. 
Not only does it fits most modern designs, but it's also comfortable at the same time too. 
Color-Matched Solid Plastic Toilet Seat
A toilet seat that doesn't look good or matches the color of the toilet can be a huge eyesore. Not only that, it can be an indicator of low-quality products too. 
However, American Standard has taken the matter pretty seriously. American Standard mainstream elongated toilets come with color-matched solid plastic seats to provide you with the best look. 
What could've Been Better With AS Mainstream?
As you have seen, there are so many benefits of the American Standard Mainstream elongated toilet that make it an appealing choice. Unfortunately, nothing is without faults, and the same goes for this toilet too. 
Though these disadvantages are nothing major, you should know about them to make an informed decision. 
The seat cover on American Standard mainstream elongated toilet cam definitely use some improvements. Especially the lack of soft closure can be a simple yet major concern for many people. 
This seat cover allows a noise-free operation and is easier to maintain too. Though you can change the seat cover later, this is a feature American Standard should work on. 
Though the seat attachment screws are provided with the toilet, an aspect I really appreciated, these screws are made of plastic. These plastic screws give out a cheap vibe, and in terms of durability, they are not a great option either. 
Moreover, these screws are model specific, so there is no option to purchase some metal screws from American Standard. The only way that remains open is to buy an off-brand seat. This is another issue the manufacturer should focus more on. 
Frequently Asked Question (FAQs)
Is American Standard a good toilet brand?
Previously I mentioned earlier, American Standard has been reigning in the home improvement industry for the last 140 years. It's a pretty good indication of how good this brand is. 
Apart from the age, the brand is well known for high-quality basic and feature-packed toilets. Moreover, American Standard provides a much better choice for budget-friendly customers over brands like Kohler. 
What's the benefit of elongated toilets?
People often seem confused between elongated and round bowl shapes, and I think that confusion is fair. While in small bathrooms, round bowl toilets can save you space, Elongated toilets are known to be a more comfortable and hygienic option. Though elongated toilets also tend to cost a bit more, it's worth the investment considering the benefits. 
What's the ideal toilet height?
The answer to this toilet completely depends on who will use the toilet most. Depending on people's age and height, the ideal height of the toilet also tends to differ. Assuming we are talking about adults here, 17″ to 19″ is considered to be the ideal choice. This height is at the same time comfortable and good for your back too. 
Final Thought
Given all the options American Standard provides, it can be overwhelming for homeowners to pick a toilet. However, if you are looking for the classing elongated toilet shape, you cannot go wrong with the toilet I discussed above. 
My American Standard Mainstream elongated toilet review should give you all the necessary information you need to know. Now all you have to do is make up your mind and make the purchase.