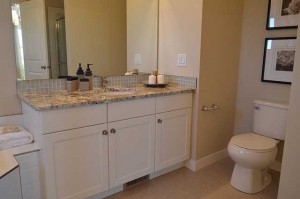 Many people still ask what is a bathroom vanity. To beautify your bathroom, it is a must right after you have installed the toilet.
Bathroom vanity means a combination of bathroom sink or basin and storage around it.
It is widely thought to be a piece of cabinetry in the bathroom designed to conceal the plumbing and providing needed storage. The bench top of a bathroom vanity is quite an important area.
The tops are widely available in different types such as wood and reconstituted stone. The types of materials used to make bathroom vanities are waterproof and moisture resistant, due to the bathroom being a wet area.
Choosing A Good Bathroom Vanity
When choosing the bathroom vanity, you need to put into consideration the bathroom size. It is very important to choose a vanity that is quite proportioned to your bathroom, not too small or large. Make sure the vanity you are choosing will suit all your needs.
Ensure there is enough storage for your cosmetics, hair straighteners, toiletries, medication, cleaning products, and any other thing you would want to access. This is a reason why people are not going for small bathroom vanities.
Most people now days want to keep a fresh set of towels in their vanity for aesthetic purposes and easy access. A good combination of drawers and shelves is necessary.
It is upon you to make a decision double vanity or single. Choose a vanity that will be cheap in maintenance and cleaning.
A timber bench top has great look but needs proper cleaning to avoid water damage. Most people are going for cheap bathroom vanities. This is because they are cheap in maintenance and easy to clean. If you have a small bathroom, choose a vanity that will suit you.
When choosing your bathroom vanity, the plumbing and the floor plan are the determining factors. Select a nice vanity considering your space to avoid unnecessary installation. Consider many factors as well as measurements for example width, height, and depth.
Vanity and sink combos are generally the modern way of saving space. It is upon you to choose a drawer or compartment that will suit all your small stuff.
How To Clean Bathroom Vanity?
Cleaning bathroom vanities prolong the durability. Before cleaning, it is always important to determine the type of material used to make the vanity. The commonly used include ceramic tile. Remove anything stored or displayed on the top of the vanity.
Use a good sponge or a rag to dust the surface. Follow the instructions on how to use the product. Make sure you have opened the windows if the product is strong.
Why You Need A Bathroom Vanity?
A bathroom vanity helps in enhancing the bathroom. It is a decorative piece just like furniture. The bathroom vanity makes a good hidden storage for some personal belongings.
A vanity well designed adds value to a home. It also tells a lot about a person. This depends on the type of vanity in your bathroom. It is very embarrassing to start creating a space in the bathroom before grooming.
No matter the size of your bathroom, consider having a vanity. Choose the appropriate one and easy to maintain. I believe you have fully understood what is a bathroom vanity. If you have any more to ask, let me know in the comment box. I will get right back to you!