It will get clogged one way or another no matter whether it is a high flow or low flow toilet. It takes more or less 20 minutes to unclog it using the traditional ones.
But you can get the job done if you have the right plunger for the elongated toilet like simplehuman plunger with a holder.
Cheap plungers will give you frustrating results and often will break down. They can't get the job done simply because they don't have a great seal and suction, to begin with.
With a little bit extra cost, you should always pick the high-quality one from reputed brands that are recommended by thousands.
Top 5 Toilet Plunger Reviews
You know there are thousands of them, right? And don't forget they come in a lot of variety. It is so difficult to pick the right one.
So, I picked only the top 5 popular models to save you some time. Here are the detailed reviews on each of the models displayed in the above comparison table.
simplehuman Toilet Plunger With Holder
Yes, this one is expensive but you do not want to spend more than 20 to 30 minutes on your toilet with a cheap one. And the cheap one does not last long as well.
So, according to many happy users, this high-efficiency toilet plunger is worth every penny. Don't forget, you are getting a nice-looking caddy as well.
What's the common problem with cheap models? Well, they will break down pretty soon. But people have tried this one on different types of toilet without having any trouble.
The reason is pretty simple. It is super strong and sturdy. More so, it unclogs your toilets within minutes! It's a proven fact by multiple users.
It has so many good features that you will love. You will have good pressure because of the handle that features a flat top.
The magnetic holder and the stand work perfectly well. It can hold it in the base pretty well. Also, it is very easy to detach and attach to the base.
Not just greater flexibility, but the flange, and the rubber cup have the right weight as well. In a nutshell, it is a perfect mix of beauty and usefulness. I personally like its sleek design so much.
People became frustrated with their cheap items from Target, Home Depot, and so on. They finally got their best result out of this one!
To unclog your elongated toilet, you need a great seal in the bowl. You won't get that seal from the junks out there. More so, other cheap alternatives will be more likely too stiff for you.
This one is highly recommended for its perfect seal in the bowl. It's too easy to use for both males and females.
Great Features & Pros
Just perfect for all the modern toilets. Thanks to the long and narrow plunger flange. Perfect for any odd-shaped holes where most other models won't work. 

Once you are done unclogging, it's very easy to disinfect/clean it. There is a removable portion of the holder to make the cleaning really easy.

Made from extremely durable and flexible rubber. 

Completely free of BPA, phthalates, and PVC. A great poo pusher without the risk of health hazards.

It has the perfect dimension of 7.1″W x 7.9″ D x 23.1″H. 

Stainless steel rod, so no matter how often you use it for no matter how many toilets, it will keep performing.

Carry it anywhere without the risk of dripping. Thanks to its drip-free design! There is no risk of creating an unwanted mess.

For the clog to be immediately released, it is second to none. Truly!
Cons
A few incidents of rust on the rod. 

Expensive in comparison with its counterparts. 
ToiletTree Products
Looking for a more affordable one that gets the unsavory job done? Well, you can get it from the ToiletTree. Many have confirmed it works great and does what it's supposed to do pretty well.
It creates no mess and it comes with a removable holder. You will find it very easy to clean as well and call it the best toilet brush plunger combo.
Just because it is inexpensive does not mean it will break down pretty soon. After using it for clogging various toilets for several months vigorously, many have confirmed no loss of bristles as well.
The rubber used to make it is of higher quality and durable. The brush is also strong as per people who have used this.
Did I say the rod is made of stainless steel? Yes, and many have confirmed it does get rusty for a long time. If you have plastic-made products to unclog your toilet, this is for you.
The design is great and adds beauty to your bathroom. Not only does it look beautiful, but it also gets the job done easily as well.
Being a small profile one has some advantages too. You can fit it in any corner of your bathroom without taking noticeably space.
Looks pretty good in your bathroom. With its sturdy handle, you can scrub the toilet without the fear of breaking it.
Once you read some verified reviews about it, you will definitely say it's a great stainless steel toilet brush and plunger set. The simple style ensures unobtrusive performance when in use.
This is something you won't get from all the basic models out there. 
More Features
Available in multiple sizes. Choose the right size to avoid frustration and leaving negative reviews.

Perfect grip with ultimate suction power.

Secure stand; no chance of flipping over or creating any mess.

The holder ensures no germ spreading in your bathroom that you would usually get with the bare plunger.

Pretty lightweight. Weighs only 1.85 pounds. 

Well constructed with quality materials. Meant to last longer to get the best return out of your investment. 

Small profile with beautiful design. Impressive reviews just for its beautiful look. And yes, it does its job pretty well. It will match perfectly with other brush nickel items in the bathroom.

You can clean it easily. It will change your toilet cleaning experience forever.

Proven to perform better than other cheap models as confirmed by many reviewers. 

Features replaceable brush head. Next time, you can order just the brush head.

Many have replaced their old ones and found it highly effective to unclog their clogged toilets.

Lots of repeat buyers. Many have bought it for the 3rd or 4th time because of its impressive performance.
Cons
Too short handle.

Rust after a couple of months.
Korky 99-4a Beehive Max Universal Toilet Plunger
Finally, something made in the U.S.A.! It's one of the most inexpensive models out there yet got more than thousands of positive reviews and recommendations.
It fits perfectly fine with TOTO, Kohler, American Standard, and all other modern toilets. 
The problem with luxury low-flow toilets is that they will get clogged before you realize it if you are not prepared. I am sorry but I hate low-flow toilets.
However, if you are stuck with the demonic clog that won't budge even a little in the toilet pipe, try this awesome one. It did it already for countless families.
Korky 99-4a Beehive comes with a lot of options. In addition to the normal handle, it comes with a telescopic handle.
Also, you can get it with the holder option for just a few extra bucks. Unclogging your deadly unclogged toilet is now just a matter of just a few minutes. 
It's inexpensive but not cheap. There is no chance of being thwarted after a few days like other cheap units. That's a verified fact by lots of reviewers who actually have used it for so long.
When all that junk model that you bought from your local store failed, when snaking, soaping, and dumping hot water failed to get the job done, this is what you need.
Many prominent brands like Lysol and Clorox could not get the job done. So, if you are thinking a plunger is just a plunger, you are dead wrong!
You will be wasting money on one after another until you get the one that is recommended by thousands of happy users. With its super tight seal, it will unclog your toilet as you have never seen before.
In a very short video, learn how to plunge your toilet with Korky.
More Features
Intelligent T-shaped handle to have maximum grip while unclogging. The T-shape lets you use it using one hand only as well. It's plain white and completely detachable as well.

Though it has a total length of 24 inches, the length of the handle itself is 15 ¼ inches.

Very lightweight. Weighs only 0.16 ounces. 

Fits perfectly with all the old and new toilets including the HET toilet bowls. Fits perfectly with the Costco water ridge toilet as well.

You need an effective plunger to unclog your toilet and the beehive shape gives you that much-needed plunge. 

Features non-marking high-quality rubber. No strong rubber smell whatsoever.

The head is very flexible and no matter how odd the opening of your toilet is, it fits perfectly. It does not require much effort to push. 

No chance of damaging your existing plumbing by pushing it hard.

Undoubtedly sturdy.
Cons
May not fit with all Kohler models. 

Thin plunger walls. To some, the rubber is too flexible and flimsy.
Neiko 60168A [With Telescopic Aluminum Handle]
It creates tight suction and connects to almost all modern toilets. Your clogged toilet will be unclogged within just a few tries.
To store it nice and easy, the telescopic handle is just awesome. Already it got huge positive feedback from countless reviewers and you won't regret having it either.
There is a simple mechanism to lock the handle but some users find it difficult to do that. This is what you should do. Hold the bottom of the handle and pull up. Then turn it clockwise to set the lock position. It's that simple!
There are some negative reviews about this one and I strongly recommend reading this feedback. If they are not a deal-breaker, you should definitely have them.
It's the perfect bundle of plunger and brush and they are not bulky. Both of them work just like they are supposed to. The mini plunger for the sink clogs is just great.
Now you can stop worrying about your clogged kitchen sink and toilet bowl. I have seen many people have bought it twice seeing its great performance.
When you have kids, it's become normal to have a clogged toilet every few weeks. You need something you can trust that can deal with this sort of situation.
And you can trust what hundreds of thousands of people have trusted. It does a good job of unclogging a stopped toilet within just a few minutes.
Not just extremely effective, it takes very little space in the bathroom. People have read countless reviews and did other research to find the perfect one that can do the unsavory job effectively.
Whereas cheap plungers from their local stores failed shamefully, this one impressed them.
Why Should You Have It?
It's a 4-piece set. So in addition to the professional-grade plunger, you will get a brush, mini plunger, and drip tray holder for an affordable cost. If you are aware of the latest toilet plunger price, this is a pretty good deal.

Perfect for both elongated and round toilets from old to new. The pliable rubber suction cup lets you have a super-tight seal on your toilet.

Aluminum-made handles; so totally rustproof and mold-resistant. Very lightweight to carry here and there.

The brush comes with a stationary handle.

Because of its telescopic handle, you can retract it up to 17 inches for easy and space-saving storage.

Very sturdy bristles. No harsh

toilet bowl cleansers

can do any harm to it. Being full-dome and having sturdy bristles let you deep and thoroughly clean your toilet bowl surfaces effectively.

Huge recommendations from happy users. Lots of bulk buyers as well.
Cons
There are a few incidents where the telescopic handle did not lock properly. Now, this is troublesome because without that lock it will collapse with a little pressure. Contact the seller immediately for any defect you notice.
Neiko 60166A [Patented All-Angle Design]
Some people named it the Excalibur! And there are pretty good reasons behind that. Managing human waste becomes tough when you have a clogged toilet but Neiko 60166A makes it an easy task.
It has a pretty simple design. But the incredible seal and suction are just awesome.
When standard models failed to do the job even after trying for hours, they unclogged the toilet in just 3 pumps due to its incredible seal and suction.
It's the result of rigorous experiments and finding problems of other brands by Engineers of Neiko. Many have praised their effort a lot.
The intelligent shape of the bell on the end and the sturdy handle have made this a perfect one to unclog drains without much effort.
Dealing with human poop for 20 to 30 minutes is totally unacceptable. But those days are gone with this one. What more can you expect?
But how hard will it be for you to unclog the demonically clogged toilet with this? Will it take much effort and energy?
I know someone unclogged the toilet sitting in a wheelchair with this one. And it was done within the first try.
Read as many reviews as possible and you will understand what I am talking about. These are commercial grade stuff and you will find them in the bathroom of luxury hotels as well.
If your current one seems to you like a piece of crap, give this a try and I am pretty sure you will thank me later for recommending this.
Not just me, you will find lots of engineers and professional plumbers who have recommended this one. It will cost you a little extra but you won't be wasting your money on cheap craps. A lot have confirmed it works just as advertised. 
More Features 
Perfect fit for all kinds of toilet drain openings. Most of the time you will get the job done with just 1 push. For elongated toilets, it's simply great.

The aluminum handle features a peg hole. Now it's pretty easy for convenient hanging.

From all angles of your toilet bowl, it will give your a tight seal and suction as usual.

Intuitive cup design. No chance of flipping over.

Plumber recommended.

Super lightweight and very easy to use. Anyone from your family member can unclog your slow flow toilet.

No dirty water dripping at all! No chance of gross dirty water getting stuck inside because of the intuitive angle it features.
Cons:
The strong toxic smell from the rubber when new. But it will go away after 1 or 2 months.

Lack of rubberized strips to keep the hands from slipping.

It does not come with a container to sit on while not in use.
Buying Guide For The Right Toilet Plunger 2022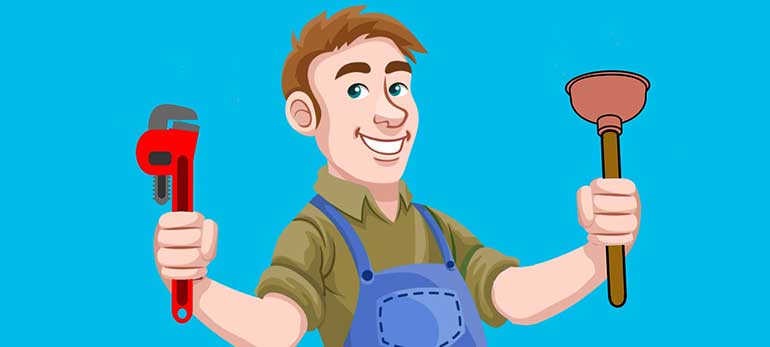 They don't last years after years no matter which brand you pick. But like everything, not all of them are made equal, right?
Though the basic function is the same, there are some differences in which they can do the job better than their counterparts.
Some plungers can do the job within 15 to 20 minutes, but there are some cool models that can achieve the same result within just 2 to 3 minutes. Even if you have to deal with huge poop!
That's very important because nobody likes cleaning human poop for a long time. You should take into your consideration the following factors to pick the right one:
   

Reviews & Recommendations
This is a tedious job to do but you should read more reviews to find a high-efficiency toilet plunger. These people have already bought it and used it for some time.
So, they know exactly what the model can do. If maximum people leave positive reviews and recommend it to their friends and families, this is definitely the one you should pick.
   

Types/Styles
Our needs are different, so they come in different styles too. There are accordion-style and cup-style plungers along with the traditional toilet plungers. What type suits your needs best should be your choice.
   

Handle
The handle can be made of wood, plastic, and aluminum. But to prevent mold and stop germs attacks, I always recommend getting the aluminum handle. Think about the shape of the handle too. They can be T-shaped, round-shaped, and so on. The T-shape will give you maximum grip. 
   

Seal
A weak seal will do nothing to dislodge the tough clog. If you have a low-flow modern toilet, make sure it fits the drain perfectly and creates a tight seal. The design of the plunger plays a great role to make the perfect seal.
   

Weight Vs. Durability
A lightweight model is always preferable. It is particularly true for elderly family members and women. They can't make an effective push if it is too heavy.
But make sure it is not flimsy either to make it lightweight. It's not the best plunger for the elongated toilet if it is not durable enough.
   

Drip Tray
You do not want the dirty toilet water to spread all over the bathroom. A drip tray can help you a lot to prevent it. It also can keep the plunger in the upright position for faster drying.
I reviewed some of such models that come with the drip tray. I recommend you take them into serious consideration.
   

Ease of Usage
I did not review them but there are some automatic models. They can automatically break down or move the clog without your continuous pushing up and down. Also, if it is rubber made it will create the suction easily without much effort.
   

Aesthetics
Where do you normally keep the plunger when not in use? I usually keep it near the toilet bowl. If you keep it anywhere in your bathroom, it will make its appearance to everyone. It will impact the overall beauty of your bathroom. So yes, it should be beautiful as well. 
   

Price
The price gap between a cheap one and an expensive one is very low. But with those extra little bucks, you can get the high-quality one that will last longer. And most importantly, it will get the job done with minimum effort and less time.
Frequently Asked Questions (FAQ)
Is there a special plunger for elongated toilet?
There are plenty of special plungers for your elongated toilet to achieve a perfect seal. For example, you can get the BEEHIVE Max toilet plunger. Not just elongated, it fits all the HET and old model toilets.
Can you use a sink plunger for the toilet?
No. Your sink plunger won't be able to create the suction needed to dislodge the clog.
How long does it take to unclog a toilet with a plunger?
Once the suction is created, move the plunger up and down forcefully for 10 to 20 minutes. That's all it takes to unclog your toilet most of the time.
Do plungers push or pull?
Plungers do both push and pull. You pull the plunger to pull drain water upward and push the plunger to force the drain water to move another direction. That's the way to unclog your drain or toilet!
Final Verdict
Having something like this is probably the most important thing to keep your toilet up and running. Like California, more states will join to enforce low-flow toilets to save water.
So, clogging issues will get worse day by day. To save yourself from embarrassment and to keep your head cool, you must have the best plunger for the elongated toilet.