If you're a fan of simplehuman's foam soap dispensers like I am, then you know how frustrating it can be when you run out of the branded soap refills. While simplehuman's foam soap is top-notch, the refills don't come cheap.
Luckily, there are plenty of alternative foam soap refills on the market that work beautifully with simplehuman dispensers. In this article, I'll share my picks for the best non-simplehuman foam soap refills and provide tips on finding the right product for your needs and budget.
Foam Soap Refill Alternatives To simplehuman
Here is a list of them!
Method Foaming Hand Soap Refill
Mrs. Meyer's Foaming Hand Soap Refill
Puracy Natural Foaming Hand Soap Refill
EO Foaming Hand Soap Refills
Blueland Foaming Hand Soap
Mrs. Meyer's Clean Day Foaming Soap Refill
J.R. Watkins Foaming Hand Soap Refill
Bombee Foaming Hand Soap Refills
Cleenol Ag+ Foaming Hand Soap Refill
Make Your Own Foaming Hand Soap
Let's talk about them in detail.
Method Foaming Hand Soap Refill
My number one recommendation is Method's foaming hand soap refill. This popular soap brand makes an excellent quality foam soap formula that performs just as well as simplehuman's.
The Method foam soap checks off all the boxes: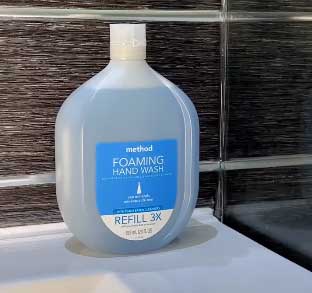 Produces a rich, creamy foam that rivals simplehuman's
Made from naturally-derived ingredients like coconut oil and aloe vera
Free of parabens, phthalates, triclosan and other harsh chemicals
Biodegradable formula
Recyclable packaging
Non-toxic and hypoallergenic
Available in a range of appealing scents like pink grapefruit, sea mineral, and peppermint
I've used the Method foam soap in my simplehuman dispenser for over a year now and have been very pleased. The foam is dense and moisturizing, leaving my hands clean, soft, and refreshed. The soy-based formula also rinses cleanly without any sticky residue.
Method's foam soap refills come in an 828 ml pouch that fits perfectly into the simplehuman dispensers. They offer a great value at around $16 USD for the refill pouch. That's nearly half the price of simplehuman's branded refills!
If you want a top-performing foam soap that matches simplehuman's quality while saving money, Method is an excellent option to consider.
Mrs. Meyer's Foaming Hand Soap Refill
Mrs. Meyer's is another terrific brand to look at for simplehuman foam soap refills. Like Method, they make plant-derived soaps with essential oils that are biodegradable and cruelty-free.
The Mrs. Meyer's foam soap has a smooth, creamy lather and a light, pleasant fragrance. Scent options include geranium, lavender, lemon verbena, basil, and more. I'm a big fan of the soothing lavender.
In addition to essential oils, ingredients include olive oil, aloe vera, and other skin-conditioning extracts. The formula is quite gentle yet effective at cleansing.
Mrs. Meyer's refill pouches contain 946 ml of soap and fit the simplehuman dispensers perfectly. At around $16 USD, they provide an excellent value just like the Method refills. The two brands are very comparable in terms of quality and price.
If you like Mrs. Meyer's scents or already use their household cleaning products, give their foam soap a try. It's an easy switch from the simplehuman refills.
Puracy Natural Foaming Hand Soap Refill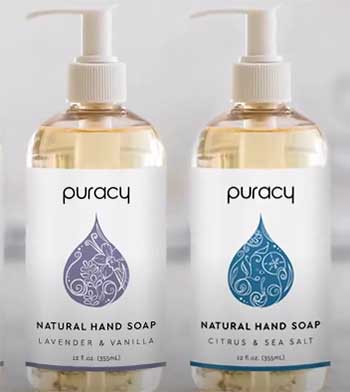 For a foam soap with ultra-gentle plant-based ingredients, check out Puracy's natural foam soap.
This pH-balanced formula contains coconut-based cleansers, citrus extracts, sea salt, and other natural moisturizers.
It's non-toxic, vegan, hypoallergenic, and free of harsh sulfates.
I appreciate that they also avoid parabens, petroleum-based ingredients, perfumes, and animal by-products.
According to Puracy, their foam soap is made in the USA at an FDA-registered facility.
The packaging is recyclable too. They offer appealing scents like lavender & vanilla and citrus & sea salt. I'm a big fan of the grapefruit & lime blend.
The Puracy foam soap refill contains 67 oz (1984 ml) of soap, so it will last you quite a while! It runs about $16-$18 USD depending on the scent. For a natural foam soap option to use with your simplehuman dispenser, Puracy is an excellent choice.
EO Foaming Hand Soap Refills
EO makes fabulous natural skin care products including their foaming hand soap. This co-op brand offers good value combined with eco-friendly ingredients.
The EO foam soap contains soothing extracts like aloe vera, vitamin E, and chamomile. It comes in refreshing scents like lavender, honey & coconut, and citrus. The lather is rich but rinses cleanly off my hands.
EO's foaming soap refills are filled with 67 oz (1984 ml) of soap – the same generous amount as the Puracy refills. But the EO refills cost just $10 to $12 USD, making them very budget-friendly.
Both the product and packaging are made in the USA. The recyclable pouch is also BPA-free. If you want an affordable natural foam soap that works with simplehuman's dispensers, EO is a great eco-friendly pick.
Blueland Foaming Hand Soap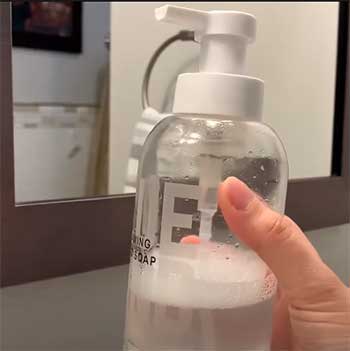 For a foam soap with ultra-sustainable packaging, check out the brand new Blueland Foaming Hand Soap.
Blueland specializes in eco-friendly cleaning products with innovative packaging systems.
Their new foaming hand soap features a stainless steel foaming bottle paired with tablet soap cartridges.
To make the foam soap, you simply insert a soap tablet into the reusable forever bottle and fill with water.
The tablets dissolve easily to create a gentle, coconut-based foaming soap. The scent options sound lovely – mandarin, fresh mint, and lemon.
I don't have the Blueland foam system yet but look forward to testing it out. Their bottle should work beautifully with the simplehuman soap dispensers. And I love that there's zero plastic waste with the tablet system. It's perfect for going green in the bathroom!
At $16 for the starter set and $10 for 3 milk cartridges, Blueland offers an environmentally friendly option at a reasonable price. They also sell non-toxic hand soap in their signature reusable bottles.
For plastic-free home products, Blueland is definitely a brand to know. Their innovative soap tablets seem ideal for use with simplehuman dispensers.
Mrs. Meyer's Clean Day Foaming Soap Refill
Mrs. Meyer's Clean Day foaming soap refill is another great option to use with Simplehuman dispensers. It contains essential oils, aloe vera, olive oil and other ingredients to gently clean and condition the skin.
Scents include lavender, lemon verbena, basil, geranium and more.
The Mrs. Meyer's refill bottle contains 946 ml of foam soap to fill your Simplehuman dispenser multiple times. It provides a good value at around $16 USD per bottle. The foam leaves hands soft without any sticky residue.
J.R. Watkins Foaming Hand Soap Refill
J.R. Watkins is known for its natural home and body care products. Their foaming hand soap refill is an excellent alternative to Simplehuman's version.
It contains gentle ingredients like coconut oil, vitamin E, olive oil and oatmeal extract. The foam formulation is sulfate-free and non-toxic. Scents include lemon cream, coconut, and grapefruit.
The J.R. Watkins foam soap refills contain 67 oz (1984 ml) of soap for around $10-12 USD. The foam dispenser bottle is 100% recyclable too.
Bombee Foaming Hand Soap Refills
Bombee makes high-quality foam soap refills that work beautifully with Simplehuman dispensers. Their formula contains natural ingredients like tea tree, coconut and lemon oils.
Bombee foaming soap comes in scents like lavender, honey pear and cucumber melon. The 67 oz refill bottles provide a great value at just $9-$11 USD each. The foam leaves hands clean without drying them out.
Cleenol Ag+ Foaming Hand Soap Refill
Cleenol Ag+ is a hospital-grade foaming hand soap that uses silver ions for natural antibacterial benefits. It kills up to 99.9% of many common germs.
Despite this disinfecting power, Cleenol Ag+ remains gentle on the skin. It has a fresh, clean scent that isn't overpowering. The 33.8oz refill bottles contain 2000+ pumps of soap.
If you want a disinfecting foam soap for higher germ areas, Cleenol Ag+ is ideal for Simplehuman dispensers. It provides premium protection at an affordable price point.
Make Your Own Foaming Hand Soap
If you want complete control over the ingredients, make your own custom foam soap! All you need is:
Liquid castile soap – Use an unscented or lightly scented soap made from vegetable oils (Dr. Bronner's is a popular brand).
Water
Essential oils (optional) – For fragrance and skin-care benefits. Some great choices are lavender, lemon, peppermint and tea tree oil.
Foaming soap dispenser
Simply mix together 4 parts water with 1 part castile soap. Add 8-10 drops of essential oils per 1 cup of soap mixture, if desired. Pour into your foaming soap dispenser and enjoy!
You can experiment with different soap bases like aloe vera gel or coconut milk. For a more nourishing formula, add a tablespoon of jojoba, vitamin E or other oils. Make sure to shake/swirl the dispenser before each use to combine the ingredients.
Making your own foaming hand soap allows you to control the formula while saving money. And it's fun to create scents like lavender-peppermint or lemon-tea tree. Homemade can feel just as luxurious as the simplehuman brand!
Why Foam Soap?
Before diving into the alternatives, let's quickly go over why foam soap has become so popular in the first place. Foam soaps offer many benefits over traditional liquid hand soaps:
More hygienic – The foam formulation helps prevent cross-contamination because the soap never touches the pump. This makes it ideal for kitchens, bathrooms, and other high-traffic areas.
Uses less soap – You only need a small dollop of foam soap to wash up, so the refills last longer. The foam also distributes well over your hands.
Feels luxurious – Foam soap just plain feels nice to use. The soft, airy lather makes hand-washing feel like a spa experience.
Looks beautiful – The simplehuman dispensers add a modern, elegant look to any sink area. The chrome and stainless steel matches both traditional and contemporary decor.
If you're already accustomed to the perks of foam soap, you won't want to revert to basic liquid soap again. But you also don't want to pay a premium for simplehuman refills for the rest of your life.
The good news is that now you have options!
Foam Soap Refill FAQs
Here are answers to some common questions about using alternative foam soap refills:
Can I use any soap for simplehuman foam dispenser?
You can't use just any old soap in simplehuman's foam dispensers. The soap needs to be specifically formulated for foaming dispensers. Liquid hand soaps and body washes won't foam properly.
Look for soap refills that explicitly state they are for foam or foaming dispensers. All of the options I recommended above are designed for foaming systems.
What soap can I use with simplehuman?
The best soaps to use with simplehuman's foam dispensers are Method, Mrs. Meyer's, Puracy, EO, and Blueland. Or you can make your own custom foam soap. Just avoid common liquid hand soaps.
Stick with formulas specifically created for foam dispensers for the best lather and performance.
Can you use Dawn soap in simplehuman soap dispenser?
Dawn dish soap is not formulated for foam dispensers, so unfortunately it won't work well with simplehuman soap pumps.
Dish soap like Dawn is meant for cutting through grease on dishes. The chemistry is different compared to hand soap. So you want to stick with a foam hand soap product inside your simplehuman dispenser.
What kind of soap can you use in a foaming dispenser?
Look for a hand soap that explicitly states it is designed for foam, foaming, or lathering dispensers. Brands like Method, Mrs. Meyer's, Puracy and EO all make soap refills specially formulated for foaming systems.
Avoid regular liquid hand soap or shower gel. You want a viscosity and concentration ideal for pumping out as a foam. DIY castile soap mixed with water also works well.
Final Thoughts
I hope this gives you plenty of options to explore for simplehuman foam soap refill alternatives. With top brands like Method and Mrs. Meyer's available at just a fraction of the price of simplehuman refills, you can save money without sacrificing quality.
Personally, I'm excited to try the new Blueland foam soap system in my simplehuman dispensers. I love their commitment to zero-waste packaging. Making your own foam soap can also be very gratifying.
As you experiment, pay attention to the foam consistency, scent strength, and moisturizing level of each product. Find the right balance for your preferences.
The good news is there are plenty of excellent soap refills out there that will make your simplehuman foam dispensers sing. Never pay full price for simplehuman refills again!
I hope this article offered helpful details and recommendations. Let me know if you have any other questions! I'm always happy to chat about finding the perfect foam soap.