Without compromising the quality and elegance, you can still have the best shower doors for small bathrooms without breaking your budget.
It would cost 3x if you buy such high-quality shower doors from any chain store. Visit Home Depot and Lowes to check the price; you will see what I am talking about.
Without any risk, you can still have yours from reputed brands like Woodbridge. And I must say it again, please don't worry about the quality and durability of any frameless shower enclosures that I have covered here. 
5 Shower Doors For Small Bathrooms Reviews 2022
There are lots of quality shower doors available right now. But I have written only the top 5 frameless shower doors reviews that are most popular and you won't regret having any of these. Any of the below 5 can give you the finishing touch to your remodeled bathroom. 
Dreamline Enigma Shower Door
Enigma comes first when you read the Dreamline shower doors reviews anywhere. So far, this is the most popular choice when it comes to considering shower door glass options.
When your master bathroom needs a facelift, Enigma is your ultimate choice as the finishing touch. Let me explain why. 
Your bathroom calls for an enclosure when you are almost done with remodeling. Not just it glides like a charm, to enhance the appearance of your bathroom – it's second to none.
Truly one of the most popular frameless shower enclosures. Having this will complete a major upgrade in your walk-in shower. 
The glass is very thick (⅜ inch), sleek, and sturdy. And it comes with all the high-quality hardware. Overall, solid construction with a beautiful design.
You will love its surprisingly smooth and silent roller operation. If you have a small bathroom, get it to have a fantastic look. 
It features clear glass film so that the water can slide easily and nothing builds up there. However, you should use a wiper blade to give it a quick squeegee to keep it spotless. I also recommend you turn on the ventilation fan for the bathroom to deal with the excess moisture. 
Installing it takes at least 2 people and one of you has to be strong, another one should have a handy DIY experience. Read the instructions thoroughly.
Measure and re-measure everything. Alternatively, you can hire someone with previous experience of bathroom remodeling. 
For those who are looking for cheap shower doors, this is it. Go to your local shower door specialty stores and if you compare the price, you will see why so many people already got this.
It has tons of recommendations as a frameless sliding glass shower door for your contemporary bathroom. 
More Features of Dreamline Enigma
Available in 2 colors; polished or brushed stainless steel color. 

With a 22 to 26 inches walk-in opening and dimensions of 56-60 inches in width x 76 inches in height, it's perfect for a small bathroom. You can adjust the width by trimming the top guide bar up to 4 inches.

Totally frameless design to give you a more spacious and open feeling. 

Features stain and water-resistant glass coating. It's not the replacement of regular cleaning of glass shower doors though. 

These heavy-duty glasses. So, don't be surprised by its weight. It's a good thing.

For effortless roller operation, it comes with a large wheel assembly. It rolls like silk!

You can use a custom-made base or Dreamline base for the installation. But make sure the bathroom walls are perfectly plumb. Remember, these doors are completely reversible for left or right wall installation. There are no out-of-plumb adjustments, so level walls are a must. 

Inexpensive model to bring urban style within your budget.
Cons
It has some incidents where the door shatters after a few months. 
VIGO Shower Door
Apart from Dreamline, VIGO is really doing well by selling shower doors for small bathrooms and larger units too. It brings back the elegant look of your master bathroom.
Because of its frameless design, your bathroom will look more spacious. Thanks to the sliding door.
Undoubtedly,  a super sturdy model that does not create any noise. It does a super job keeping the water in but you should not aim water on it.
If there are any unsealed joints, the water will come out one way or another. To many people, it has added more value and beauty to the whole house, not just the bathroom. 
You can get this well-made gorgeous-looking frameless sliding shower door at a very reasonable cost. The rollers roll super smooth and it operates totally noise-free.
You will get the ultimate smooth glass door opening experience. Since the glass is super thick, it is really heavy. This is how you can tell whether your door is sturdy or not. 
It's pretty durable too. Many have installed this for years and it's still serving well. If you really plan to make an elegant upgrade to your bathroom, look no further.
This is definitely the most important part of your bathroom remodeling. Like many others, it will meet and exceed your expectations too. 
You are not alone. Many had doubts about whether it could meet their quality expectations. But after reading so many positive reviews, they trusted it. They Are not disappointed now!
The thick glass does not streak after usage. If you are a handyman, you can install it yourself but you have to take help from others too. It's really really heavy.
Each part is almost 140 lbs. Bathroom remodeling professionals will have no problem installing this. After a successful installation, it will look better than hotel shower doors.
More Features & Pros
Multiple sizes are available. Perfect for a small to larger bathroom. Get your measurement right before you order. 

Available in multiple colors to match the bathroom decor like Matte Black, Stainless Steel, Chrome, and Matte Brushed Gold. 

A perfect frameless shower door to make your bathroom look high-end. 

Features reversible doors; so you can slide left or right easily. 

Highly adjustable (up to ⅜ inch) to match the effect of wall shift that may or may not happen over the years. 

Made from high-quality tempered glass that lasts really long. 

All other hardware components are rust-proof and there is no chance of scratching or chipping. 

Resistant enough to damage and weight. It is CPSC 16 CFR 1201 Category II, and ANSI Z97 certified to ensure that. 

Not just happy users, it has plenty of recommendations from professional contractors.
Cons
Many have said it's difficult to install and it takes a long time to install. That is why you should hire a professional to do that for you.
WOODBRIDGE Frameless Sliding Shower
From luxurious bathtubs to elegant toilets, Woodbridge is a trusted brand for most Americans. Just like that if you have a decent budget, A Woodbridge frameless sliding shower door like this can bring true elegance and beauty to your master bathroom.
They got lots of models, but this one is the most popular. 
Visit any Lowes or Home Depot store, this is a much better-looking unit that you can proudly have. Not just the beauty, the quality will impress you just like it already did for many others.
If you have anything from Woodbridge, you know what I am talking about. You have no reason to worry about its quality except its price. 
If you know the price of the custom frameless shower enclosures that you can have from your local glass contractor, you surely understand Woodbridge is still an affordable solution for you, right?
Besides, I am not sure you can get a such heavy and sturdy glass from local stores. 
As usual, the rollers are super smooth. But the rollers have something different that you don't get from other brands. You can rotate the rollers to adjust the door height. This is really useful if the walls of your bathroom are not perfectly square. 
The cool thing is you can make such height adjustments after the doors are successfully installed. And I strongly recommend making sure the walls are perfectly plumb for impeccable installation. 
Apart from the heavy-duty glasses, you will get all other necessary hardware and all of them are high-quality hardware.
Successful installation is a must to rip the full benefit and if you do it wrong, you will see some problems like rust. So if you are not really good at that stuff, I strongly suggest you hire a professional.
More Features & Pros
Thick ⅜ inch (10 mm) clear tempered glass with several dimensions. From smaller to larger, it's available for all sizes of the bathroom. The safety glass alone will give your shower a contemporary look.

Available in multiple colors like Matte Black, Brushed Nickel, and Chrome. 

Quiet and smooth roller operation. 

Not just the rollers, all the major hardware parts are made of stainless steel. So they are rust-proof and there's no chance of scratching as well. 

Adjustable and reversible design for ease of preference. 

Features high-quality seal strips. So, there is no chance of water leaking. 

Perfectly resistant against hard water deposits and spots. But that should not prevent you from cleaning it every now and then. You can use EnduroShield and ShowerGuard to protect this shower glass.

You don't need any shower base to install it. 

Unbeatable price and specifications. These are not cheap shower doors, but if you truly care about quality and aesthetics, you should have it. 
Cons
The splash guard is good thinking, but sadly it is made of plastic.
ELEGANT Semi-frameless Doors
When you need luxury within your budget and give the finishing touch to your bathroom remodeling, you need something elegant that won't break your bank account.
It's not just the name, many have confirmed it can bring true elegance to your bathroom at an affordable price. You won't be sorry; let me explain why.
There are many impressed users out there because it is sturdy and it's relatively easier to install than other frameless hinged shower doors.
And for this price range, it's really hard to ignore it. In fact, many have recommended having this to give your bathroom a high-end look. 
Not just is it well constructed, but the finish is great too. After a successful installation, it reveals its true beauty without any flaws.
It's on the list of many interior designers too simply because of its elegant look. A true balance in quality and a great price to give you a luxurious feel inside the shower. 
Replace your old shower curtains with this and it will add a lot more space there.
It reveals the overall beauty of your bathroom. Now you can see the beautiful tile works that were previously hidden by those curtains.
You can expect them to last for a very long time. Apart from being sturdy, many have been using them for years. So, they don't just bring a glamorous look to your remodeled bathroom, they are durable too.
After so much research and being skeptical about having this, they are just happy! You will love everything about it.  From the sliding doors to the frame, everything is loveable.
You will love the caring service the company offers too. Just send them an email about your query and they will get back to you shortly. 
More Features
Available in 3 sizes. Perfect for both larger and smaller bathrooms. Besides, you can adjust the base tracks and the head tracks to give it a perfect fit. 

Chrome and brushed nickel finish.

Made from 6 mm tempered glass. Very easy to clean and most importantly, they are safe. Use any cleaner for glass shower doors to take care of it.

To hang towels and clothes, it features an exterior door handle bar made of prime aluminum. No chance of rust and corrosion.

Both doors slide smoothly. No noise. 

No water leakage as well. Thanks to its clear vinyl door seals.  

Really heavy doors. For maximum durability and to be sturdy, it has to have a lot of weight.

The walk-in shower comes with everything like a handle, rails, and doors for the complete installation. Professional installation is highly recommended.

Many have wished to buy it again in the future because of its excellent quality.
Cons
No inside knobs to open the inner door easily. But you won't be needing it anyway because the doors slide easily.

No inside towel bar too.
Sunny Shower Doors 
When it comes to high-end bathroom remodeling, what's the only thing that can make or break the look? Yes, you got it right; it's the lack of the best frameless hinged shower doors.
Because of your budget, if you can't afford Woodbridge or Dreamline but still wants to ensure quality and beauty, Sunny Shower is a great choice!
For the beautiful finish and quality fit, it has already got lots of love and appreciation.
In their reviews of happy users, many have confirmed the quality is still better than what you see in Home Depot in this price range. But you will be paying almost half the cost for these quality shower doors!  
It comes in multiple sizes to match your bathroom shower dimension. But you can still adjust it by cutting the top and bottom rails to fit your enclosures. 
These frameless sliding glass shower doors are perfect when you have a tight budget but want to have a  substantial feeling.
It already gave elegant looks to many bathrooms. Everything functions well and slides nicely. What more could you expect from such cheap shower doors?
To assure you about its quality, many had been skeptical. They had good reasons to do so. It's hard to believe the quality of a cheap glass door made in China.
Turns out, the quality is actually better than what they replaced. Perhaps, the right choice is to enlarge your smaller bathroom.  
This is a highly fragile item to buy online and the biggest fear is that you may receive them cracked. Well, you are not alone. But it comes in a solid package and most of the time without any damage.
If you see any damage upon receiving the delivery, just contact Sunny Shower.
Now watch the installation video if you plan to do it yourself.
More Features
Features two ways of opening and both doors are reversible. They are gorgeous looking and move really smoothly.

Suitable for any bathroom size. Measure first then pick from widely available dimensions of 48 inches Width x 72 Inches Height, 54 Inches Width x 72 Inches Height, 60 Inches Width x 57.4 Inches Height, 60 Inches Width x 62 Inches Height, 60″ W x 72 inches Height.

For color, you can pick either the Brushed nickel or the Chrome model.

Silent opening and closing. To make the opening and closing more easier, it features 2 towel bars and 2 inner knobs.

Aluminum-made hardware materials. ANSI certified, so perfectly safe.

Inexpensive yet well-made from ¼-inch glass with round edges.

Proven to keep water contained. Leak-proof bottom seal strip. No water out!

Before you waste your money buying anything like this from chain stores, many have recommended trying this.
Cons
No glass spot guards.

The knobs or handlebars do not have any system to hook up the loofah. 
How To Get The Quality Shower Doors?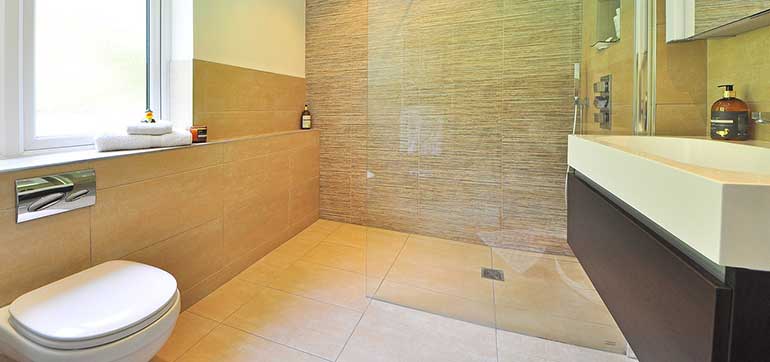 Getting the wrong one won't meet your purpose. There are various types of them to meet various people's needs. Even the same brand offers shower door glass options.
So, it's important to spend some time reading all the factors that you need to consider to pick the best shower door. Here are such factors:
Get your measurement right first. You should precisely measure the height and width of your bathroom. Almost all the frameless shower doors I reviewed above come in multiple sizes.
So, you are welcome to pick the right size. Getting it wrong will make you suffer a lot. Don't forget, these are really heavy. If you have to return, the suffering will be severe. 
You may think you need the pivot shower doors but the interior designer or the professional contractor may recommend the bi-fold shower door. Besides, there are half glass and frameless shower doors.
Installing them is really time-consuming or expensive. You do not want to install the wrong type as it will be there for a very long time. It's not something you change every day!
There are aluminum surroundings in framed glass doors to provide extra stability to the setup. But these are old styles and rarely available.
Most people like the modern frameless shower doors that are mainly made of glass except for the handlebar and knob. Apart from the modern look, they are very easy to clean because of fewer crevices for soap and water to build up there.
This is important that you pay special attention here. The glass has to be sturdy and durable but if any accidents should happen, it should shatter into smaller pieces so that these smaller glass pieces can't cause any injuries. Only tempered glass offers this.
The tempered glass should be thick as well. The thicker the better. Mainly they are available in ½ inch, ¼ inch, ⅜ inch, and 5/16 inch. Pick the thicker one always.
Then pay attention to the design, color, and pattern of the glass. Apart from the clear glass, you can find frosted, seeded, and patterned glass. If you need a little bit more privacy like me, pick the frosted glass. Then again, that's totally your choice. 
Some shower doors come with shelves, water deflectors,  and towel rails. The water deflector ensures the quick deflecting of water back into the enclosures once they hit the door.
This is important to keep the bathroom floor dry quickly. Likewise, shelves and rails let you hang your clothes conveniently. These are not a must, but cool to have.
It should come with all the necessary hardware for the complete installation. But you have to make sure they are rust-proof and easy to clean.
They also come in lots of colors like brushed nickel, chrome, and so on. Check the interior decor of your bathroom and pick the color that matches best. 
Final Verdict
Congratulations! You have completed reading the frameless shower doors reviews and I hope you have found the best shower doors for small bathrooms. But I want to add something and make my final recommendation.
If you have a moderate budget, go for the Woodbridge frameless sliding shower door. But if you have a decent budget, you can still pick the Dreamline Enigma shower door.