The toilet seat is full of bacteria and the yellow urine stain makes it worse. Sometimes, you can find urine on the underside of the toilet seat as well.
Forget health hazard for our entire family, it's so unsightly and gross! But that brings the opportunity to engage in small maintenance projects as well.
There are a lot of cleaning products and sprays that can help you do the job. But you have to know how to remove urine stains from the toilet seat using such products.
You have to act quickly and remove the urine scale from the toilet bowl or wherever you see it to avoid permanent stains.
In total, I will show you 3 ways on how you can get your desired results. None of them will do any damage to your power flushing toilet. Stay tight!
3 Ways To Get Yellow Stains Off Toilet Seat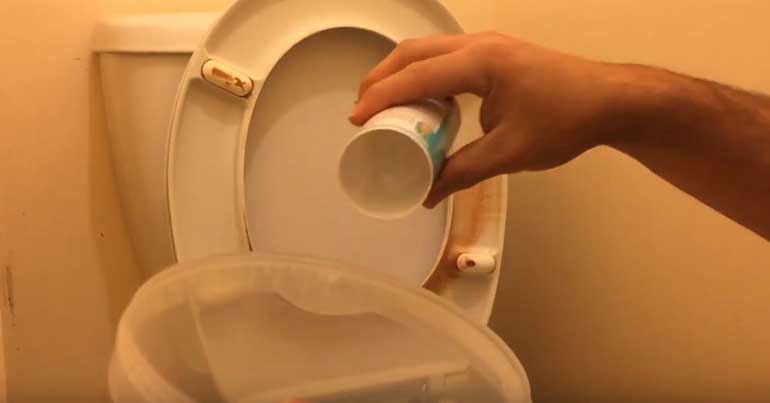 Method A:
I like homemade solution and once you know the tricks, you can apply it for a lot of home improvement small projects. First, let's see how you can clean the toilet seat with vinegar and baking soda.
Gather Necessary Things
You will be needing the following items:
Baking soda.
White Vinegar.
Old Toothbrush.
A piece of cloth.
Any Odor Neutralizer.
Make A Foaming Paste
Let me assure you first. The foaming paste of vinegar and baking soda is safe for you, your toilet seat, and your pet! But it's a great natural scouring cleanser that is highly effective to clean and deodorize the yellow urine stain.
The paste is very easy to make. Just mix ¼ cup of white vinegar with the same amount of baking soda in a clean bowl. The mix will get foamy because of the vinegar and baking soda.
Get Working With Toothbrush
Now is the time to put your old toothbrush in good use. Dip it in the foamy paste and scrub the stained area of the seat. Depending on how hard nut to crack stained area you have, scrub more paste there and let it sit on for at least 10 to 15 minutes. Don't worry it won't do any harm if you have a wooden or plastic toilet seat.
Clean The Paste
Use a clean but soaked cloth or rag to wipe the paste off the seat. Use a dry cloth to dry the seat as well.
Deodorize It
The paste mix of the vinegar and baking soda works as a great deodorizer but if the odor is acute, you may think about covering the stained area with a pet odor neutralizer.  Let the neutralizer sit on the seat for another 20 minutes before you rinse it off with clean water. You should do the same when you clean the toilet seat for your composting toilet for RV as well.
Now, watch the video tutorial on how to do it with baking soda and vinegar.
Method B: Tea Oil & Baking Soda
The yellow stain on a wooden seat will be a little bit difficult to remove and if you are wondering how to remove stains from a wooden toilet seat, you need a stronger solution. Well, that's where the tea oil comes in.
I admit it's a little bit difficult to get or collect, but when you need a homemade stronger solution, go to your local store and collect it. Then follow the below-mentioned steps:
Prepare The Paste
You need almost 10 drops of tea tree oil and ½ cup of baking soda. Mix the two in a clean bowl and you will have a paste form cleanser. This mix is a great natural cleanser when it comes to removing hard nut to crack urine stains.
Apply The Paste
Put the mix in a spray bottle. Point it to the stained area of the toilet seat and spray. Don't worry. Spraying the mix won't fill your bathroom with a bad smell. The mixed paste is totally odorless.
Wipe The Seat
To avoid germs affecting you, put on rubber gloves. Use any soaked rag/cloth, or wet wipes to wipe clean the toilet seat. You may find removing the tea oil from the seat a little bit difficult. Use detergent to clean the oil in that case.
As the last step, use clean water to give a complete cleansing. Now, you have a sparkling toilet seat without any sort of stains.
Method C: Just Baking Soda
Some of you may find it difficult to have white vinegar or tea tree oil. But you can still get an impressive result using just the baking soda as a cleaning agent. You may not have vinegar but you definitely have baking soda in your household. Follow the steps:
Create Paste With Water
Take ¼ cup of baking soda and mix it with ½ cup of warm water in a bowl. You should have a paste-form mixture. Dip a toothbrush into the mixture and scrub the urine-stained area. Let the solution sit there for at least 20 minutes. Do not forget to put on your rubber gloves to keep yourself protected.
Use Sponge To Clean The Seat
After 20 minutes of waiting, it's time to do some scrubbing. The scrubbing will give you noticeable results if you scrub it with a sponge and if you let the solution do the magic for enough time. You have to scrub the seat with the sponge for enough time to remove all the baking soda solution.
If you can't get rid of the urine stains on the first try, repeat the same process again. Don't forget, you are using just baking soda. So, it may require more than one trial depending on how bad the situation is.
Try A Urine Cleanser
To kill the germs, I strongly recommend you apply any good spray cleaners like Clorox. You can try other brands too. Spray the cleaner on the toilet seat and let it sit there for about 10 minutes. After waiting, use a dry rag to wipe clean the seat. And you are done!
Summing Up
Never use any bleach to clean the stains. Doing so will damage the toilet severely. If you try any of the above 3 methods, I am pretty sure you can successfully remove urine stains from the toilet seat.
Applying these methods is easy too, so you don't need to call a professional to do the cleaning. Do it yourself and you will feel good about yourself!