Let's get real if you don't know the distinctions and similarities between glass types, you're in for a confusing ride.
But don't fret yet. Let's start by saying that shower doors come in various ranges and designs, but the most popular are rain and clear glasses.
Therefore, in this article, I will address everything related to rain glass shower door vs. clear glass, once and for all.
Still confused? You won't be once you start reading, so let's get started!
A Quick Comparison Table
I get it; you're in a hurry to know everything right away.
So, here's a quick review of the most common specifications of rain glass and clear glass for shower doors.
| | | |
| --- | --- | --- |
| Specifications | Clear Glass | Rain Glass |
| Texture | Smooth and clear | Rain pattern on the outside, textured on the inside |
| Cleaning | Very easy to wipe and clean | Rain patterned outside is challenging to clean |
| Visibility | Completely transparent | Offers high privacy and obscurity |
| Color And Tint | Has slight green tint | No specific color |
| Appeal | Has a timeless look | Gives a striking look |
| Light | Allows light to pass through | Allows enough light to pass through while maintaining obscurity |
| Variations | Comes in one form | Can have various patterns and styles of raindrop texture |
Key Differences Between Rain Glass And Clear Glass For Shower Doors

Let's dive in to know the real deal. In this section, I will elaborate on the generic differences between rain glass and clear glass.
Rain glass doors have raindrops like patterns on one side of the glass, which offers a pretty decorative and striking view when one enters the bathroom. And Rain has both obscure and clear shower glass doors.
It has a neutral style that meshes well with contemporary designs. The patterns prevent anyone from seeing clearly inside the shower.
Therefore, it works amazingly in all bathroom sizes. The patterns on rain glasses are pretty small, allowing them to slip into the bathroom's background without looking odd.
On the other hand, clear glasses have a greenish hue to them. Even though this tint is entirely invisible, the glass doesn't have any specific texture.
Clear glass has a plain, smooth look, making its appearance timeless. It offers a simple look that goes well with every tile, design, and color scheme. Since the glass can fit itself into any style, they remain the first choice for many.
So, what do you think?
Clear glasses offer distinct visibility in and out of the shower. This, in return, makes the bathroom look more spacious as you can see straight through the glass.
In hindsight, rain glasses offer a dim view because of their raindrop-like patterns.
Therefore, when rain glasses are chosen for smaller bathrooms, the room might appear even tinier due to the dimensions shrinking through the glass.
Larger bathrooms seem to put in a more admirable effect with the usage of rain glasses.
So, the choice is yours.
Rain glasses allow light to pass through while maintaining proper privacy for the person inside the shower.
If you want a good mix of privacy and light, rain glasses are a perfect choice. On the opposite, clear glasses allow proper light to enter its sphere.
What does this mean?
Clear glasses bring enhanced light into the bathroom, which immediately brightens up the space.
So, if you want more light to pass through along with the advantage of a clear view outside and within the glass doors, these should be your first choice.
To be fair, clear glasses are the easiest to clean and maintain. One swipe and you should be done. Since clear glasses have high visibility, even the tiniest spot would need cleaning immediately.
But, rain glasses are a bit more challenging to clean especially, on their textured side.
Quick Summary Of The Differences
Clear glasses have a plain look while rain glasses offer variety.
Rain glasses offer light to pass through but not as much as clear glasses.
Clear glasses allow distinct visibility while rain glasses offer total obscurity.
Clear glasses are super easy to clean but rain glasses are a bit tricky.
Common Similarities Between Rain Glass And Clear Glass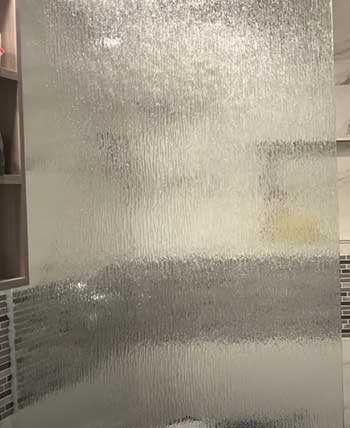 Although this article primarily focuses on the differences between rain and clear glass, you should also read through some of their similarities.
Here's what I know.
Both of these glasses effectively allow light to pass through them. Even though rain glasses have absolute privacy, neither of these lack in allowing light to pass through.
This is good news for many because both rain and clear glasses can be found in various colors.
Generally, clear glasses come with a light greenish hue, but if you want a pinch of color, you can find multiple color schemes in each of these glass types in the market.
One standout point about both of these glasses is that when the construction is done right, they will serve users in the long run. Their thickness, durability, and sturdiness know no bounds.
Therefore, often when homeowners are only focused on the construction and integrity of the glasses, they don't look much into the other details.
And rightfully so, because they can make either purchase hassle or stress-free.
Quick Summary Of The Similarities
Setting aside their visibility differences, neither of these glass types fall behind while allowing proper light to pass through. If you're claustrophobic, this will come to a huge advantage no matter which glass you choose.
We all love a little versatile choice, don't we? Lucky for us, because both rain and clear glasses offer a respectable range of colors to choose from.
Both of these glasses come with high durability, sturdy and robust features. When they're implemented correctly as shower doors, there's no chance of having to replace them ever so often.
So, Which One Stands Out?
At this point, it's a no-brainer that you will wonder; so which one truly stands out in the crowd?
Well, both rain and clear glasses have a ton of distinctions and similarities. Similarly, they also have quite striking features with top-tier classy looks and integrity.
However, I personally think that clear glasses for shower doors have more diverse usage than rain glasses. And here's why.
Reason 1: Cleaning Capacity
Clear glasses are easier to clean by a mile than rain glasses. Whereas rain glasses are one of the trickiest to maintain and look after, clear glasses don't bother users with such difficulty.
Clear glasses give a timeless look to the entire scene. Moreover, since clear glasses allow adequate light to pass through, it can even make a small room appear spacious.
In contrast, rain glasses are restricted to broad spaces only to complete the look without hampering the area.
To top it off, clear glasses can also come in many colors just like rain glasses, so that's a huge win-win.
Wrapping Things Up
So, now do you know everything about the classic rain glass shower door vs. clear glass for your shower door?
I bet!
I sincerely hope that you've acquired adequate knowledge about these products and enough to make a wise decision. Having said that, if you're still confused, you can trust clear glasses for shower doors for the best results.
People always rely on these traditional kinds to bring the entire scene together while stressing less about cleaning.