Philips Norelco is one of the most popular electric shaver brands on the market, known for their rotary shaving system and ability to provide a close, comfortable shave. The 9400 and 9500 represent their current flagship model lineup, but deciding between the two can be difficult.
In this detailed comparison guide, we'll examine the key differences and similarities between the Norelco 9400 and 9500 to help you determine which is best for your needs and budget.
A Comparison Chart
| | | |
| --- | --- | --- |
| Features | Norelco 9400 | Norelco 9500 |
| Shaving Heads | V-Track Precision Blades | Upgraded V-Track Pro Blades |
| Personalization | 3 Speed Settings | Motion Sensor Adjusts in Real Time |
| Display | LED | Enhanced User Interface |
| Extras | SmartClick Beard Styler | Extra Shaving Head, Premium Stand |
| Battery Life | 50 mins (1 hr charge) | 60 mins (1 hr charge) |
Overview of the Norelco 9400 and 9500 Shavers
The Philips Norelco 9400 and 9500 shavers share quite a few similarities, but also have some notable differences.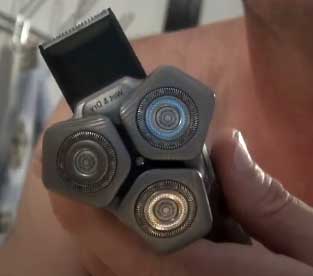 Norelco 9400 – The 9400 is a premium rotary shaver that features Philips' most advanced shaving system.
Key features include V-Track Precision Blades that cut 30% closer,ContourDetectHeads that follow facial contours, and SmartClick beard styler.
Norelco 9500 – The 9500 is Philips' newest flagship shaver.
It has all the features of the 9400, plus adds a built-in sensor that reads hair density 160 times per second to adjust cutting speed.
The 9500 also includes an upgraded shaving head and user interface.
Both shavers utilize Philips' patented lift and cut technology to raise hairs and cut comfortably below skin level. They can be used wet or dry and are 100% waterproof. However, the 9500 does come with a higher price tag than the 9400.
Key Differences Between Norelco 9400 And 9500 Rotary Shavers
One of the biggest differences between the Norelco 9400 and 9500 is found in the shaving heads.
Norelco 9400 – Features V-Track Precision blades that have a unique V-shaped design to cut 30% closer in fewer passes. The blades are also self-sharpening to maintain performance.
Norelco 9500 – Utilizes upgraded V-Track Precision Pro blades that havebeen enhanced to cut hair even more efficiently. They havea steeper angle and profile to improve closeness.
Both shavers utilize Philips' ContourDetect technology that allows each shaving head to independently pivot, flex, and rotate to maintain close skin contact on jawline, chin, and neck areas. This helps catch even flat-lying hairs.
The 9500's more advanced shaving head gives it a slight edge in terms of shaving performance, but both models deliver an efficient, comfortable shave.
Personalization and Sensors
Another major difference is that the Norelco 9500 contains more personalization features and sensors to adjust the shave.
Norelco 9400 – Does not contain any smart sensors. You can manually personalize your shave by choosing between 3 speed settings.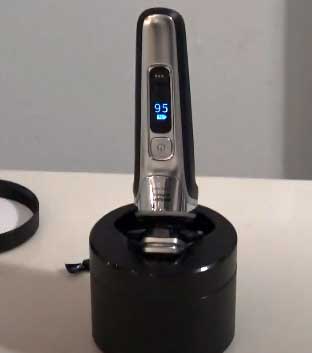 Norelco 9500 – Equipped with a built-in motion sensor that reads hair density 160 times per second and automatically adapts cutting speed to provide the most comfortable shave.
The shaver also learns and adapts to your shaving habits over time.
The 9500's smart sensor allows for a more customized shave by making real-time adjustments based on your exact hair growth.
This results in fewer missed spots and less irritation.
The 9400 still provides personalization, but you have to manually select speed settings.
The digital displays and user interfaces also differ on the two shavers.
Norelco 9400 – Uses an older style LED display that shows battery life, travel lock indicator, head replacement indicator, and cleaning indicator.
Norelco 9500 – Upgraded to a new user interface with an illuminated 5-level battery indicator, travel lock, and head replacement lights. The display shows personalization settings and cleaning alerts.
The 9500's display has a more modern, streamlined look and provides more useful information at a glance like personalization level and cleaning alerts. The 9400 display gets the job done, but doesn't offer as much feedback.
In terms of extra features, the 9500 comes out ahead with more convenience factors.
Norelco 9400 – Includes a SmartClick beard styler attachment, charging stand, and travel case.
Norelco 9500 – Comes with the same SmartClick beard styler. However, it also includes an upgraded travel case, premium charging stand with cleaner and fragrance cartridge, and extra shaving head for sensitive skin.
So for the same price as just a 9400 shaver, the 9500 throws in a few nice upgrades like the premium stand, an extra shaving head, and a nicer travel case. Definitely adds more value.
For cleaning and charging, both shavers are waterproof and can be rinsed under the faucet. In terms of battery life:
Norelco 9400 – Provides 50 minutes of shaving from a 1 hour charge. A full charge lasts up to 20 days.
Norelco 9500 – Slightly better at 60 minutes of shaving time from a 1 hour charge. Also lasts up to 20 days on a full battery.
Overall, pretty comparable battery performance, but the 9500 gives you a few more minutes of shave time per charge. Both shavers charge quickly and have long-lasting batteries that only need to be charged weekly with regular use.
There is a gap in price and value between the Norelco 9400 and 9500:
Norelco 9400 – Retails around $200 for just the shaver. Extra shaving heads cost around $30.
Norelco 9500 – Price is typically $300-$350 for the shaver, stand, extra shaving head, and upgraded travel case. Replacement heads are around $50.
The 9500 costs roughly $100+ more than the 9400. You are paying that premium for the more advanced shaving head, motion sensor, display, and accessories. So you'll have to decide if those features are worth the extra investment
Which Shaver Should You Choose?
Based on this comparison, here are some recommendations on which model suits different users: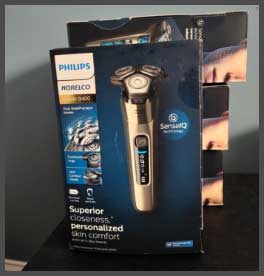 For budget-focused shoppers, the Norelco 9400 gives you stellar rotary shaving performance without all the bells and whistles, at a more affordable price point. It's great for anyone seeking a high quality shaver on a budget.
Folks who want the most personalized shave should opt for the 9500 – the motion sensor and real-time adaptability take closeness and comfort to the next level. Worth the price for a customized experience.
Existing Norelco owners looking to upgrade should go for the 9500 – the improved shaving system and interactive display make it a true next gen shaver worth upgrading to.
Shoppers wanting the most premium accessories can get the complete package with the 9500 – the charging stand, extra head, upgraded case provide added value.
For basic rotary shaving, it's hard to beat the 9400 – time-tested performance, durable design, and attractive price make it a reliable choice.
No matter which you choose, both deliver an effective, comfortable shave. Pick based on your budget and desired features. And be sure to replace the heads once a year for optimal closeness.
Frequently Asked Questions (FAQ)
Which one is best Philips Norelco?
Based on overall performance, features, and value, the Philips Norelco 9500 stands out as the best Norelco shaver currently available. It contains their most advanced shaving system with upgraded V-Track Pro blades and a personalized motion sensor to provide the closest, most comfortable shave. The 9500 also offers premium accessories and an enhanced user interface. If budget is no concern, the 9500 is Philips' top-of-the-line rotary shaver.
That said, the Norelco 9400 is also an excellent option at a more affordable price point, utilizing much of the same shaving technology minus a few premium bells and whistles. So it comes down to your budget and desired features – you can't go wrong with either flagship shaver.
What is the difference between s9000 and s9000 prestige?
The Philips Norelco S9000 and S9000 Prestige are the brand's previous generation flagship shavers before the 9400/9500 models. The key differences include:
Blades – The S9000 uses regular ComfortCut blades, while the S9000 Prestige upgraded to V-Track blades that cut 30% closer.
Display – The Prestige has a more advanced multifunctional display with additional info.
Cleaning – The Prestige includes a SmartClean system for automatic cleaning, lubrication, and charging.
Cost – The Prestige carries a higher price tag than the standard S9000.
Overall, the S9000 Prestige offers some upgrades like V-Track blades, an improved display, and SmartClean system. But the newer 9400 and 9500 shavers are more advanced in terms of shaving closeness, personalization, and design.
Is Philips 9000 shaver worth it?
The Philips Norelco 9000 series (9400 & 9500 models) are definitely worth the investment for those seeking one of the most comfortable and effective electric rotary shavers. Key benefits of the 9000 shavers include:
1. V-Track Precision Blades cut 30% closer with fewer passes
2. ContourDetect Heads flex and pivot to maintain close skin contact
3. Personalization features like speed settings and motion sensor optimize shave
4. Lift & Cut Action lifts hairs to cut comfortably below skin
5. 100% waterproof and usable wet/dry for convenience
6. Long-lasting lithium ion battery for weeks of shaves
Considering the advanced shaving system, personalized features, and premium design, the price of the 9000 models reflects their high performance and value. For those who can afford it, the 9000 series is easily one of the best rotary shavers money can buy.
Which Philips shaver series is best?
Philips Norelco offers electric shavers across a wide range of price points, but their most advanced models are found in the 9000 and 8000 series.
The 9000 series (9400, 9500) is Philips' most high-end line with their latest shaving technology like V-Track blades and motion sensors. It's the best for personalized performance.
The 8000 series (8300, 8500, 8900) is their next tier with features like ComfortCut or ContourDetect blades. Great models for sensitive skin.
The 7000 and 6000 series offer solid budget-friendly options, but lack more premium features.
So for the optimal shaving experience, Philips' 9000 series takes top honors for performance and features, but the 8000 line also provides excellent shaves if you want to save some money. You can't go wrong with either Philips' 8000 or 9000 rotary shavers.
The Bottom Line
When comparing the Philips Norelco 9400 and 9500 shavers, the 9500 stands out as the more technologically advanced model with its personalized shaving sensor, upgraded V-Track Pro blades, and premium accessories.
However, the 9400 still delivers an extremely close and comfortable shave at a more affordable price point.
Ultimately, choosing between these two fantastic rotary shavers comes down to your budget and desired features. Seek out the 9500 for the most customized, high-end shaving experience. But you can't go wrong with the 9400 either – it's a top-notch shaver in its own right.
Whichever you choose, be sure to replace the shaving heads annually for optimal performance. Enjoy the premium shave!