Electric shavers have come a long way in recent years. With advanced rotary and foil technology, today's electric shavers can deliver incredibly close, comfortable shaves.
Two of the top electric shaver models on the market right now are the Philips Norelco 6600 and 9600. But what's the difference between these two popular shavers? And which one is right for you?
In this comprehensive guide, we'll compare the Norelco 6600 and 9600 head-to-head. We'll look at key features and performance factors like shaving technology, customization options, battery life, wet & dry use, and more.
We'll also discuss pros and cons of each model to help you determine the best electric shaver for your needs and budget.
A Brief Comparison Table
| | | |
| --- | --- | --- |
| Feature | Norelco 6600 | Norelco 9600 |
| Shaving Heads | MultiPrecision Blade System, triple floating heads | V-Track precision dual blades, 9-direction ContourDetect heads |
| Custom Modes | 2 modes: Sensitive, Normal | 3 modes: Sensitive, Normal, Fast |
| Beard Styler | Pop-up trimmer, 3 lengths | SmartClick trimmer, 5 lengths |
| Wet/Dry | Yes | Yes, AquaTec seal |
| Battery Life | 50 mins (17 shaves) | 60 mins (20 shaves) |
| Charging | 1-hour full, 5 mins quick charge | 1-hour full, 5 mins quick charge |
| Build | Plastic body | Metal/leather finish |
Key Differences Between Norelco 6600 And 9600 Electric Shavers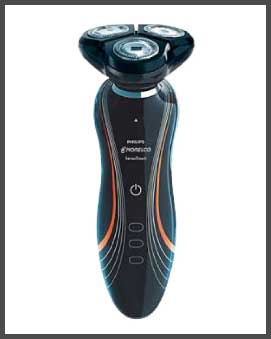 One of the most important factors that determines an electric shaver's performance is its shaving head design and blades.
The Norelco 6600 uses Philips' MultiPrecision Blade System with Super Lift & Cut dual blade action.
The first blade raises hairs while the second blade comfortably cuts below skin level for a close shave.
Independent floating triple heads move in 8 directions to follow facial contours.
The 9600 steps things up with Philips' patented Shaving System with V-Track Precision dual blade system.
The V-Track system guides hairs into optimal cutting position for extremely close results.
It also features 9-direction ContourDetectHeads that move seamlessly over the face.
Both shavers utilize self-sharpening blades coated with a low-friction skin glide coating. However, the 9600's V-Track blades are slightly more advanced. Tests show the 9600 leaves skin up to 30% smoother than the 6600.
The ability to customize and personalize your shave is another key factor for many users. In this regard, the Norelco 9600 pulls ahead of the 6600.
The 9600 offers a redesigned user interface with 3 customizable shaving modes: Sensitive, Normal, and Fast. You can adjust shaving conditions to match your preferences.
There's also a SmartClick precision trimmer that provides 5 length settings from 0.5mm to 5mm for customizing your facial hair style.
The 6600 provides more limited customization. It has basic sensitive and normal skin modes, but no fast mode for time-pressed users. The pop-up trimmer offers 3 basic length settings but lacks the precision of the 9600's SmartClick system.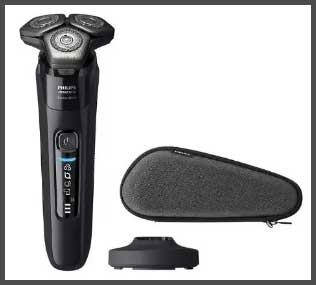 Modern electric shavers increasingly offer the ability to shave wet with shaving gel or foam for added skin comfort – or dry for convenience.
Both the 6600 and 9600 provide wet & dry use.
Their waterproof builds allow you to shave in the shower and simply rinse clean under the faucet.
However, the 9600 has a slight edge for wet shaving.
Its AquaTec seal provides a smoother glide when shaving gels, creams, or foams are applied.
The 6600's wet shaving performance is adequate but testers found the 9600 provided more lubrication and a gentler experience on wet skin.
Battery performance is a key consideration given the cordless convenience of electric shavers. Long battery life reduces the need for frequent charging. Quick charge features allow you to get a fast shave even when you're in a rush.
The Norelco 6600 offers decent but not stellar battery life. It runs for 50 minutes on a 1 hour charge. This translates to about 17 shaves. A 5 minute quick charge provides enough power for one shave.
The 9600 offers improved battery efficiency. It runs for 60 minutes on a 1 hour charge, providing around 20 shaves. The quick charge function delivers a full shave after charging for only 5 minutes.
For travel, both shavers can be plugged in without a cord when using the included travel case and charging stand. But the 9600's superior battery performance gives it an advantage for users who are frequently on the go.
Build quality is another important consideration that determines the durability and lifespan of an electric shaver. Cheap plastic builds can break easily, while premium materials feel better in your hand during use.
The Norelco 6600 features a sturdy yet lightweight plastic body. It feels solidly constructed, if not luxurious. The mostly plastic materials keep the 6600 affordable while still delivering good quality.
The 9600 steps up to a more premium metal and leather build. The shaving unit is encased in a satin chrome finish that looks sleek and feels sturdy. The leather accents and ergonomic body provide a comfortable, easy grip.
Overall, the 9600 simply feels like a more luxury product compared to the plastic 6600.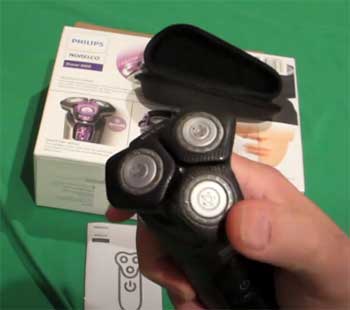 With any purchase, price inevitably plays a role – especially for higher-end electric shavers.
The good news is that both the 6600 and 9600 deliver performance and features that make them well worth their price tags.
At the time of writing, the Philips Norelco 6600 has a manufacturer's suggested retail price of $179.99 but can be found online for closer to $150.
For the features and performance, this represents an excellent value for an electric rotary shaver.
As a more premium model, the Philips Norelco 9600 comes with a higher price tag. The MSRP is $299.99, with online prices around $250. While more expensive, you're paying for significant upgrades in shaving performance, customization, and build quality.
For many buyers, the upgrades are well worth the investment.
Frequently Asked Questions (FAQ)
Is Norelco 9000 worth it?
The Norelco 9000 is one of Philips' most advanced electric shavers and provides extremely close shaves thanks to features like V-Track precision blades and ContourDetect heads. The customizable shaving modes and improved battery life also make it worthwhile for many buyers. If you're looking for elite-level rotary shaver performance, the 9000 is worth the investment.
What is the difference between Norelco 7000 and 9000 shavers?
The main differences are:
1. Blades: The 9000 uses patented V-Track blades while the 7000 has regular dual-blade action. V-Track guides hairs more efficiently.
2. Customization: The 9000 has 3 shaving modes and a SmartClick beard styler. The 7000 just has basic sensitive/normal modes.
3. Battery: The 9000 runtime is 60 minutes vs 50 minutes for the 7000.
4. Build: The 9000 has a more premium metal/leather body while the 7000 is all plastic.
Overall, the 9000 is the more advanced model with better shaving performance while the 7000 offers excellent value at a lower price point.
Which Norelco is the best?
The Philips Norelco 9000 series is widely considered the best Norelco shaver line overall in terms of performance, features, and build quality. Within the 9000 line, the 9700 and 9300 are essentially identical except the 9700 includes a charging stand and travel case. For most buyers, the 9300 offers the best value as the top rotary shaver without paying extra for accessories.
What is the difference between Philips Bodygroom 6000 and 7000?
Some key differences between the Bodygroom 6000 and 7000 trimmers:
1. Blades: The 7000 uses dual-sided skin protector blades while the 6000 has a single blade with combs.
2. Battery: The 7000 is fully rechargeable while the 6000 uses AA batteries.
3. Wet/Dry: The 7000 can be used wet or dry, but the 6000 is dry use only.
4. Attachments: The 7000 includes more attachments like a body shaver and ear/nose trimmer.
Overall, the 7000 is more versatile with better battery life while the 6000 is more affordable for basic body grooming needs.
Conclusion: Which Model is Right For You?
So in the battle of Norelco 6600 vs 9600, which shaver reigns supreme?
The 9600 is clearly the more advanced model with better shaving results, more customization, improved battery life, and a more premium build. For shoppers who want top-of-the-line performance and features, the 9600 is easily worth the extra cost. It's the best electric rotary shaver Philips offers.
However, the 6600 remains an excellent mid-range model. For shoppers on a tighter budget, the 6600 delivers close shaves at a more affordable price point. Unless you really need the customization options and elite-level performance of the 9600, the 6600 gets the job done at a better value.
So in summary:
Get the Norelco 9600 if you want the closest shave possible with full personalization options and don't mind paying more for premium performance.
Opt for the Norelco 6600 if you want advanced rotary shaving at a bargain price but can live without customizable modes and trimmer settings.
Whichever you choose, both deliver a more convenient, comfortable shaving experience than razors. With self-sharpening blades and pivoting heads that follow facial contours, today's rotary shavers make quick work of your morning stubble.
Now that you know the key differences between the Norelco 6600 and 9600, you can choose the electric shaver that's right for you!