Choosing the right shower door is important to ensure a better user experience. Miseno shower doors are highly functional. They have semi-framed designs.
These doors can add a stylish and clean aesthetic to your shower room. Plus, they can deliver modern simplicity.
I have gone through a lot of Miseno shower door reviews online and offline. Most people provided positive feedback about these doors. From glasses to privacy to functionality, they impressed users in many ways.
Let's dive deeper into these high-quality doors.
Features of Miseno Shower Doors
Homeowners have a lot of curiosity to learn about Miseno shower doors. These modern enclosures are different from other types of shower entrances. Here are all the crucial features of Miseno shower doors.
Miseno shower doors are made of tempered safety glass. They have 1/4″ of thickness.
These glasses are four times stronger than any annealed or regular glasses. This makes them ideal for high-rise apartments
Plus, their heat-resistant properties ensure up to 470 degrees Fahrenheit temperature endurance.
You can expect them to be highly scratch-resistant. Hence, the glass will remain clear and transparent.
Miseno shower doors are equipped with H20FF™ Clean Glass Technologies. You can clean all sides of the shower door effortlessly.
Maintaining a new appearance appears simple for a long time. However, the cleaning frequency will depend on how often you use your shower.
This Miseno shower enclosure comes with a modern style header and rollers. AN adjoining glass door and a fixed glass panel are joined with a hinge.
This ensures a good loading capacity of the door weight. The hinged will pull the joined glass panel when you open the door.
Miseno shower doors are mainly semi-framed. The edge of the entrance has metal. However, the manufacturer doesn't use any frames for the door itself.
Modern consumers love this type of door. They are more appealing and stylish. These contemporary entrances have an elegant appearance.
Furthermore, semi-framed shower doors are perfect for small bathrooms and shower rooms. These entrances don't have any bulky rubber or metal casings.
Semi-framed shower doors are less prone to mold and corrosion. After all, they have only a small proportion of metals.
Hence, you don't need to replace the door frequently. They can function consistently and reliably well for a long time.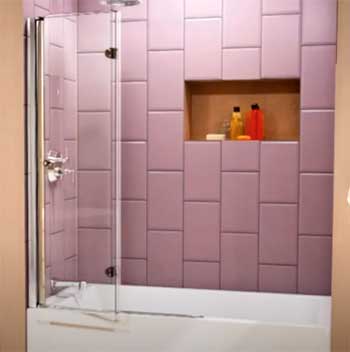 Miseno shower doors have Pivot/Hinged style. It will add an outstanding appearance to your shower door.
These entrances also work as a space saver.
Hence, you can utilize your compact space more efficiently. Plus, opening and closing these doors are convenient.
You can expect to have an uninterrupted view from the internal area of your shower. Another advantage is noise-free operation.
You won't hear the unwanted cluttering sounds while opening and closing the door.
Doors need some flexibility for convenient usage. This high-quality door comes with a 6″ opening adjustment.
Plus, you can install the entrance from the left or right side according to your installation preference. For square walls, you can adjust the shower doors to a maximum of 1/2″.
Semi-framed shower doors are simple to install. They generally come with all the installation guides. You just need to take the correct measurement for your shower space. This will ensure a perfect fitting.
This shower door is ideal for "alcove" type installation. Bathrooms with modern designs and three joining walls surrounding the tubs are known as "alcoves." The upper part of the tub's deck will be below each wall's surface.
However, correctly installing the door is crucial. Otherwise, the door may not function properly. You may see weary issues within a short time.
Impressive Customer Supports
It is common to experience various types of unwanted issues during the usage of doors. Failure, clogged operation, incorrect installation, etc., can happen with Miseno shower doors.
 You don't only get a 1-year warranty for entire doors. But also, they have a special F.I.A.S.C.O. program. You can call the customer service team. They will solve your problem quickly.
What Could've Been Better With Miseno Shower Door?
Miseno shower doors have many outstanding features. But it is not free from drawbacks. Here are a few cons of these enclosures.
Insulating and sealing materials are necessary for water leakage. Unfortunately, Miseno shower doors come with a few seal and insulating materials.
This makes entrances vulnerable to water leaks. You can reduce the leakage by installing a showerhead far away from the door. But, correctly installing the shower door is mandatory. 
Another drawback of using Miseno shower enclosures is a higher upfront cost. The thickness of Miseno door glasses is higher than regular frames doors.
Hence, you need to spend a few dollars more on the glass. However, it is worthwhile to invest for the value you get.
More Suited For Modern Homes
Does your shower room have a traditional design? Miseno shower enclosures are ideally suitable for modern houses.
You may not get the vibe to install these modern doors for your old-style shower place. They have less probability of a perfect match.  
Using Miseno shower doors requires you to be a little bit cautious while operating. You have a risk of having pinched fingers if not careful.
This generally may occur for the few initial usages. Once you get used to it, you can conveniently open and close the door without harming your fingers. Make sure to instruct and alert your children to use the door correctly. This will protect their fingers.
Wrapping Up
So, what have you decided after reading Miseno shower door reviews?
These enclosures are highly functional and durable to last a long time. You just need to install the unit correctly. Follow the manufacturer's instructions for a convenient and smooth installation.
Hopefully, you have learned all the important features of Miseno shower entrances. Indeed, they have a few flaws. But their beneficial features easily overpass these few drawbacks.
Let us know your thought on these doors.