Do you think about getting shower panels on your shower instead of tiles?
Then you might have come across Lustrolite shower panels. If that's something that interests you, then I have these perfect Lustrolite shower panel reviews you can check out.
In the review, I go through all the aspects you need to know about the shower panels, so you can decide whether you want them or not. So, let's get through the review and see if it's something you would go for or not.
Features of Lustrolite Shower Panels
Here, I take you through the features and benefits you experience with the Lustrolite shower panels. Going through the features will give you the best idea of whether it has got the thing you need or not.
It Provides A Pretty Classy Look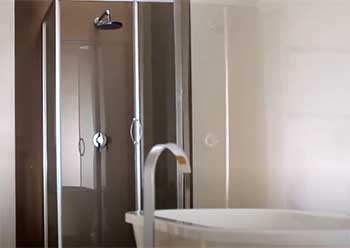 One of the most convincing reasons for going with the Lustrolite shower panels is their looks.
They provide a classy appearance for your shower if you go with the panels.
The high gloss finish with the mirror reflection gives the panels a premium appearance.
So, this is an excellent option for anyone looking to replace their regular tiles setup on their shower with something premium and classy.
Also, if you are thinking of elevating the looks of your shower, you can get these without thinking twice.
You Can Easily Shape Them
A convenient feature and benefit you get to see from Lustrolite shower panels are that you can shape them according to your will.
All you will need is a regular power tool and use it to cut the panels into your desired shape. Drilling through the panels is also very easy to do.
This helps you set up the panels any way you want to. So, it's a great advantage to complete the shower setup without too much trouble.
Easy To Clean And Maintain
Something that I loved about the Lustrolite shower panels was the ease of cleaning.
You can clean the shower panels very easily using simple household items.
All you will need is soapy water, a microfiber cloth, or maybe a squeegee.
Once you have prepared everything, you can dip the cloth in the water and start cleaning your panels.
So, if you want a low-maintenance tiling or panel choice, this can be the perfect option.
Provides Excellent Protection Against Moisture
With the Lustrolite shower panels, you can expect to get excellent moisture protection on the panels. So, if your shower has an issue with excessive moisture, this shower panel setup is the thing you need to fix up.
Whether your tiles are going through moisture issues or you are facing problems like mold, this shower panel is the answer to that. You can forget any molding or moisture problems when you have installed the Lustrolite shower panels.
It Doesn't Require Grout For Installation
Many people go with Lustrolite shower panels because you don't need to use grout to install the panels. A grout-free installation of the panels makes them a convenient choice without hassle.
This feature can be valuable for people who want to redo their showers. Because when they use the panels, they won't have to deal with the troubling method of using grout.
It makes the installation quite beginner-friendly as well. Here is a complete installation video for you!
Scratch And Chemical Resistant
Scratches are a common concern when you think of shower panels. But with this Lustrolite shower panel, you don't have to worry about that. The complete panel comes with a coating that keeps the panels resistant to any kind of scratches.
Because of the coating, you also experience things like no discoloration or cracks and warps. Also, they don't get too much stain, so you have a clean shower panel for a more extended period.
Along with the scratch resistance, you also get resistance to chemicals. If you accidentally leave any substances on the panels, they don't get any damage.
Typically, these are the features and benefits you can see out of the shower panels. After going through all these, you should have an idea of whether it's worth your time or not.
What Could Have Been Better With Lustrolite Shower Panels?
Let's discuss some of the issues or improvements they could have on Lustrolite shower panels. Because when it comes to these panels, some things could be better with them.
The Installation Can Be A Bit Difficult
One trouble with the Lustrolite shower panels is that they are challenging to install. Well, they are a bit tricky to install, but not difficult.
Even though they don't require the use of grout, they still have the issue of tricky installation of the shower panels. So, you will have trouble with the shower panels when trying to install them yourself.  
These Are Only Acrylic Panels, So They Aren't Very Sturdy
Regarding the sturdiness of the shower panels, I have to say that they aren't the best. These are acrylic panels, so they aren't something that will last for a long time. You will always have to think about the durability factor of these panels.
Even with all these, they are still worth a try. None of these issues are quite deal-breaking. You can get excellent value out of the panels if you have a proper panel installation in your shower.
Conclusion
Summing up, Lustrolite shower panel reviews give you an idea of how good the panels are. You get a lot of benefits coming from these panels.
They serve the purpose of making your shower look classier and cleaner at the same time. As they don't require grout installation, they can be a hassle-free choice.
While there are issues with the panels, I still think they are quite good in quality. You can get excellent value out of the panels.
So, if you are looking for shower panels, Lustrolite can be a perfect option to check out.