If you're remodeling your bathroom, installing a new shower is likely high on your priority list. But with so many options for shower pans on the market, it can be tricky to decide which system is right for your space and budget.
Two of the most popular pre-sloped shower pan systems are KBRS and Tile Redi. Both offer unique benefits and key differences. This guide will compare the pros and cons of KBRS vs Tile Redi, so you can determine the best choice for your shower installation.
A Brief Comparison Table
| | | |
| --- | --- | --- |
| Category | KBRS | Tile Redi |
| Base Material | Fiberglass | Mortar |
| Weight | 15-25 lbs | 150-300 lbs |
| Size Options | Set sizes only | 50+ sizes, fully custom |
| Drain Position | Fixed center | Adjustable on-site |
| Installation | 2-3 hours | 1-2 days |
| Waterproofing | Required separately | Integral membrane |
| Cost | $300-$800 | $900-$2500+ |
| Best For | DIY installs, budget | Professionals, custom showers |
Overview of KBRS and Tile Redi Shower Systems

KBRS and Tile Redi are two industry-leading brands when it comes to prefabricated shower pan systems. Here's a quick rundown of each:
KBRS: KBRS shower pans are made from high-density polystyrene foam covered in a coat of fiberglass resin. They offer seamless floors with a pre-sloped angle to a centered drain. KBRS has several pan sizes and shapes to fit nearly any shower layout.
Tile Redi: Tile Redi shower pans feature a structural EPS foam base topped with a red collagen fortified mortar bed. This mortar layer allows direct application of tile with thinset adhesive. Tile Redi has the largest variety of sizes, shapes, and drain positions.
Both KBRS and Tile Redi shower pans install right over your subfloor, saving you time and hassle. They eliminate the need for difficult custom framing, sloping a mortar bed, or using a liner.
Overall, shower system pans provide a pre-sloped, waterproof shower base ready for your finish tile.
Primary Factors to Compare the Brands
When deciding between KBRS vs Tile Redi, there are a few major factors you'll want to consider:
Material: KBRS uses a fiberglass base, while Tile Redi uses a mortar layer over foam. This affects tile application and waterproofing abilities.
Customization: Tile Redi offers far more size and drain position options. KBRS has standard sizes and drain centers.
Installation: KBRS installs slightly faster with less preparation work required. Tile Redi has more detailed installation steps.
Cost: Tile Redi shower pans cost significantly more than KBRS. However, Tile Redi doesn't require additional waterproofing.
Weight: KBRS pans are extremely lightweight. Tile Redi shower pans weigh much more due to the mortar layer.
We'll do a deep dive on each factor below. Carefully compare the pros and cons of each system to make the smartest choice for your bathroom remodel.
Material Differences of KBRS And Tile Redi
The core material used to construct KBRS and Tile Redi shower pans is distinctly different. This affects several aspects of installation and performance.
KBRS Fiberglass Construction
KBRS uses a high-density polystyrene foam base with a coating of fiberglass resin. The fiberglass layer is reinforced with additional woven fiberglass mats:
Pros
Extremely lightweight and easy to handle
Very durable and rigid surface
Provides a glossy finish when gel coated
Cons
Can crack if dropped or handled roughly
Resin odor during installation
Isn't seamless like a tiled mortar bed
Tile Redi Mortar Construction

Tile Redi shower pans feature an EPS foam base topped with a 1/2-inch reinforced mortar layer:
Pros
Provides a bonding surface for tiles
Allows for seamless tiled shower floors
Can be tapered and customized on-site
Cons
Significantly heavier than fiberglass
Needs additional waterproofing layer
More preparation work required
Ultimately, KBRS fiberglass pans are super easy to install while Tile Redi mortar provides a better surface for tile applications. Pick based on your tiling plans.
Size and Drain Customization
One major advantage Tile Redi shower pans have over KBRS is customization options.
KBRS offers set sizes like 30 x 60 inches and 32 x 42 inches, each with a centered drain configuration. They have a small number of neo-angle sizes as well. While KBRS covers the most common sizes, custom work or adjusting drain placement is not an option.
Meanwhile, Tile Redi provides immense flexibility:
Over 50 different size options from 30 x 30 inches up to 72 x 72 inches
Ability to taper down to a linear drain instead of a center drain
Exact drain placement can be adjusted on-site
Fully custom pans can be ordered
Tile Redi offers pre-sloped bases for nearly any imaginable shower layout and design. For showers needing to fit in a tight space or work around angles, Tile Redi delivers customization that KBRS can't match.
Installation Process Comparison
Installing a KBRS vs Tile Redi shower pan follows the same general process. But there are distinct differences in how hands-on and time consuming each installation is.
KBRS Shower Pans
Installing a KBRS pre-sloped shower floor is designed to be quick and simple: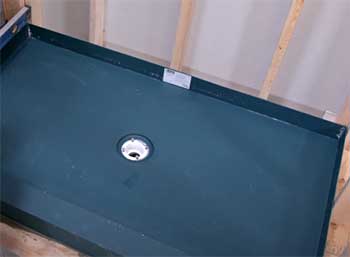 Cut substrate to size and lay into place. The foam core allows for a snug fit.
Lay fiberglass pan atop substrate, shim to desired height.
Run a bead of adhesive around the edges and drill screws into flanges.
Flash pan to walls with waterproof sealant.
Finish shower walls and tile.
KBRS installation takes just a few steps and 2 to 3 hours from start to finish.
The lightweight fiberglass material is easy for one person to handle. Minimal prep work is needed before setting the pan.
Tile Redi Shower Pans
Tile Redi shower pans involve a more intricate installation process:
Build watertight framework and cement backerboard walls.
Cut substrate, lay pan, and level it. Flange nailing is required.
Fill the rib cavities and taper down to linear drain (if desired).
Waterproof the mortar bed with Redi Seal liquid.
Allow 48 hours to fully cure before applying finished tile floor.
A Tile Redi installation takes up to 2 days factoring in cure times. The mortar bed is also heavy, weighing 150 to 300 pounds. Tile Redi's custom sizing does require precise cutting and placement.
For DIYers wanting a simpler install, KBRS may be the wiser option. But Tile Redi's versatility can make up for the extra installation effort in the right scenario.
Cost Comparison of Shower Pan Systems
There is a significant price difference between KBRS and Tile Redi shower systems. Here's how they break down:
KBRS shower pans range from $300 – $800 depending on the size. Average cost is about $500.
Tile Redi shower pans start around $900 and go up to $2,500+ for custom sizing. Expect to pay $1200 to $1500 for typical sizes.
Tile Redi's mortar construction and customization does come at a premium. However, Tile Redi's integral membrane means you avoid needing an additional waterproofing layer. With KBRS, you must budget $400 to $600 for waterproofing materials.
That largely helps offset the higher upfront cost of Tile Redi when comparing total project expenses. But KBRS remains the most budget friendly choice overall.
Weight Comparison
The construction of KBRS vs Tile Redi pans results in a major difference in weight and handling.
KBRS shower pans composed of a foam and fiberglass composite weigh only 15 to 25 pounds. This keeps shipping costs low and allows for easy maneuvering on site. One person can lift and place a KBRS pan with no issue.
Tile Redi's mortar bed adds much more heft. Typical Tile Redi pans weigh 150 to 300 pounds, with a thick 4-inch mortar base. Moving and installing Tile Redi shower pans requires 2 to 4 people depending on size. You may also need special equipment to get pans into upper floor bathrooms.
For DIYers or smaller project teams, KBRS provides a clear advantage with its ultra lightweight design. Tile Redi shower pans work best for professional remodelers equipped to handle the weight.
Frequently Asked Questions (FAQ)
Here are answers to some frequently asked questions about KBRS vs Tile Redi shower systems:
What is the best shower pan material?
Fiberglass and mortar materials both make excellent shower pan bases. Fiberglass like KBRS is best for easy installation and budget-friendly cost. Mortar bed pans like Tile Redi provide more customization for complex layouts and tiled showers.
What kind of mortar for tile ready shower pan?
Tile Redi pans are topped with a polymer-fortified mortar bed. This is an ideal bonding surface for adhering finish tile. Any Type I unmodified thinset is recommended for tile installation over Tile Redi's patented Redi Base mortar bed.
Final Thoughts
KBRS fiberglass shower pans offer an affordable, simple installation. Tile Redi mortar bases provide ultimate customization but cost more.
Tile Redi's broad size range and drain placement flexibility excel for fitting unique spaces.
Hands-on DIYers may favor KBRS for the straightforward install. Tile Redi works better for pros.
Both KBRS and Tile Redi provide quality, code-compliant shower bases. Pick based on your budget, design, tile plans, and skill level.
Whichever you choose, investing in a prefabricated shower pan system can savehours of work over building a custom base. KBRS and Tile Redi are two excellent options suitable for most home upgrading projects.
Carefully weigh the pros and cons outlined here to decide if a simple fiberglass KBRS pan or customizable Tile Redi mortar system best fits your bathroom remodel plans.