Intex inflammable hot tubs have been customers' favorite and the market hype for quite a long time. When an authentic spa would cost you hundreds or thousands of dollars to use, this hot tub comes in a few hundred bucks and is also easily portable.
Although you can trust this hot tub for making your evenings great, they also come with a few problems along with its stellar performance. So, let's know about the Intex hot tub problems and their easy fixes.
Issues With Intex Hot Tub
Intex hot tub is budget-friendly and very low maintenance. But it comes with some problems that might throw you into quite a hassle at times. To understand what the product has to offer, let's see its drawbacks as well.
Temperature Regulation Is Hard
Temperature is the main factor inside your hot tub. You want it to be not too hot and not too cold and adjust it according to your preferences.
Usually, the temperature of the Intex hot tub can be adjusted up to 104 degrees.
But the temperature does not remain the same and fluctuates either two degrees lower than the temperature you preferred or two degrees higher.
One way to solve this problem is to get a new set of insulators for your hot tub. Although you a get one with the packaging, you can also buy one of your own for controlling the temperature and regulating it properly.
The packaging comes with a jet system, which is supposed to massage your body with a powerful circulation of water or strokes of water.
But the jet that comes with the Intex hot tub is not that powerful. They can be considered as bubbles rather than jets. It does not do a handy job of giving you a massage but you would still enjoy the bubbles around you, which is relaxing.
If you are not in need of such a powerful body massager then this model won't be a problem for you. But if you want your jets to massage your body properly, this one is not for you.
You can either buy a separate jet system for the hot tub which would be costly for sure, or you can just not buy the Intex hot tub at all. You would save both your time and money by doing so.
Requires Extra Insulations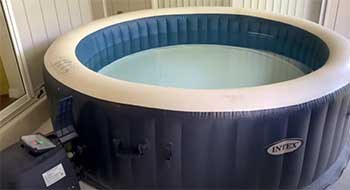 Almost all kinds of inflatable hot tubs come with their own insulation system, and so does Intex hot tub.
But, extra insulations are still required to make it sustainable.
It has an insulated cover for the tub but a lot amount of electricity is wasted on the side which remains uninsulated. That is why extra insulations are required for this.
You might not want to buy extra insulation for the tub but remember that it would just eat up your electricity. Buying extra insulation would be cost-effective rather than wasting a lot of electricity on the sides which remain uninsulated.
Heating up the water of the hot tub is a lengthy job. It almost takes 20-22 hrs for an Intex hot tub to heat up when it was first installed. Gradually, the time of heating up was reduced but it still takes time to heat up.
The Intex hot tub would take 1-1.5 degrees celsius every hour to heat up.
If you want your Intex hot tub to heat up faster than it does, you should always keep its lid closed and not open it at any cost for the next few hours. Make sure to place it on the ground clothes that are insulated.
And do not turn on the jets when the tub is heating up. Another common issue is the famous E90 error code. Watch this video to see how to fix it.
Is Intex Hot Tub Worth It?
Yes, buying Intex hot tub is worth your money and time if you are investing it for quality and relaxing time in cold weather. Although it has a few drawbacks, it is worth the shot.
Let's see what features make the product worthy.
The Intex hot tub is very easy to install in your outdoors. It comes with a very handy manual which would give you all the instructions to set it up on your own.
Even if you are doing this the first time, you won't have to worry to get things wrong because it is that simple to set up.
It is also portable and easy to carry anywhere around your house. As it is inflatable, you can just deflate the hot tub and carry it with you on a vacation to use.
Although it may take a lot of time to set up, it definitely is useful as a portable product.
Water Balance is easy to control
Controlling the water inside your hot tub is really easy. It comes with a chlorine ball to maintain the water balance and pH level of the water.
It also makes sure that the water inside the tub is free of any bacteria which might cause you deadly infections.
Where the actual spa which is fixed to the grounds costs you hundreds of dollars to buy, the Intex hot tub costs only a few hundred bucks. It would cost around $600-$700 on average.
Although you might not get the chills of the real spa in your Intex hot tub, you would definitely get a relaxing bath which is really essential for cold weather and stress relief. It is really cheap and also comes with nice specifications as well.
The Intex hot tub also comes with a very effective control unit. The control unit of this product not only works to pump the heater but also works as an air blower. It is all in one to make its competition compatible.
The all-in-one control unit of the Intex hot tub makes it easier to use and you won't need to look at three things together and just control them from one place.
Although it can get hectic sometimes, the control panel being in one place saves our time and also makes it convenient for us to use it properly.
The Intex hot tub is very easy to maintain as well. It does not need any extra care or peak maintenance regularly.
You just need to make sure it is not wearing off due to continuous rough climates and also if the water remains clean or not. Additionally, you also need to check its filters and insulations once in a while.
How Can You Clean Intex Hot Tub?
Cleaning up the Intex hot tub is a very hard job to do. First, you need to drain out the tub. Then clean up the place using a soft piece of cloth or foam. Soak the cloth or foam in warm and a little soapy water.
You can also use cleansing sprays for cleaning it. The best way to clean it is when the tub is inflated. You can easily reach every corner of the tub.
There may also be some grease build-up in the filter or the water lines. Make sure to clean them as well.
Do not use harsh objects to clean the tub or it will leave some unwanted scratches on the tub and can also damage the surface area as well.
After cleaning, make sure that the soapiness of the water goes away, or else you will end up having a bubble bath with the smell of the detergent in it.
Essential Things to Follow
The Intex hot tubs are really very handy to use. To maintain this product, there are some essential things you should do when having a hot tub in your own house.
Clean the filters regularly
The filter of the hot tubs becomes dirty due to many reasons. So, you need to keep checking if the filter is clean or not. Clean it with a soft cloth and cleansing spray and make sure it's okay once you put it back.
Although the hot tub is always covered with lids or coverings, do not keep the same water for a long time in the tub. Make sure to change it once every 4-6 weeks of the month.
At all costs, always remember to keep the coverage and cover the hot tub. Only open it when you are cleaning or using it. But other than that, keep it covered. Watch this video for more info.
Frequently Asked Questions (FAQ)
Here are a few frequently asked questions related to Intex Hot Tub.
Why won't my Intex spa heat up?
If the hot tub water is not heating up properly, there might be problems with the control or water flowing low from the pump. Low pH level can also cause this.
What does the E90 error mean on Intex hot tub?
An E90 code in the hot tub means no water is flowing through the system. In this case, check your controller and also the pump to see how to fix it.
How do I reset my Intex hot tub?
There is a reset button on the controller of the Intex hot tub. You only need to press the button to reset the entire system.
What temperature should you keep in your hot tub when not in use?
80- 100 degrees Fahrenheit is considered the temperature for the hot tub to be kept when no one is using it. When using it you can again adjust the temperature to what you like.
Wrapping Up Things
Intex hot tubs are really good for you to use in your backdoors. They only have a few drawbacks to look at. But if you do not feel comfortable coping with the drawbacks, you can always not buy it or look for some alternatives.
In the end, make sure to take a wise decision and choose what's best for your house.