Steam showers have become an increasingly popular way to bring the spa experience into your own home. With custom tile, mood lighting, and a steam generator, you can relax and rejuvenate without leaving your house.
Two of the biggest names in home steam products are EliteSteam and Mr. Steam. But which one should you choose?
Here's an in-depth look at the pros, cons, features, and key differences between EliteSteam and Mr. Steam to help you decide.
A Brief Comparison Table
| | | |
| --- | --- | --- |
| Feature | EliteSteam | Mr. Steam |
| Steam Quality | MicroClean filtration for pure white steam | Good steam, not filtered |
| Controls | Digital touchscreen for precision | Analog knobs |
| Smart Home | Compatible with Alexa, Google Assistant | Not smart home compatible |
| Lighting | Chromotherapy mood lighting | Basic lighting options |
| Steam Head | Atomizing for full steam saturation | Standard steam head |
| Cost | $$ Mid-high tier pricing | $ Lower mid-tier pricing |
| Installation | Specialized install for digital system | Simplified retrofit install |
| Warranty | 5 years electronics/steam generator | 5 years steam generator |
| Use | Residential only | Residential or commercial |
Overview of EliteSteam and Mr. Steam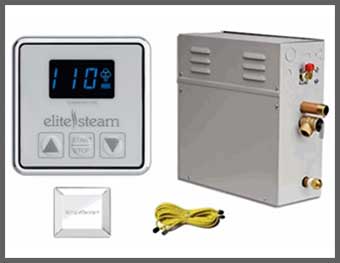 EliteSteam and Mr. Steam are both well-known and reputable manufacturers of home steam shower products.
Mr. Steam has been around for decades and was one of the original companies to manufacture steam generators for residential use.
EliteSteam is a newer brand that is gaining popularity for their digitally-controlled systems.
Both companies offer a range of steam generators, shower heads, accessories, and controls. With either brand, you can get a customized steam shower installed that matches your bathroom decor and provides a relaxing spa-like experience.
Key Differences Between EliteSteam And Mr. Steam
There are some notable differences between the two brands when it comes to features, technology, and performance.
One of the most important factors in any steam shower is the quality of the steam – after all, this is what creates the therapeutic benefits and spa-like ambiance. Both EliteSteam and Mr. Steam use stainless steel heating elements and top grade components to produce dry, clean steam.
However, EliteSteam takes it a step further with their MicroClean Steam filtration system which removes impurities from water before steam is generated. This results in pure, white steam for a smoother experience.
Digital vs Analog Controls
EliteSteam steam showers feature digital controls with LCD displays, allowing you to precisely set and adjust temperature, steam duration, lighting, and music. Settings can be programmed and customized.
Mr. Steam uses classic analog knob controls which some users prefer for the retro look, but digital controls tend to provide a more modern spa-like user experience. With app integration, EliteSteam controls also allow for remote access via smartphone.
Mr. Steam generators are usually easier for plumbers to install, while EliteSteam systems require some specialized installation expertise to integrate the digital controls and components. For new construction or extensive remodels, EliteSteam may require more labor.
But for a retrofit into an existing shower enclosure, the streamlined Mr. Steam units can be the simpler option requiring less alteration to pipes and electrical.
A standout feature of EliteSteam is the ability to connect your steam shower to home smart systems and voice assistants like Amazon Alexa or Google Assistant.
This allows you to control your steam experience by voice command or integrate it into home automation routines. Mr Steam lacks this kind of advanced connectivity and smart home options.
Both companies offer steam showers with LED chromotherapy lighting which can enhance relaxation. EliteSteam typically includes more lighting accents and options for custom multi-colored lights to set a certain mood. Mr. Steam lighting is often single colored or basic RGB options.
On average, Mr. Steam products tend to be more affordable, while EliteSteam systems come at a higher price point. Mr. Steam generators start around $1200, while EliteSteam generators start around $2000 and up. However, EliteSteam's higher price brings more tech features and premium steam.
The warranty coverage is about equal between the two brands. Mr. Steam offers 5 years on steam generators, 1 year on controls and accessories. EliteSteam provides 5 years on steam generators and electronics, and 1 year on accessories.
Residential Vs. Commercial Use
Mr. Steam can be used for both residential and commercial steam shower applications, while EliteSteam is designed for strictly residential use. EliteSteam systems do not have the durability and capacity for handling continuous commercial use.
Key Product Differences
Now that we've compared some general company features, let's look at how specific products between EliteSteam and Mr. Steam stack up.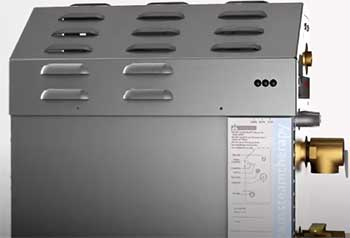 The steam generator is the heart of any steam shower – this is the unit which heats and pumps steam into your shower enclosure.
Both companies offer generators in a range of sizes for small to large steam rooms.
EliteSteam generators use high-grade 316L stainless steel elements, versus 304 stainless steel used by Mr. Steam.
The 316L steel is more resistant to corrosion and mineral buildup from water. EliteSteam's MicroClean filtration further enhances steam purity.
Smaller 3.5 kW to 6 kW steam generators will be appropriate for most residential installations. EliteSteam iSteam series and Mr. Steam MS series are comparable small steamers. Both produce excellent steam, but the EliteSteam iSteam comes with digital controls while Mr. Steam MS uses analog knobs.
For larger custom showers, the 9-18 kW EliteSteam ProSeries or 13.5-27 kW Mr.Steam HomeWizard generators are ideal choices packed with more heating power. The higher end of both series are suitable for commercial spas.
Steamhead and Shower Doors
In addition to the generator, you'll need a steam head to release steam into your shower, as well as proper shower doors to keep it contained.
EliteSteam's steam heads use an atomizing technology to distribute ultra fine pure steam particles evenly around your shower. This enhances steam saturation compared to standard portal steam heads.
For shower doors, EliteSteam partners with Comedy City Shower Door Company to provide custom glass doors designed specifically for steam showers. Mr. Steam offers their own Mr. Steam line of shower doors in various styles. Be sure to get doors which seal tightly with dual drip strips and no venting, to keep steam inside the shower enclosure.
To turn your generator on/off, adjust settings, and control your steam shower environment, both brands offer a few different control options.
As mentioned earlier, EliteSteam controls are digital for precise temperature and time settings, while Mr. Steam uses classic analog dials and switches.
EliteSteam controls allow for pre-programming and setting profiles for one-touch operation. Mr. Steam knobs need to be manually reset each time.
Both brands offer simple single function controls, as well as more advanced multi-function touch screen controls which can integrate lights, music, airflow, etc. EliteSteam's newest iTouch Pro control brings the most functionality in a sleek modern glass panel. While Mr. Steam's TekTouch is their top-of-the-line all-in-one control center.
When choosing controls, opt for the model which fits the features you want and the style you prefer.
Designer Series Vs. Customizations
Out of the box, Mr. Steam provides Steam@Home Designer Series models which are pre-configured bundles with steam generators, shower doors, and controls tailored for small, medium or large steam showers. This takes the guesswork out of selecting components.
EliteSteam allows for more open customization in mixing and matching pieces. You can select your own steam generator, steamhead, controls, shower doors, lighting, etc. This offers more flexibility, but requires you to individually choose compatible components.
Cost Comparison
As a ballpark estimate, here are the starting costs for basic steam shower installations:
EliteSteam – Around $3000
This would include a base model iSteam generator, iTouch controls, and atomizing steam head. You would add custom shower doors and other accessories.
This would include an Ms90e generator, single function controls, and standard steam head. Plus basic shower doors or enclosure to contain steam.
For a more luxurious experience with accessories like chromotherapy lighting, audio, additional jets etc., a high end system could run:
EliteSteam – $5000 to $8000
Mr. Steam – $4000 to $6000
Over time, the EliteSteam's pure steam may help reduce mineral buildup for lower maintenance. But expect replacement heaters, drain pans, and door gaskets in 5-10 years for either brand.
Which Is Better For You?
Based on this overview, you can weigh the pros and cons of EliteSteam vs Mr. Steam to decide:
Reasons to choose EliteSteam:
MicroClean steam filtration for smoother, pure white steam
Digital controls for customization and smart home integration
Chromotherapy lighting options to set mood
Atomizing steam heads for full steam saturation
Reasons to choose Mr. Steam:
More affordable pricing on steam generators
Simplified Designer series bundles for whole packages
Easier installation for retrofits or tight spaces
Analog knob controls for simplicity and retro appeal
For most homeowners, either EliteSteam or Mr. Steam can provide an excellent steam shower experience. It comes down to your budget, design preferences, and which features matter most to you.
Carefully compare the generators, shower doors, controls and accessories to build your ideal system. With proper installation and maintenance, an EliteSteam or Mr. Steam steam shower will provide a rejuvenating daily escape right in your own home for many years.
Frequently Asked Questions (FAQ)
Is Elite Steam same as Steamist?
No, EliteSteam and Steamist are separate brands. Steamist is another manufacturer of steam shower products that competes with EliteSteam and Mr. Steam. They also produce high quality steam generators and accessories.
Who are the competitors of Mr. steam?
The main competitors to Mr. Steam are EliteSteam, Steamist, and Thermasol. These are all reputable brands that offer similar products for residential steam showers. Each brand has their own technologies and features that differentiate them from Mr. Steam.
What type of tile is best for steam shower?
Porcelain, ceramic, or natural stone tiles are best for steam shower walls and floors. Use larger grout-lines instead of small mosaics and get tiles rated for wet environments. Avoid man-made composite tiles which can deteriorate in moisture.
What is the difference between steam showers?
Major differences between steam shower brands include:
Steam quality and filtration systems
Types of controls offered (digital vs. analog)
Smart home connectivity options
Nozzle designs for distributing steam
Available accessories like lighting, benches, etc.
Warranties and included coverage
Price points and product tiers
Final Thoughts
This covers an in-depth comparison of key differences between EliteSteam and Mr. Steam steam shower systems to help you select the best option for your home. Both are great choices which can add a spa-like feel. Weigh the pros and cons and look for the best product specifications to suit your needs.
With proper installation and care, a quality steam shower from EliteSteam or Mr. Steam can provide health benefits and a peaceful escape for many years to come.