Creed Aventus and Montblanc Explorer are two of the most popular and well-known fragrances for men. With their fresh, woody, and smokey notes, these iconic scents have made a name for themselves in the world of men's cologne.
But how do they compare?
Let's take an in-depth look at Creed Aventus and Montblanc Explorer to see which fragrance comes out on top.
A Brief Comparison Table
| | | |
| --- | --- | --- |
| Aspects | Creed Aventus | Montblanc Explorer |
| Fragrance Type | Eau de Parfum | Eau de Toilette |
| Notes | Pineapple, birch, musk | Bergamot, vetiver, leather |
| Sillage | Heavy | Moderate |
| Longevity | 8+ hours | 5-6 hours |
| Versatility | Very versatile | Best for daytime |
| Uniqueness | Very unique | Somewhat generic |
| Price | $300+ for 100mL | $70 for 100mL |
| Overall Style | Fruity, woody, smokey | Fresh, woody, smokey |
An Overview of Creed Aventus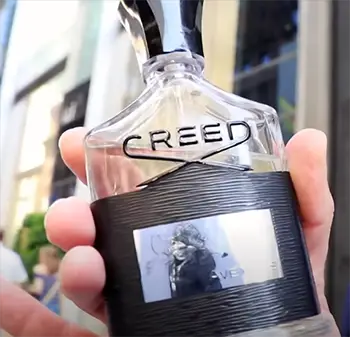 First launched in 2010, Creed Aventus has become a modern classic in men's fragrance.
It was created by master perfumer Olivier Creed, who set out to make a bold and adventurous scent.
The name Aventus comes from the French word "aventure", meaning adventure.
Right from the first spritz, Aventus makes a statement.
It opens with a burst of fresh fruits, featuring notes of blackcurrant, apple, and pineapple.
As it dries down, the fragrance takes on a woodier tone with birch, patchouli, oakmoss, and ambergris. The base notes introduce an unexpected smokey nuance with musk, vanilla and oakwood.
This blend of fruity, woody, and smokey notes creates an alluring scent that is both modern and timeless. Aventus has a bright, uplifting vibe that works well for daytime wear. The fruity top notes give it mass appeal, while the musky dry down adds depth and sensuality.
Here's a quick rundown of the key features of Creed Aventus:
Top Notes: Blackcurrant, Apple, Pineapple
Heart Notes: Birch, Jasmine, Patchouli
Base Notes: Musk, Oakmoss, Ambergris
Overall Scent: Fruity, woody, smokey
Occasion: Versatile for day or night
Creed Aventus has received widespread acclaim in the fragrance community. It continues to remain a top seller for the brand. The scent is often described as magnetic, vibrant, and full of character.
An Overview of Montblanc Explorer
Montblanc Explorer burst onto the fragrance scene in 2018. Created by perfumers Jordi Fernandez and Antoine Maisondieu, Explorer was designed to capture the spirit of adventure.
Right from the opening, Montblanc Explorer delivers an exhilarating scent experience. It greets you with an energizing splash of bergamot before unfolding into fresh woods and aromatic spices.
The heart of the fragrance features vetiver, a grassy note that gives it an earthy edge. Finally, the base introduces smokey leather and tonka bean for a rugged, sensual finish.
Here are some of the key notes that make up Montblanc Explorer: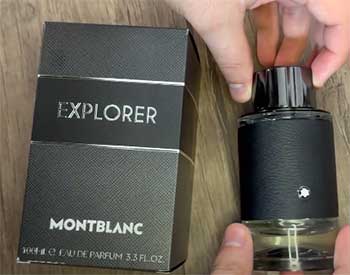 Top Notes: Bergamot, Pink Pepper, Lemon
Heart Notes: Jasmine, Vetiver, Rose
Base Notes: Leather, Tonka Bean, Woodsy Notes
Overall Scent: Fresh, woody, smokey
Occasion: Best for daytime and outdoor wear
Montblanc Explorer gives off a bright, optimistic energy that captures the feeling of embarking on an expedition.
While it opens with citrusy freshness, the dry down is more rich and complex.
The pink pepper, vetiver and leather notes give it a contemporary vibe.
Since its release, Montblanc Explorer has earned many fans worldwide with its adventurous spirit and sensual edge. It's often described as energetic, alluring, and rugged.
Comparing The Fragrances
Now that we've covered the essence of both Creed Aventus and Montblanc Explorer, let's directly compare the two fragrances. Here are some key similarities and differences:
Similarities
Both have a fruity opening accented with fresh green notes
The dry down of each fragrance becomes woodier and earthier
Aventus and Explorer both have a light smokey character
They evoke a masculine, adventurous feel
Differences
Aventus leads with pineapple, while Explorer starts with bergamot
Explorer has a grassy vetiver heart note, Aventus has more florals
Aventus has a creamier, more sensual base while Explorer is drier
Aventus has higher concentration of perfume oils
Aventus costs significantly more than Explorer
While they share some common traits, Aventus and Explorer come across as distinct scents. Aventus has a fruitier, sweeter character thanks to notes like pineapple and apple. Explorer feels more fresh and outdoorsy with vetiver and pink pepper.
In terms of performance, Aventus generally has stronger projection and longevity. As an Eau de Parfum with higher perfume oil concentration, it lasts over 8 hours on most wearers. Explorer, as an Eau de Toilette, is a bit lighter and may last around 5-6 hours.
Creed Aventus – The Pros
Now let's break down the pros and cons of each fragrance in more detail, starting with Creed Aventus:
With its fruity opening and musky dry down, Aventus has mass appeal across different age groups. The scent is versatile enough for daily or evening wear.
There is seamless cohesion between the top, middle, and base notes of Aventus. The fruits transition smoothly to woods and smoke.
Thanks to its Eau de Parfum concentration, Aventus projects strongly for over 8 hours with 2-3 sprays. It leaves an alluring scent trail.
From the pineapple opening to the smokey dry down, Aventus has an iconic character unlike any other men's fragrance.
As a niche luxury perfume house, Creed has an air of exclusivity and prestige. Owning an Aventus bottle brings satisfaction.
Creed Aventus – The Cons
With prices starting around $300+ for a 100mL bottle, Aventus is one of the pricier men's colognes out there. The cost may be prohibitive to some buyers.
While performance is generally excellent, some users report issues with longevity or silage. Batch variations occur.
Success has led to a high number of fake Aventus bottles circulating online. Buyers must be vigilant about source.
Aventus' popularity means you may smell it on someone else. Exclusivity is reduced for some buyers.
Can cause olfactory fatigue
Due to its strong projection and recognizable scent DNA, Aventus is prone to causing nose fatigue when overapplied.
Montblanc Explorer – The Pros
Moving on to Montblanc Explorer, here are the positive points:
Modern, crowd-pleasing scent
Explorer has a contemporary vibe with mass appeal. Most men find it pleasant and easy to wear.
Outdoor adventurous spirit
The mix of citrus, vetiver, and woods captures the feeling of the great outdoors. It conjures a sense of exploration.
With prices around $70 for 100mL, Explorer costs far less than Creed Aventus. It offers value for money.
Excellent for daytime wear
Explorer's energetic, fresh aroma makes it perfectly suited for daily wear, especially in warmer weather.
Longevity and projection are better than average for an Eau de Toilette. Explorer can last 5-6 hours.
Montblanc Explorer – The Cons
The disadvantages of Montblanc Explorer include: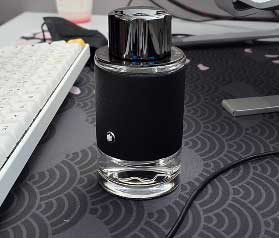 While pleasant smelling, Explorer has a somewhat generic scent profile. It lacks a truly signature aroma.
To keep costs low, Explorer contains a number of cheaper synthetic aromachemicals.
These reduce depth and authenticity.
Occasional reformulations
There have been some reformulations that slightly altered the original scent character. Performance varies between batches.
Not suited for evening wear
Given its fresh, sporty DNA, Explorer is less ideal for date nights or formal events in the evening.
Flakey longevity on some wearers
Explorer fades faster on wearers with oilier skin. Reapplication may be needed.
Frequently Asked Questions (FAQ)
Is Montblanc Explorer a copy of Creed Aventus?
When Montblanc Explorer first launched in 2018, many in the fragrance community accused it of being a copy of Creed Aventus. This is because Explorer opens with a similar bergamot-apple fruitiness and has hints of pineapple. The dry down also features similar ambroxan-driven woody notes.
However, Explorer lacks the distinctive pineapple opening of Aventus, and contains more vetiver, pink pepper, and spices for a fresher twist. The leather base notes also differentiate Explorer. So while Explorer was clearly inspired by Aventus, it is not a direct copy or clone. But it offers an affordable alternative for those who like the Aventus DNA.
What Mont Blanc perfume is similar to Creed Aventus?
The Montblanc fragrance that comes closest to Creed Aventus is Explorer. With its fruity opening and woody, musky base, Explorer most closely replicates the scent profile of Aventus while adding its own twist. Other fragrances from Montblanc's line such as Legend, Legend Night, or Emblem also share some similarities with Aventus in terms of having fresh openings and lightly sweet, musky dry downs. But Explorer remains the closest overall alternative to Aventus within the Montblanc collection.
What does Montblanc Explorer smell like?
Montblanc Explorer opens with bright citrus notes of bergamot, pink pepper, and lemon, giving it a fresh, effervescent character. As it dries down, Explorer takes on an earthy, woodsy scent with notes of jasmine, vetiver, and oakmoss. Finally, the base introduces leather and tonka bean for a slightly sweet, rugged finish. Overall, Montblanc Explorer smells energetic and outdoorsy with a contemporary, crowd-pleasing aroma. The vetiver, spices, and leather give it a modern edge while preventing it from smelling generic.
Which fragrances smell like Creed Aventus?
Here are some of the most popular fragrances that share similarities with Creed Aventus:
1. Armaf Club de Nuit Intense Man
2. Montblanc Explorer
3. Parfums Vintage Pineapple Vintage
4. Alexandria Fragrances Hawaii Intense
5. Al Haramain L'Aventure
6. Calvin Klein Defy
7. Dua Midnight Oud
8. Rasasi Hawas
9. Insurrection II Pure
These fragrances tend to feature fruity openings containing notes like pineapple, apple, or bergamot coupled with woody or musky base notes that often use ambroxan. While none are identical to Aventus, they offer cheaper alternatives that capture parts of its DNA.
The Verdict
Based on this detailed comparison between Creed Aventus and Montblanc Explorer, which fragrance comes out on top overall?
For many fragrance aficionados, Creed Aventus remains unbeaten as the iconic market leader. The blend of fruits, woods, and smoke is exceptional and gives Aventus an instantly recognizable character.
Yes, it's very expensive, but you get what you pay for with incredibly high quality ingredients that provide excellent longevity. Aventus upholds the prestige and luxury that comes with the Creed name.
However, Montblanc Explorer deserves praise for its affordability, crowd-pleasing aroma, and versatile personality. It's the ideal choice for younger buyers and offers 95% of the Aventus DNA at a fraction of the price.
While it may not be as unique or well-blended, Explorer still smells fantastic for daily outdoor wear. The performance outpaces most Eau de Toilettes as well.
At the end of the day, your preference will depend on your budget and needs. Aventus offers prestige and excellence for a steep price. But Explorer gives you the modern adventurous vibe without breaking the bank.
Both are phenomenal men's fragrances that deserve a spot in any collection.