Since you are reading this, so I take the liberty to understand that you already know about footstool for the bathroom. You can use it to your bathroom for potty training, kitchen or other places where your little one needs some extra heights. So, I am not gonna do the boring part again to explain such stuff what the best toddler stool can do for you. But what you must know about such footstools is their features that can actually satisfy your need. In a sentence, the best step stool for toddler should be safe, sturdy and have optimal height. Let me explain it in details a little bit.
Recommended Best Toddler Step Stool
The following 3 step stools are most popular and recommended by experienced parents. All of them are inexpensive and sturdy enough for the toddler. Detail step stool reviews are provided for each of them at the end of the comparison table.
List Of Best Step Stool For Toddler For Bathroom 
Secure Home by Jessa Leona Dual Height Footstool for Kids
This is one of the most selling best toddler stool for bathroom or anywhere parents like to place it. Sturdy, durable and unbeatable price makes it so popular among parents. Apart from using it as potty training footstool for new toddlers, it can be used for the older toddlers too. Why? It's a 2 step or dual-height footstool. That makes it versatile.
With its 10.3 inches height, your toddler can reach the toilet seat easily or stand at the bathroom counter to brush teeth and wash hands. In fact, he/she can help you in the kitchen too.
It has 4 full corner rubber grips so that no matter how slippery the bathroom floor is, it will not slip. Very important to ensure the safety of your baby. With its soft-grip steps, your toddler's feet will find comfort and necessary supports they need.
With this footstool, potty training is a breeze. The good news is, they have the exact match potty seat also. And you can buy the potty training seat along with this one.
Using this best kids footstool will make your bathroom as well as kitchen safe for your little one. He can even reach the bathroom vanity sink as well to wash hands. Unless you get it for your kid, he will use your dog (just kidding!).
Features & Pros Of Jessa Leona's Footstool For Bathroom
The dimension of the footstool is 10.3″ High x 12.7″ Wide x 14″ Deep. Let me explain it more. The lower step is around 5.5 inches deep whereas the upper step is 6.75 in inches deep. Lots of parents verified that it has the perfect height of 2 to 3 years old daughters. It's pretty lightweight, weighs only 2.3 inches but can hold up to 150 pounds.
Proven to be secured for any bathroom floor types.

Can hold up to 150 pounds.

Highly appreciated and recommended by parents.

No annoying and impossible to remove stickers.
Cons Of Jessa Leona's Footstool For Bathroom
If unlucky, you may receive a broken one which is pretty rare. But don't worry, you can always return it claiming a new one.
Cozy Dreams Anti-Slip Toddler Footstool For Bathroom
Another best footstool for toddler is the anti-slip toddler footstool for the bathroom from Cozy Dreams and parents on tight budget loves it so much. The cheap price and quality of the anti-slip top and bottom toddler footstool has made it the best step stool for bathroom for your little one.
It gives your kid the right boost of height to reach the toilet or bathroom sink confidently. The smooth rubber never lets your kid slip. In one word, it eliminates fears of your kid of climbing.
It is perfectly safe for any bathroom floor whether it is slippery or not. The GrippySafe Anti-Slip Ring™ prevents any sort of shifting and ultimately develops your kid's stability. The step of the stool has perfect size to help your little one climb on the toilet.
Made from high-quality materials to last lifetime and the ergonomic design make sure to fit it around the toilet of any style. It's pretty lightweight and super easy to clean which has made to so popular among parents. Also, it has exact match potty ring. So, when you pair the ring with the stool, it will be the ideal potty training combination.
And one last thing you need to know about Cozy Dreams. Every purchase you make from them, they donate a small portion of the proceeds to children charity foundation. So yep, you are not just helping your kid with the stool, you are helping other kids too.
Features & Pros Of Cozy Dreams Anti-Slip Toddler Footstool
The dimension of the footstool is 6.1''H x 7"W x 11"L and weighs only 1.5 pounds.

Comes with a most helpful free ebook on potty training.

No issue like buckle or slip reported by parents.

Fits any bathroom decor.

Excellent customer commitment from the company end. Any you face any trouble with their lifetime stool for the bathroom, contact with them. They will replace it.
Cons Of Cozy Dreams Anti-Slip Toddler Footstool
Due to delivery, very few parents received the already cracked one.
Footstool by Little Partners for Toddlers & Adults
For those who don't like plastic footstools and needing the best step stool for toddler made from wood, you can have a look at this Little Partners' wooden footstool with handle for bathroom or kitchen. Since it can hold up to 250 pounds, it's great for both toddlers and adults. This is the only footstool you gonna ever need.
As it is made of wood (durable birch wood with poplar core Laminated veneer lumber Construction) NOT plastic, it's little bit pricey. But trust me, it gonna pay off for a very long department.
So, how does it can add value to your daily life?
It comes with 7 beautiful colors so that it can perfectly match your interior decor. Due to its cuteness, you don't have to hide it. As it can support the weight of an adult, as a parent you can easily lay the baby into the crib without having back pain. Also, when bathing your little one, you can use it a bathtub seat so your knees don't get sored.
In short, you can use it in the nursery, the kitchen, the bathroom, or wherever you want. Consider buying 2 if you don't want to move it from here and there.
It's a great footstool with handle for a toddler that grows with your baby. As you can see it has 2 steps with non-tip design (rubber grip steps). It gives the perfect boost in height for your little one and will continuously do so as your baby grows. A perfect footstool for a toddler who always says 'Let me do it' and truly your little one can do it safely.
Features & Pros Of Little Partner's' Bathroom Footstool
The dimension of the footstool i

s 32 x 15 x 20 inches and weighs only 6 pounds. As you can see it has a height of 15 inches. To make even more simple, the height is as –

1st Step is 8″ above ground, 2nd Step is 12″ above Ground, 3rd Step is 15″ above Ground.

7 beautiful colors like Apple Green, Ebony, Espresso, Natural, Pink, Soft White, and Stone Grey.

Has 2 steps. The first/lowest step is fixed and the upper step is movable which you can set in 3 different settings.

The highest level of safety ensured. Comes with the anti-slip guard.

Tips: You should use any wet towel to clean the anti-slip grips. Using dry towel or tissue papers won't do the job. Take care of this

toddler footstool with rails, it will serve your kiddo for pretty long time.
Cons Of Little Partner's' Bathroom Footstool
Very few reported having issue with the paint. Only after few months, they paint worn off.
Tenby Living Jumbo Footstool
The average parents' rating of Jumbo Footstool by Tenby Living is really very high in comparison with their counterparts. It's a cheap step stool with jumbo size that makes it a best potty footstool for many parents.
The extra wide and extra tall footstool have non-slip surface so that there is no chance of slipping. The wides step are really helpful for wiggly toddlers and this single feature has made it standalone best toddler stool than the rest of the footstools. In fact, no parents reported having that issue using it in their bathroom or kitchen.
There are non-slip caps which is completely removable to help you out draining water off the surface. On the underside of the stool, there are non-slip extra large rubber grips (on all 4 corners) to make it even safer for your toddler by keeping it in place.
This 2 steps footstool is can serve you well to get your toddler on the toilet, reach the kitchen sink, and help you out in case you have very tall crib in your nursery.
Features & Pros Of Tenby Living Jumbo Footstool
The dimension of the footstool is 14.9 x 13.8 x 9.3 inches. It is pretty lightweight, weighs only 1 pound. It can hold up to 220 lbs of weight, so any adult can use it.

Very sturdy plastic construction, perfect for long time use.

2 colors: Green and Yellow.

No report of sliding and slipping from any parents who already bought it.
Cons Of Tenby Living Jumbo Footstool
Not suitable color options to match with interior decor.
KidKraft Two Footstool
If you need the best toddler step stool that has 2 steps and looks gorgeous but wants to have it within your budget, KidKraft Two footstool for toddlers is your solution. Perfect for bathroom, kitchen or wherever your little one needs some extra heights to reach the sink or go to the toilet. It's a most selling footstool on some major online store and loved by hundreds of parents due to its cheap cost.
It has a bad news though. It's slippery. You must use some anti-slip grip. The good news is, you can buy the multi-functional skid proof stickers along with the stool so that it never slips in the bathroom. Buying some non-slip pads is still a good idea as you are getting a wooden footstool for the bathroom or kitchen at the cost of a plastic footstool.
But for price, stylish design and sturdy construction, it is not only one of the best footstools for bathroom, but also one of the best step ladder for kitchen too. The non-toxic lacquer finish which is easy to clean and the built-in handles have made it really easy to carry it from here and there.
Features & Pros of KidKraft Two Footstool
It has the perfect dimension of

15.38″L x 13″W x 14.13″H" whereas the lower step is 6" high. The weight is 10 pounds.

Wood construction NOT cheap plastic.

Perfect for 3 to 8 years old toddlers wherever they need some extra inches in heights.

If the flooring is tile or wood, it will slip. So make sure to use some non-slip pads on the bottom of it.

Very easy to assemble. Just follow the instructions.
Cons of KidKraft Two Footstool
Super slippery! Again, don't forget to use non-slip pads.

Not ideal as a potty training footstool but great for the older toddler to go to the big potty!
The Potty Stool for Toddler Potty Training
If you are first-time parents, pay attention! Potty training is really tricky and if you make mistakes, you will regret for pretty long time! Do it right, it gonna save you from a lot of troubles. And the best potty stool can help you out doing it the right way.
Looking for the best step stool for toddler solely made for the potty training the right way? Here it is and it's made in the U.S.A! To stylish parents and who have a decent budget, this is the best potty step stool which is second to none so far. It is pricey but your toddler and especially 'you' will like it.
It is pricey because to ensure safety, stability, and comfort for your baby, they have employed high-cost manufacturing methods. This one step potty stool comes with safety handles and comfort platform for your little one. Potty foottool with handles makes your little one independent to go the bathroom and helps to boost most precious confidence. The handles will make sure your toddler can climb it securely. Also, they work as a secure armrest when your baby is seated.
Apart from potty training, your toddler can use it as a footstool too. So, just like lots of parents, you won't regret having it even though it's expensive. And after several years of using it, you will also say it is one of the best toddler step stool with rails that every parent should have.
Features & Pros Of The Potty Stool
The dimension of the potty footstool is 23 x 23 x 25 inches.

One of the only potty footstool that has sanitary grip areas.

It works with every toilet, so you have nothing to worry.

It is made of high-quality plastic and it is completely washable.

Assembly is really easy.

Very secure and extended rails so that kids can get up and down independently.

Proven to be sturdy for a very long time.
Cons Of The Potty Stool
Only 1 step.

Not suitable for parents with a low budget.

If you have a too small bathroom, it's not suitable for you.
OliaDesign Children's Slip Resistant Two Levels Footstool
As the name suggests, it's a 2 levels footstool which is slip resistant for any flooring type. The anti-slip materials used on the underside of the stool has made it real steady. And the good news is it's very cheap and should be within anyone budgets for the best toddler step stool to be used in the bathroom or anywhere else.
No matter whether reaching for the faucet or perching for the toilet or helping in the kitchen, it is a great tool for giving the little boost in height. Many parents verified that the stool worked great for the potty training for their little one. As it has 10" height in the tallest step, your older toddler can easily use the adult potty.
It's a really sturdy and compact but lightweight footstool for a bathroom. A lot of parents said their little ones loved it and carry it all the time to turn on and off the light, wash hands and go to the bathroom.
Features & Pros of OliaDesign Footstool For Bathroom
For best performance, it has the perfect dimension of Width: 12.2 " Depth: 7.5 " Height: 5.1 " and can hold up to 77 Pound. The tallest step has 10" height. This is the max height needed for any toddler.

You will love the stable yet simple design once you touch it.

Made from high-quality polypropylene and used synthetic rubber for safeguard against slip.

Very easy to move it as it has nice handles on both sides and it's pretty lightweight.

Has a blue color one level version too for half the price.

Lots of parents recommendations for their friends and families. Most of them are repeated buyers of the stool.

Most parents bought more than one piece and they are happy about it as it saves them from carrying it.
Cons of OliaDesign Footstool For Bathroom
Not suitable for a too small bathroom.
Little Colorado Natural Footstool
Let's start with 2 good charming facts. It's made in the America and from pure pinewood (really!). It's a two levels wooden footstool that can hold an adult and made to last for a very long time. Aren't those enough facts to love it? To many parents, these facts are enough to be the best footstool for toddler.
But that's not all…
It comes with a built-in carrying handle and you can have it at an affordable price. Within very short time on some famous online store, it got a lot of parents high appreciation. Just like them, you will also like its sturdy wood construction, awesome craftsmanship, and no assembly feature.
Anywhere like bathroom, bedroom, closet or kitchen, your little one needs a handy step up, Little Colorado will be there. It's not only sturdy enough to hold an adult, it's pretty lightweight too so that the kid can carry it alone.
However, if you plan to use it in the bathroom or anywhere there is slippery/wet flooring, you are recommended to use rubberized grip tape. Also, as it comes unfinished, you can color it with your kid's favorite color.
Features & Pros Of Little Colorado Natural Footstool
The dimension of stool is 13 inches W x 12 inches D x 11 inches H.

Meets ASTM International and 16 CFR safety requirements.

The best toddler step stool should not tilt. May parents confirmed that this one doesn't tilt anywhere.

Even after several years of using it for the little one, parents verified that the stool is still working just fine as new.

No bad smell as it comes unfinished and there are lots of parents recommendations for friends and families.
Cons Of Little Colorado Natural Footstool
Unless you use any rubberized grip tape, it's not safe in the bathroom or anywhere with wet flooring.

The height of the stool and size of the steps are made for the toddler only. So, if you as a parent want to use it for yourself, not ideal for you.
Ostrich Toilet Step Trainer Ladder for Kid
This one is made solely for the purpose of toilet training. You can't use it anywhere other than the toilet. But, if your kid needs some extra heights to go the adult toilet, this toilet training footstool is really second to none. Lots of parents already loved it and recommended it for you.
It's a great toilet seat chair that fits perfectly any type of the toilet available around the world. It has featured padded cushioned so that your toddler has the maximum comfort. The anti-skid ladder base is really large enough to ensure the additional safety of the toddler.
When finished with the potty, dismounting is really easy and you can fold it for easy storage. So, you are actually getting a great folding footstool with handle. For potty training, it's a Godsend potty seat with the ladder that will save you from a lot unwanted difficulty associated with potty training. Instead of the potty seat, you are seeing in the picture, it can be used directly with the toilet seat.
Features & Pros Of Ostrich Toilet Step Ladder
The dimension of the potty step ladder is 25.6 x 14.9 x 3.7 inches. It weighs only 4.9 pounds.

So far it's the

best step ladder for little boys and girls. It comes with 3 color options like Blue, Green, and Pink.

Adjustable steps. You can set the steps as you want. So far, it's the best folding step stool for your kiddo.

No movement at all, so your toddler is perfectly safe.

Saves you from cleaning the potty after use. A big issue for many parents!
Cons Of Ostrich Toilet Step Ladder
Your little one can't set up the step ladder. You need to set it up for the toddler each time.
Heyok Baby Dual Height 2 Step Stool
This is the last step stool reviews that I am gonna cover to help you find the best step stool for toddler. This time it's from Heyok Baby and the step stool has won the Mom Choice Awards for its outstanding performance for the toddler.
Don't you just love to see your toddler brushing his teeth, washing hands, and so on himself? Well, sometimes he may need a little help to reach the basin, right? And you can give him the extra height with this award-winning toddler step stool. It's very new in the market but has already won the hearts of so many parents.
With this 2 steps toddler step stool, your toddler now can explore the house more independently which will ultimately give him/her the much-needed confidence. Many parents have confirmed that it's durable and sturdy. Also, there is anti-slip rubber mechanism on the bottom of the step stool. Perfectly safe for your little explorer!
It's very lightweight, so your toddler himself can carry it wherever he needs it. Reaching the sink or going to the toilet is not very easy for your toddler. Also, you can clean it easily with the wet cloth.
So many parents have confirmed that the step stool is perfectly safe. In addition to the anti-slip rubber, it does not slide on the tiles as well. No safety hazard for your little one.
The lightweight but sturdy toddler step stool is also available at a very reasonable price. Since it's 2 step toddler step stool and last really long, it will serve your toddler for a very long time.
Features & Pros of Heyok Baby Dual Height 2 Step Stool
The dimension of the toddler step stool is 4″ x 12.9″ x 10.2 inches. It is a perfect dimension to fit almost any bathroom set up. The first step is about 5 inches high and the second step is about 10.5 inches high.

It can hold toddler and adult having weight up to 176 lbs-220 lbs.

Not all plastic toddler step stool is safe. But this one features anti-slip rubber pad feet to prevent sliding or falling off the toddler. Also, has rubber mats on the steps to prevent slip.

Parents have confirmed the fact that the rubberized grip seems to hold pretty well to prevent the skid.

If your bathroom sink is high, your toddler can't reach it. Give this step stool to him and it will give him the extra boost of confidence and height to reach the bathroom sink.

Suitable for versatile usage like potty training, brushing teeth, washing hands, and so on.
Cons of Heyok Baby Dual Height 2 Step Stool
The bottom step is not deep enough for the heavier toddler.
Features Of The Best Kids Step Stool
Kids love to be independent just like everybody else. Letting them use the best toddler step stool for the bathroom will give confidence boost in a lot of ways. But spend some time thinking about how many footstools you need and where actually you gonna put them. To save yourself from some hassle moving the footstool from here and there, it is actually wise to have more than one footstools. But before choosing any, make sure these following 3 facts:
Safeguard Against Slip: If your bathroom is wet most of the time and you don't have any floor rug, the floor is slippery. You have 2 options. The best option is to use a floor rug. Another option is to get the footstool that does not slip easily. For this, you must ensure the stool is slip-resistant and base and step (non-slip grips).
Also, never leave your toddler alone when the footstool is in use in the bathroom. VERY IMPORTANT!
Height Requirement: Maybe you are looking for best kitchen footstool or best toilet stool, but how many extra inches your toddler gonna need? Measure it first! Then decide to go after 1 step or 2 footstools. Plastic or wooden does not really matter. If you are going with 2 steps, make sure to get a footstool with handrail.
That's The End Of Finding The Best Toddler Step stool!
That's it for now. Pretty long article on finding the best step stool for toddler to be used in the bathroom, kitchen or anywhere else. I did not cover any cheap step stool for bathroom that is available for sale at price of more or less $10 to $12. And, you really should not use them because they possess safety hazards and your baby will quickly outgrow them. Buy anyone from the above footstools for the bathroom for your little one and you can bet to use it for pretty long time.
Summary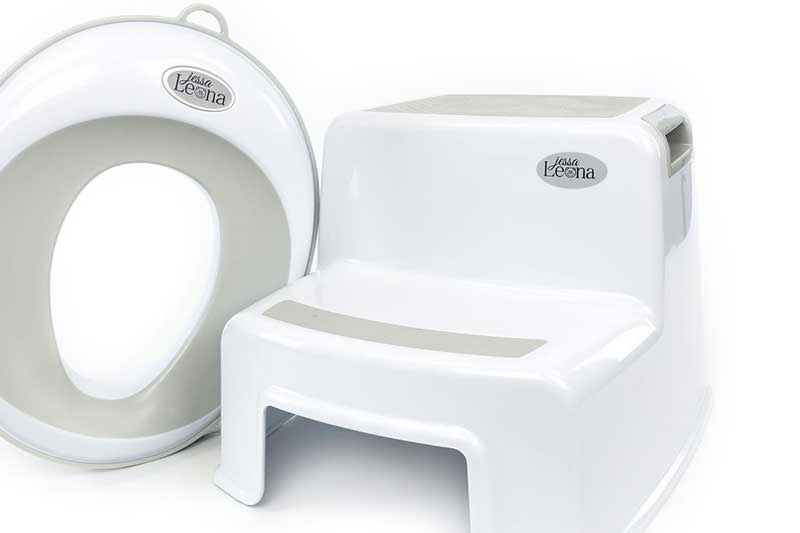 Article Name
Best Step Stool For Toddler To Reach Bathroom Or Kitchen Sink In 2018
Description
Accidents in the bathroom are common for kids whey they try to use the adult toilet or even to reach the bathroom sink. Using the best step stool is a great solution to prevent all sort of accidents.
Author
Publisher Name
Publisher Logo