Are you looking for the perfect shower head for low water pressure that will be the right fit for your bathroom with EXTREME water pressure? If so, look no further.
I have narrowed down your choices to 11 high-pressure models, including rainfall, handheld, and wall-mounted fixed shower nozzles. At the end of the article, you will find a great guide on how to pick the right shower head if you have never bought such items online.
Top 11 Shower Head For Low Water Pressure Reviews
Below, you can see one of the most comprehensive reviews, which includes the top brands on the market today. Each shower head is presented with the key features, properties, pros, cons, and much more.
1. Hydroluxe
Speaking of shower head reviews, I must mention this model. Hydroluxe 24 is both a popular and affordable model that looks pretty nice.
Considering its huge recommendations and comparatively low cost, it is highly recommended for you.
Overall characteristics
Despite bleeding a great elegance, it has a few caveats. One of the first drawbacks you will notice is a plastic faux chrome finish.
That means you will have to struggle with the sheer size and all the moving parts of the shower nozzle.
The handheld head is prone to break down, so you'll have to be very careful to not drop it while you are showering.
What sets it apart from the rest is its dual design. Thanks to the simple switch construction of the valve, it's quite easy to shift between either the handheld or fixed shower head according to your needs.
That's why many people consider it as a high flow unit on the market.
Another great feature is that you can use both heads spraying simultaneously, which is especially helpful for those who don't like a cold back in the shower. This yields a lower pressure in between the nozzles though.
It can push up to 2.5 gallons per minute because of the number of head settings and the large size. However, the settings might feel a bit weak due to the numerous jets that are built on it.
For that reason, you should set it up on a power massage setting if you want to get rid of stubborn dirt. The installation takes no more than 5 minutes. Now, let's see a live demonstration of the handheld shower head.
Key features
24 combined and full patterns of  water flow

Rub-clean Jets

4-inch Chrome Face

Diverter with Anti Swivel Lock Nut

5 settings of the heads, including Massage, Power Rain, Water-saving Economy Rain, Stay-Warm Mist, and Pause

5-foot-long stainless steel flexible hose

Brass Conical Hose Nuts
Pros:
Dual nozzle

Versatility settings to satisfy anyone's needs

Decent flow rate

Simple switch

Affordable price
Cons:
Some settings do not provide the maximum pressure; the same goes when you use both heads at the same time.

The weak faux finish made of plastic.
2. Culligan Hand Held/Wall-Mounted Filtered WSH-C125 
I have included this as the second recommended unit not just because of its high-quality but for its unique water filtering system as well.
Keep in mind that this is the wall-mounted version of this Culligan unit. The hand-held option is also, but it's a bit more expensive.
It features 5 different spray settings to choose from. Thus, you can pick from a pulsing massage spray to full body coverage.
The highest-pressure setting could be too vigorous for sensitive persons, but it serves well as a strong message tool.
It comes with a patented filter that ensures it is free of harmful chemicals. While cutting back on chlorine, it significantly diminishes unpleasant smells that come from noxious sulfur or mineral buildup in water.
Aside from that, it eliminates impurity that can damage your scalp and hair when showering.
Now, let me share with you another real-life case study. Before buying Culligan wall-mounted unit, the customer had to face bad smelling water. Everyone used to drink bottled water because of the bad smell.
After installing a water purifier, he solved the drinking water problem. About shower water, he installed this handheld shower head and found no smell from the water. So, what does it prove?
The filter of the Culligan works!
The overall characteristics include the size of 4.8 x 8.5 x 12.2 inches, the weight of 1.1 pounds, and 2 color options (Red and Chrome) among others.
It boats rubber clogging-resistant spray nozzles and ABS construction that comes with a nice chrome finish. It prevents the water stain from the spot, providing the water flow of around 2.0 gallons/minute.
Besides, it provides a filter capacity of impressive 10,000 gallons, meaning you will be able to go with it for at least six months before changing it.
All of this makes Culligan WSH-C125 a great handheld shower head for low water pressure for that money.
Key features
The maximum flow rate of 2.0 gallons per minute; 10,000 gallons or 6 months.

Rubber anti-clog spray nozzles.

A total of 5 spray settings.

WHR-140

filter cartridge that lasts several months to purify your water.

Filter media bacteriostatic system.
Pros:
Powerful filtration system.

Proven to deliver incredible water pressure. Lets users to use less shampoo and soaps. After the shower, your skin will be no more too dry as well.

Reduces scale and chlorine build-ups yielding a softer skin-friendly experience.

Very helpful to restore chlorine damaged hair back to normal. A true measure of hard water!

5 spray settings to suit anyone's mood.

Tools-free simple installation.
Cons:
It doesn't offer a long range of motion.

Reduces water flow.
3. Delta 75700
Why Delta Faucet 75700 is deemed to be a great handheld shower head? Simply because it offers everything you need when getting under it.
Add a relatively low price and you will find out why this model is in high demand worldwide. Below, you can find out more about Delta reviews.
It's certainly worth checking out considering it is recommended by hundreds of thousands of happy users.
Measuring 5 x 7 x 14 inches, weighing 1.8 pounds, and coming in fancy Chrome color, the Delta 75700 is a great fit for most shower cabins. Of course, that's not all that makes it a great one.
It provides great control and flexibility when you are showering while keeping your tub and shower clean. Thanks to the Touch-Clean design of rubber spray holes, it doesn't gather mineral build-ups over time like some handheld shower head.
Delta Faucet effectively wipes away any mineral residue, so there is no need for chemical cleaners or soaking. Therefore, you will get uninterrupted high water pressure years after year.
It's very easy to set up and use. In addition to 6 spray settings to choose from, you can select the pause setting which is ideal for lathering, shaving, and similar shower tasks.
Restart the water anytime you want, proceeding with the same temperature where you've left off.
This amazing feature allows you to conserve water, meaning you will be able to worry less about the hot water supply while taking the shower. And this is why Delta Faucet 75700 is so popular in its class.
Again, if you need a great one that is affordable and that will serve you for a very long time without any trouble, this is highly recommended.
Pro Tips: Unless you remove the water flow regulation located at the end of the handle, you will be disappointed. So, please remove it first.
And from other reviews, you may have the wrong idea about the hose not being flexible. That is NOT true. There is nothing special about the hose to make it hard.
Key Features
6 spray settings: Soft Rain spray, Full Body spray, Soft Drench, Drenching spray, Fast Massage spray, and Full Spray with Massage.

Tangle-free 6-foot-long flexible hose; it comes with a special vacuum breaker to protect your water supply. The hose is long enough to shower your baby or pets as well.

Touch-

Clean soft, rubber spray holes that are very easy to clean. No need for soaking or using any chemical detergent to clean it.

Anti-clog nozzles.

2.50 GPM U.S. standard water pressure.
Pros:
A variety of spray settings.

The pause feature cut down on hot water.

An ergonomic handle.

Easily-accessible flow regulator. You can remove the flow regulator to have more water pressure.

Lots of repeated happy buyers. Highly recommended by the plumber community as well.
Cons:
Failure to thrive.

Weak plastic connection.
4. Wantba 6″ High-Pressure Rainfall Massage
When you need a luxurious hotel-grade showering experience within your budget, Wantba is here to make your dreams come true.
I am not exaggerating at all, this is how a huge number of happy users have recommended it as another great one to their friends and families.
If you have low water pressure installed, Wantba can make up for it and lets you have EXTREME water pressure.
The Wantba doesn't feel like a downpour either. Instead, it provides a moderate intensity of showering with a soothing, fine flow.
That makes it a great option for those people who are looking for a great one for low water pressure to up their output.
It is particularly recommended for those who can't afford to splurge and want to build a home on a tight budget. In spite of its low price, this model performs well and looks good for the price.
With a 6-inch model, this round-shaped model delivers an optimal flow control with 2.5 gallons per minute. Being a high-quality hotel-grade rainfall model, it won't cost you much. It's within the budget of everybody.
The stainless steel unit is attached to a well-designed metal, swivel ball, which lets you position it easily to any angle and have a great maneuver.
There is also a straightforward detachment mechanism that allows you to have an effortless and easy cleaning. WantBa contains a total of 57 jets that are spread across the 6-inch wide face.
It is fairly easy to clean and maintain. All you need to do is to disassemble it and then wash it away in a thorough manner. Once it gets completely dry, put it back and you are all set to use it again. The metal swivel feature lets you adjust the angle of your shower with ease.
Key features
6 inches wide face with a total of 57 jets to have a true hotel-quality rainfall shower experience.

Metal swivel ball to position it perfectly at your convenience.

Simple detachment mechanism with a removable flow restrictor. If you have slow water pressure, you should remove the flow restrictor.

2.5 gallons/minute flow control.

Made from high-grade ABS and have rubber nozzles to serve you years after years.

You have low water pressure and you need a rainfall model with great pressure, then it is highly recommended for you.
Pros:
Optional 2.5 GPM regulator that fits standard United States plumbing connections.

Broad coverage.

Relaxing massage pattern.

Easy-to-clean rubber nozzles. If you have hard water stains problems, simply disassemble it and clean the nozzles to solve the hard water problem.

Easy to install and maintain. Comes with everything for easy installation. No need to call the plumber!
Cons:
Plastic parts.

No individual settings.
5. ShowerMaxx 6 Spray Settings
Are you searching for a detachable, high-pressure massaging unit? Do you frequently change your position in order to take a better shower?
If your answer is "yes" to both questions, consider buying ShowerMaxx.
It comes with everything that you expect from a premium quality set. But to get it, you don't have to break your bank account.
If you have low-pressure water set up but you need high water pressure while showering, this is a good solution for you.
Many satisfied users have included ShowerMaxx in the list of their quality collections. And here's why. First and foremost, it is made of high-quality ABS material and comes with stylish 3 finishes all around that last for a really long time.
Further, ShowerMaxx affords 6 spray settings, enabling you to pick the water pressure that works best for you. You can choose between the following modes: Power Massage, Water Saver Trickle, Rainfall l, Rainfall+Power Massage, Rainfall + Circular Massage, and Circular Massage.
The model in question features silicon self-cleaning jet nozzles as well as 4.92 feet long stainless steel hose that can be stretched up to 6.56 feet.
The stretchable hose is super useful for the baby and pets. Note that it measures 4.9 x 4.3 x 10.6 inches. It comes with an easy-to-remove flow restrictor and a built-in ball joint that can be adjusted as per your requirements.
On top of everything, it is designed with a luxury spa grade that is backed by a sand filter disk and flow restrictor. You can completely remove the flow restrictor to have even more water pressure. So, it's now clear why ShowerMaxx is a great model.
Key features:
Available in 3 colors Chrome, Bronze, and Nickel. Just like so many happy buyers, you will love its smooth finishes.

Comes with a shower mount.

The brass ball joint or mostly known as the connection bracket is made of solid metal.

2.5 GPM water pressure for extreme drenching experiences.

Self-cleaning jet nozzles.

Replaceable sand filter disk to remove sediments from the water.
Pros:
4.5" faceplate for intense showering experience.

Comes with everything for hassle-free installation. Just follow the manual that comes with it.

Elegant color options for your luxurious bathroom.

Lengthy stainless steel stretchable hose. Many users have verified that the quality of the hose is really high. Showering the pet or the baby is now super easy.

Luxury spa-grade for great comfort.

The removable water flow restrictor comes in super handy when you need EXTRA water pressure.
Cons:
The hose may break up after a few months of use.
6. AquaDance
This high-pressure 3-way model presents an affordable option that is perfect for those who looking for a dual-mode. The following are the reviews regarding this 7″ Premium Shower Combo.
Overall characteristics
There are a number of reasons why AquaDance should be in your consideration.
This amazing bathroom gadget combines the luxury 6 spray settings through a big 7-inch face and smaller 4-inch face.
So, each shower provides the six settings you can use individually or both at the same time. There is Water Saving Pause, Power Mist, Power Rain, Pulsating Massage, Rain Mist, and Rain Massage mode to choose from.
AquaDance features rub-clean jets, a click lever dial, an angle-adjustable system, and an all-chrome finish. You can use it either as a handheld or overhead model. Both work well thanks to the ergonomic grip handle.
It comes with a reinforced 5-foot stainless steel hose, adjustable overhead bracket, and patented three-way water diverter. These components make
US experts have rigorously tested it and found that it has met all the United States' quality and performance standards. All the shower heads are independently tested so that you never get disappointed.
AquaDance is a great shower system on the market. In addition to it a hand shower, the package includes a hose, built-in bracket, three-way diverter, plumber's tape, washers, and installation manual.
Key features
Rub-Clean Jets to automatically clean it. The lime buildup is almost impossible.

3-Zone Click Lever Dial.

6 Full Settings for the rain and handheld units.

Angle-Adjustable Overhead Bracket.

Patented 3-way Water Diverter. It comes with a built-in bracket as well.
Pros:
Good water pressure, especially in the main handheld unit. Water pressure for the main unit is not super hard, but it is exactly what you should expect from a rain shower head. If you have a lot of hair to rinse, you should find the power setting super helpful. If you need super hard water pressure, the handheld unit is awesome.

Easy to switch from setting to setting. If you have a bad experience regarding this feature with other brands, give it a try to change your experience!

The pause function is a great water saver. For boats or RVs, this function is super helpful to save water.

Simple tool-free installation. You don't need to call a plumber. Comes with everything including the Teflon tape.

Tips: You can completely remove the flow regulator as well. Using tweezers can do this job. You can find the water flow regulator in the diverter.

Excellent customer service. Contact them for any assistance.
Cons:
Poor grip.

Plastic is a bit flimsy

Some have reported having non-consistent water pressure.

It feels cheap
7. DreamSpa
Have you ever dreamed about showering under the lights? Your dream can come true with DreamSpa All LED Nozzle!
Not only that it comes with a lot of spray settings to choose from, but it also consists of LEDs that change colors.
The main purpose of this is to let you know how hot the water is. That can help you set up the right temperature of the water that suits your body.
What's more, the adjustable large head contains soft rubber jets, which makes it suitable for "hard water" homes.
The best part is that LED lights do not need batteries to work, as they get energy from the running water.
Overall characteristics
It comes with a high-polish 5-inch chrome face, featuring a unique design with a distinctive showroom look. Thanks to the transparent jets and reflective rim, it transmits light and water at the same time.
Vibrant LED lights are changed automatically in accordance with water temperature. This way your ordinary shower becomes more exciting and more pleasant alike.
It's suitable for the entire family to enjoy invigorating fun in the shower cabin. Aside from this, you can enjoy five deluxe settings while taking the shower. This makes Dream Spa a great one for indulging spa experiences.
Here's how it changes the lights according to water temperature:
BLUE (Cool water) – Under 35C (95F)

GREEN (Warm water) – Between 35 and 42C (95-108F)

RED (Hot water) – From 43-50C (109-122F)

FLASHING RED (Warning hot water) – Over 50C (122F)
Note that this isn't an anti-scolding nozzle, so the LED lights don't serve to indicate the actual water temperature but the temperature range. Not only that LED lights create a romantic atmosphere but they also help you save money.
In fact, it is unnecessary to turn on the bathroom lights because LED nozzles produce light themselves. That notably cuts down on the electricity bill, which is another reason why Dream Spa is deemed to be a great shower head for low water pressure. The item weighs as many as 11.2 ounces and measures 5 x 5 x 5 inches.
Key features
Beautiful colored lights – 3 changeable LED lights with water temperature sensors

5 spray settings – Hydro-Mist, Water-Saving Pause, Economy Rain, Pulsating Massage, and Power Rain

Click-action lever.

5.25″ extra-large chrome face.

Reflective perimeter rim.

3-zone high-power dial with Tub-clean silicone rubber jets.
Pros:
Big shower nozzle ensures full coverage.

Stainless steel material

Good water pressure

Adjustable spray settings

Good water pressure

Reasonable priced
Cons:
Makes a humming, strange noise (like grinding or so).

The lights may quit working after a while

Inadequate replacement

It's prone to lose a lot of water pressure

Plastic components
8. AKDY 9″ Rainfall
Are you in need of a dual one with adjustable water modes? Then this one by AKDY is likely to grab your attention!
Massage jets are coupled with the main head that utilizes a refreshing rainfall style. You can access it easily by means of a certain knob.
All this makes it a great addition to your bathroom. Let's see the handheld reviews related to AKDY 9″ and why it's a great handheld shower head according to many.
Overall characteristics
The first thing that makes AKDY 9″ a great one for the price is complete coverage when taking a shower. It's crafted from plastic that looks contemporary in a nice faux bronze finish.
Honestly, perhaps this is not a great water-saving shower head on the market, but it is well worth it.
Since it is composed of two heads, you can have a dual high-pressure unit at once. The larger head contains a total of 118 laminar flow jets, so it's capable of covering your entire body.
For more concentrated coverage, you can switch between the 6 large horizontal nozzles or the 118 high-powered jets. The choice is yours!
As usual, installation is really simple and it comes with everything needed for the installation like plumber's tape. Just read the manual first and use your common sense. Nobody faced any trouble installing it.
Pro Tips: Both of the units have excellent water. But if you need even more water flow, just remove the low flow. And do that before installing it.
Key features
Rectangular shaped and looks elegant addition to the bathroom.

4 adjustable water modes.

2-way water diverter.

118 nozzles plus 6 laminar flow jets.

Multi-angled easily adjustable overhead fixture.

5" flexible stainless steel hose with 1/2 hose connection
Pros:
The build quality is just awesome. Many users have praised its beautiful look!

A wide spray pattern covers very well.

Adjustable flow volume. 2 GPM (Gallon Per Minute) water flow rate. That's the standard rate.

Sturdy connectors for long-lasting trouble-free performance. This is a very unique value addition to it since most shower heads come with flimsy plastic-made connectors.

Changes the settings easily and right on the head.

Extra handle for easier use.

Does not lose too much heat.

If you need any replacement parts, contact their really caring customer service.
Cons:
Many users find the 2-way diverter limits them to just one head shower at a time.

Some users reported that the water flow tends to be a bit light, especially in the rain shower.

The flexible pipe is short and has only 2 modes.
9. SomovWorld
Luxury Rainfall 6" is a popular one by SomovWorld that is meant to be the ultimate shower head with hose.
It is specially designed for those wanting to relax at their home and have the same experience as in a luxurious spa center.
The manufacturer claims it to be a great performer, which is backed by the vast majority of customer reviews.
This product is supposed to fulfill the needs of all family members when it comes to showering.
Overall characteristics
Being a great shower head, SomovWorld Rain 6" stands out from the crowd with high-quality construction and contemporary style.
The modern-looking of this shower head is accompanied by an anti-leak and anti-clog design for your pleasant shower experience.
For your ultimate shower experience, it has already pretty impressive water pressure. However, it is equipped with a removable water restrictor to control the water pressure.
When the restrictor is in use, water pressure is 2.5 GPM. That's already impressive water pressure. If you need more pressure, just remove the restrictor. It's okay and won't harm it in any way.
Top-notch ABS material feels both lightweight and durable, ensuring excellent performance of this one.
Although it's considered to be a great one for low water pressure, you can have fantastic water flow at either low or high water pressure. Product dimensions are 6 x 3 x 6 inches while the overall weight is about 12 ounces.
Key features:
90 self-cleaning anti-clogging nozzles. These are self-powered and proven to be highly effective to fight against lime and hard water deposits year after year. That ensures its long life and easy maintenance of it.

Comes with a water filter. It is basically a little mesh metal filter. Very useful because it can prevent small objects from entering it and creating trouble for the water pressure.

Removable water restrictor.

High standard ABS made with chrome finish.

Fits perfectly with every standard US shower arm.

Large 6" surface to cover the full body.

Swivel brass ball joint
Pros:
Full body coverage. Swiveling feature for your most convenient usages.

Chrome plated 9 grades.

Proven to last long by lots of experienced users.

It's pretty lightweight and durable.

High-quality ABS material.

Unbeatable price for the quality it offers.

The adjustable direction of the water spray.

Beautiful design and shiny look. A great addition to your bathroom to increase the beauty.
Cons:
Have incidents of leaking at the contact points.

Very few have found it very difficult to take off the water-restricted valve.

It delivers a lot of water. If you need to save water, this is not for you.
10. DreamSpa 9"
When you need a shoulder to shoulder water flow coverage during the shower, you need an extra-large one.  
Here is the extra-large unit by DreamSpa. It's 9 inches!
This one is designed to lift almost everyone's design sense and to be a good fit for any bathroom.
For the price, functionality, and long-life performance, it is another popular shower head for many.
If you are looking for a cheap shower head for low water pressure this is the right handheld shower head for low water pressure to look at. This model is proven to have high pressure.
And you can get it at an affordable cost as well. You are getting a rainfall and handheld showerhead for a pretty great price.
It is equipped with a push-control button and you can control it with your single hand while showering. The push-control button is super useful for waterfall settings.
It's a very rare feature because you don't need any dial to run. That's why they call it the state-of-the-art unit.
It fits perfectly with any standard shower arm. Use a shower arm extension to have the full benefit of a rainfall unit. Most users have reported having a complete drenched feeling using this handheld shower head. It will give you a nice experience of showering.
Tools-free installation is quite easy. It can be connected in a matter of minutes. Extra-large 4.75-inch face provides wide water flow coverage. Product dimensions are 5 x 4 x 9 inches and it only weighs 1.8 pounds.
For your luxurious showering solution, this is a great option you should consider. Without breaking your bank accounts, you will have a spa-like feeling every day. DreamSpa always stands behind its products. Should you face any trouble or need any help, just contact their awesome customer support.
Key features
Large 9-inch face. Oval square elegant design. Most people love its incredible ability to create a rainstorm shower effect in the bathroom.

2-way water diverter. It has 3 settings for the waterfall effect, flooding effect, and normal effect.

Chrome finish that looks great.

Angle-adjustable brass ball joint.

Push-button water flows control.

Rub-clean jets enable it to clean itself, so the maintenance is really minimum.
Pros:
Experienced users call it the elegant item of your bathroom. Gorgeous value addition to your bathroom.

You can position the wand anywhere you want because it comes with a suction cup mount.

Shoulder-to-shoulder water coverage.

Comes with flexible stainless steel-made water hose. It is extra-large, 60 inches!

Equipped with a water flow restrictor. You can completely remove it to get the high pressure.

3 different settings
Cons:
Not powerful enough.

A 3-way diverter is better than this 2-way water diverter.

Some users have reported water leaks.
11. DreamSpa 3-way
When you love to have a true rainfall experience daily and you need a handheld shower as well, this showerhead from DreamSpa is a good option.
And the good news is, it does not cost much, and won't break your bank account for sure.
You can use them all together or separately. Just like more than thousands, be ready to be amazed by DreamSpa!
It has 7 inches chrome face and it has 4 inches chrome face. You will love the 7 settings of it. Choose from pulsation massage, hydro-mist, power rain, eco rain, rain/massage, etc.
The mist setting is pretty rare in most other showerheads. You will love the messaging settings to massage your scalp or the back.
Whereas most other showerheads come with a 2-way water diverter, this one comes with a 3-way water diverter with an anti-swivel locking mechanism.
Licking issues is a common problem for them; well lots of experienced users have confirmed that even after several years they did not face this issue. For the price, it is definitely another great shower head.
So many people have been using it for so many years. They have verified the fact that even without removing the flow regulator, they have extreme water pressure on both rainfall and handheld unit. Yes, it's made of plastic but once you start to use it, your outlook on showering will be completely different. In a good way!
As it literally comes with everything needed for the installation, you don't need to buy any extra tools. I have seen women aging over 70+ years successfully installed it without any trouble. Reading the manual first is recommended though.
Useful Tips: Use any tweezers to remove the water flow regulator. It's super simple.
More Features & Pros of DreamSpa
Pause features to save water which you should whenever you can for the next generations.

Adjustable angle to use it most conveniently.

Swiveling rainfall style.

Rub clean jets never let it clog.

Comes with 60 inches long adjustable stainless steel hose.

Equipped with conical brass hose nuts to make hand tightening easy.

Super simple tools for free installation. If you have never done this before or have had painful experiences, this will change your bad experience with the installation. Comes with clear instructions.

DreamSpa always stands behind its products. So, use with confidence and if you have any trouble, just contact their awesome customer care.
Cons of DreamSpa
It could have some features of a handheld shower.
Shower Head For Low Water Pressure Buying Guide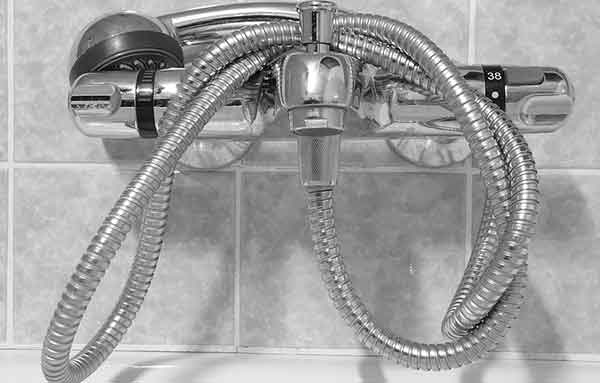 Before you check the shower heads showcased below, let's see in short what you should consider when going shopping.
Quality: First of all, they are supposed to be of high quality.
That said, you need to stick to the well-known, proven manufacturers and consider the material it is made from.
Size: In general, models with a wider radius is better since they offer you more coverage. Also, make sure it would be a good fit for your shower stall.
Flow Rate: All the high-quality shower heads should have a flow rate of about 2.5 gallons/minute.
Pressure Design: Check out if the head uses a pressure chamber or adjustable settings. A pressure chamber or some special design generally provides a better experience.
Installation: Before choosing between ceiling-mounted and wall-mounted shower heads, be sure to check your available plumbing and its specifics as well. Watch the video to learn how to install any of them yourself!
 Final Thoughts
Having something like this is equally a must like having flushing toilets at the same time. Without these two, you don't have a bathroom. Now you have in-depth reviews of the 11 top-rated models.
Hopefully, this will help you narrow down your choices and pick the best shower head for low water pressure. All of the shower heads summarized above are truly great, so it's hard to go wrong with any of them.